Westmount Here & There
January 5, 2017
A look at events happening in and around Westmount
Joëlle Morosoli at the McClure
The McClure Gallery of the Visual Arts Centre, 350 Victoria, presents Chaos pénétrable, featuring the works of Joëlle Morosoli.
Joëlle Morosoli will fill the gallery with large mechanical installations that create a space that is both intractable and menacing. Playing upon the theme of prisoners and jailers, the artist creates an allegory of the secret world of our weaknesses and taboos. Visitors will be invited to enter into this space and experience the feelings it provokes.
Vernissage: Thursday, January 5 at 6 pm
Exhibition: January 6 to 28
Gallery Hours: Tuesday to Friday, noon to 6 pm; Saturday, noon to 5 pm
More information at 514 488-9558 or go to visualartscentre.ca
WHS Talk: Alpine and Rock Gardening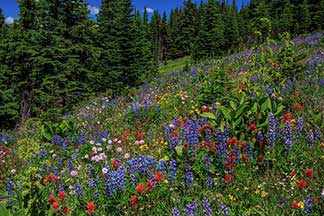 On Tuesday, January 10, from 7 pm to 9 pm, at the Westmount Public Library, 4574 Sherbrooke W, the Westmount Horticultural Society presents guest speaker Barry Parker.
Barry, an avid gardener and WHS member, whose stunning Toronto garden was featured in a national magazine, will give a presentation on Alpine and Rock Gardening.
Doors open 6:30 pm for tea, coffee and homemade cookies.
Entrance: members free, guests $5.
Everyone welcome.
More information at 514 233-2788.
Image: Murray Foubister via StockPholio.net
Women's Canadian Club of Montreal Lecture
On Tuesday, January 17 at 12:30 pm, at Victoria Hall, 4626 Sherbrooke W, The Women's Canadian Club of Montreal presents Ethical Changes in End of Life Care with Dr Eugene Bereza, MD CM, CCFP, Director Centre for Applied Ethics, University Heath Centre (MUHC).
A sandwich lunch is served at cost with tea/coffee from 11:45 am to 12:15 pm
Women's Canadian Club of Montreal members free.
Annual membership $50, individual lecture $10.
A question and answer period will follow the presentation.
For more information contact Carolyn Roper (Publicity) at 514 932-4005 or Pamela Brydges (President) at 514 488-7891.
Image: theilr via StockPholio.com
Activities at Contactivity
Contactivity Centre, 4695 de Maisonneuve W, is a non-profit community centre that provides a welcoming, caring and safe place for autonomous seniors 60+, where a sense of community and social engagement can be fostered. The centre hosts various courses and interest groups that encompass the mind, body and soul.
For information on the Centre's activities call 514 932-2326 or consult contactivitycentre.org
Image: courtesy of Contactivity Centre
Centre Greene activities
Centre Greene, 1090 Greene, is host to a wide variety of activities for young and old, including a Caregiver's Tea, Themed Activity Nights, Drop-in Daycare, After School Program, Kids' Kitchen, Tumbling Tots Playgroup, Seniors' Lunches, and more!
Information at 514 931-6202 or consult centregreene.org
Image: courtesy of Centre Greene
Events at Westmount Public Library
Events are free but registration is required.
Register at the Adult Desk, 4574 Sherbrooke W, or call 514 989-5299.
Wednesday, January 11, from 10:15 am to 11:15 am
Poetry Workshop with Ann Lloyd. The Westmount Poetry Group meets to compose poetry together. Members propose themes at the beginning of each session and every two weeks after that. Everyone is welcome! In the Boardroom.
Wednesday, January 18, from 7 pm to 8 pm
Reading Group for Joyce's Finnegans Wake: The Boaters and Sifters of ALP. Every third Wednesday of the month, join the circle skimming the surface or sifting through the layers of Finnegans Wake to see what is conceived. Bring an open mind and a copy of the book. In the Westmount Room.
Thursday, January 19
Tales & Travels series – registration begins. Animated by Marie-Pier Foucault, coordinator of activities for people living with dementia at the Alzheimer Society of Montreal, the Tales and Travels series is a weekly activity for individuals with Alzheimer's disease and other forms of dementia. Spots are limited and registration is required. For more information, please contact Daniel Míguez de Luca at 514 989-5409 or at dmiguez@westmount.org
Registration is required for all events. To register, present your child's library card at the Children's Desk. For more information, call 514 989-5229.
Until Saturday, January 7
Exhibit – Harry Potter's World: Renaissance Science, Magic and Medicine
A travelling exhibit from the National Library of Medicine. In 1997, British author J.K. Rowling introduced the world to Harry Potter and a literary phenomenon was born. Millions of readers have followed Harry to the Hogwarts School of Witchcraft and Wizardry where he discovers his heritage, encounters new plants and animals, and perfects his magical abilities. Although a fantasy story, the magic in the Harry Potter books is partially based on Renaissance traditions that played an important role in the development of Western science, including alchemy, astrology, and natural philosophy.
Saturday, January 14, from 2 pm to 3 pm (4 to 6 year olds) and from 3 pm to 4 pm (7 to 12 year olds).
LEGO®CLUB
And over at the Atwater Library…
1200 Atwater, Westmount
ATWATER LIBRARY LUNCHTIME SERIES
The Atwater Library Lunchtime Series features once-a-week presentations by leading writers, musicians, intellectuals, scientists, and many more people sharing their knowledge and experience with the Atwater Library community. Lunchtime Series events usually take place on Thursdays (but sometimes are on other days), from 12:30 to 1:30 pm. Admission is free but donations are appreciated! Everyone is welcome and coffee and biscuits are served.
Thursday, January 12, at 12:30 pm
Glory of the Silk Road Through the Lens of Muslim Harji. A world traveller shows his gorgeous photographs of archaeological sites, exotic bazaars, and mosques with colorful tiled domes and slender minarets.
---
ALZHEIMER CAFÉ
The Atwater Library is partnering with the Alzheimer Society of Montreal to provide a monthly Alzheimer Café for Montrealers in the Library's elegant Reading Room. Each session features socializing, refreshments, live music, and discussion about aspects of life with dementia. Admission is free and everyone is welcome. For more information, contact Victoria McKinlay at victoria@atwaterlibrary.ca or 514 935-7344 ext. 206.
Tuesday, January 17, from 1 pm to 3 pm
Art Therapy: The Way to Well-Being. Concordia University students working with the Alzheimer Society of Montreal. A presentation followed by a short practical workshop.
---
ATWATER LIBRARY FINANCIAL LITERACY PROGRAM
Free sessions on financial literacy for seniors, funded by the Autorité des marchés financiers (AMF).
Wednesday, January 18, from 1 pm to 3 pm
Registered dietitian Jaimie Yue presents Eat Well, Save More! She will share recipes and tips for making healthy meals that are affordable. Advance registration is required. To register, email victoria@atwaterlibrary.ca or phone 514-935-7344 ext. 206.
Image: Creative Commons
Feature image: Andrew Burlone

Consult our community calendar for more events.
---
---