10 contemporary
Quebec fashion designers
Montreal Couture at the Montreal Museum of Fine Arts, March 2 to September 8
Philippe Dubuc, Denis Gagnon, Ying Gao, Helmer Joseph, Nathon Kong, Marie-Ève Lecavalier, Markantoine, Fecal Matter, Atelier New Regime and Marie Saint Pierre at the Montreal Museum of Fine Arts (MMFA), until September 8, 2019.
The Montreal Museum of Fine Arts (MMFA) is showcasing Quebec fashion with Montreal Couture. Presented in conjunction with the retrospective Thierry Mugler : Couturissime, the exhibition features the creations of a selection of established and emerging designers whose distinctive styles define current Quebec fashion: Philippe Dubuc, Denis Gagnon, Ying Gao, Helmer Joseph, Nathon Kong, Marie-Ève Lecavalier, MARKANTOINE, Fecal Matter, Atelier New Regime and Marie Saint Pierre.
The exhibition features the creations of a selection of established and emerging designers whose distinctive styles define current Quebec fashion.
MMFA Director General and Chief Curator, Nathalie Bondil explains, "This exhibition is a tip of the hat to Quebec fashion. It was born at last fall's Museum Ball, NUIT COUTURE where dramatic installations paid tribute to Quebec fashion designers. Some were known to me, others were a revelation, but all amazed me with their talent … these designers, established or emerging, experimental or international, were all notable for the quality of their output and the audacity of their inspiration. How could I ignore this opportunity to show off the couture created in our local ateliers? I have tremendous respect for these demanding métiers and the people who excel at them … right in our own back yard."
"The ten fashion designers showcased in this exhibition, whether they are established or part of a new generation, offer a representative sample of the remarkable fashion and design talent currently thriving in Quebec. With their daring originality, these designers, most of whom have been trained here, clearly demonstrate that there is room for innovation, experimentation and craftsmanship, and that it is possible to have global resonance and outreach," said exhibition curator Thierry-Maxime Loriot.
'A selection of Quebec fashion icons are brought together here for the first time in a museum.'
Montreal photographer Max Abadian – who has photographed numerous fashion shows and big names in Hollywood including Lady Gaga and Julianne Moore, as well as worked closely with international magazines like Vogue, Elle and Vanity Fair, to name but a few – was commissioned to create the portraits of the 10 designers and collectives featured in Montreal Couture. Also, accompanying the thirty or so outfits on display are videos of the outfits – created especially for this exhibition – by Martin Laporte.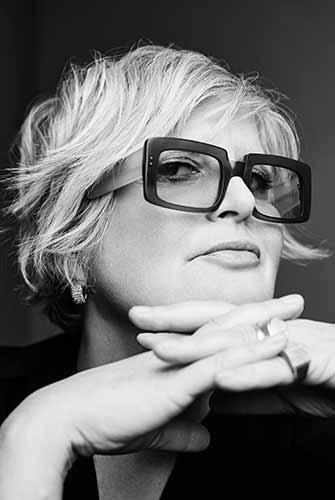 For more than thirty years, Marie Saint Pierre, the first fashion designer admitted to the Royal Canadian Academy of Arts, has created clothing with precise and timeless cuts, marrying form and function.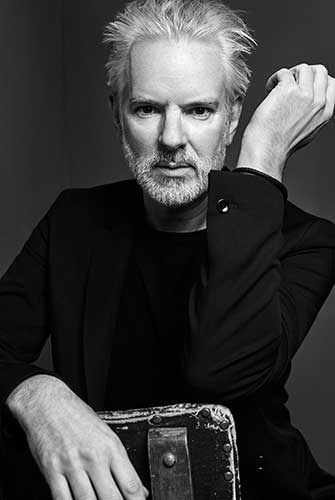 Since 1994, Philippe Dubuc has reinvented the men's wardrobe with minimalist, modern lines, meticulous finishing and embossed materials.
Denis Gagnon blew like a tornado through the Quebec scene at the dawn of the 2000s with his irreverent style and spectacular pieces characterized by a sophisticated use of volumes, pleats, leather and zippers. In 2010, the MMFA dedicated an exhibition to him, following the 2008 Yves Saint Laurent exhibition and preceding The Fashion World of Jean Paul Gaultier in 2011.
The current exhibition also highlights the work of Helmer Joseph, whose elegant designs draw on his Haitian origins and the expertise he acquired in Parisian fashion houses.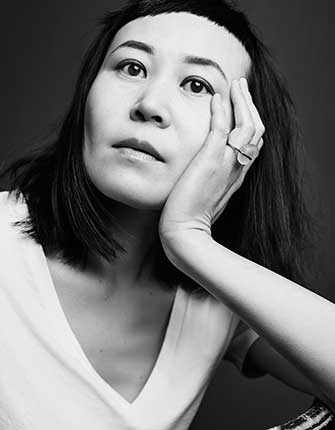 Finally, Ying Gao, whose work encompasses fashion, industrial design and robotics, has seen her creations exhibited in the world's major museums. She explores the use of new materials, such as medical latex, and interactive sensory technology that makes a garment both poetic and participative.
Montreal Couture also shines a spotlight on up-and-coming designers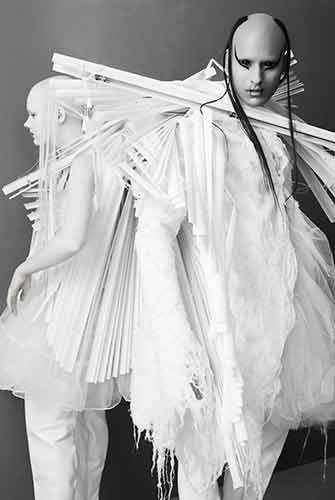 Overlooking conventions, the duo Fecal Matter, comprising Hannah Rose Dalton and Steven Raj Bhaskaran, sparked a worldwide craze when their transhumanist-inspired Spring/Summer 2018 collection was presented in London.
Marie-Ève Lecavalier was the first Canadian to win the prestigious Chloé Prize, at last year's Hyères International Fashion and Photography Festival, a noteworthy entrance into the international world of high-end fashion and luxury.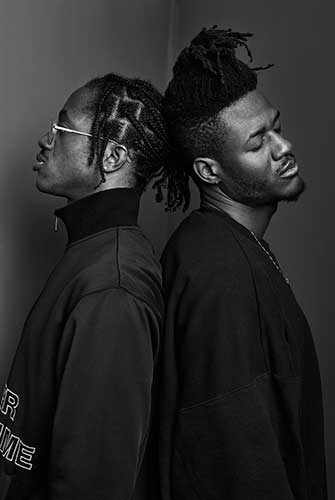 Koku Awuye and Gildas Awuye, the duo behind the Atelier New Regime label, named Men's Fashion Designer of the Year at the 2018 Canadian Arts & Fashion Awards, with their modern, technical streetwear;
Nathon Kong who creates custom clothing with the help of 3D scanning, in collaboration with artists and community organizations.
The "young" MARKANTOINE, who offers ready-to-wear in a style that he calls "gothic/exotic".
Several of these designers, namely Markantoine, Fecal Matter, Helmer Joseph, Denis Gagnon, Marie Saint Pierre and Ying Gao, are graduates of Montreal's LaSalle College.
The Boîte à Couture: a creative space for families
In a space adjacent to the exhibition, the Boîte à Couture offers young and old alike the opportunity to explore fashion professions – embroidery, millinery, tailoring, lace, textile development, felting, leather goods, dyeing, weaving, knitting – and the beginnings of haute couture, in addition to participating in free creative workshops.
Credits
The exhibition is designed and produced by the Montreal Museum of Fine Arts. The exhibition curator is Thierry-Maxime Loriot, under the direction of Nathalie Bondil, Director General and Chief Curator of the MMFA.
Sandra Gagné, MMFA Head of Exhibitions Production, created the exhibition design. She was inspired by the artistic concept of the 2018 NUIT COUTURE Museum Ball, devoted to Quebec fashion and directed by Genevieve Lafaille, Head of Event Management of the MMFA and the Museum Foundation. Catherine Nadeau and Melissa Thompson of Cirque du Soleil (Montreal) for the mise en scène, Max Abadian and his studio (Montreal) created the portraits of the designers, and L'Éloi Productions (Montreal) and Martin Laporte produced the videos.
Acknowledgments
En collaboration avec : Collège LaSalle
In collaboration with: Collège LaSalle The Museum wishes to thank the Muses of Montreal Couture – Lucie Bouthillette, Ruby Brown, Natalie Bussière, Isabèle Chevalier, Claude Krynski, Karine Kay Limage, Julia Reitman, Alysia Yip-Hoi and Debbie Zakaib – whose support has contributed to the renown of our local designers. Official Partners: Air Canada, MMFA's Young Philanthropists' Circle Public Partners: Quebec's Ministère de la Culture et des Communications, Conseil des arts de Montréal and Canada Council for the Arts
Image : Max Abadian
Read also: World Premiere Thierry Mugler: Couturissime
---

Boasting more than 1.3 million visitors annually, the MMFA is one of Canada's most visited museums and the eighth-most visited museum in North America. The Museum's original temporary exhibitions combine various artistic disciplines – fine arts, music, film, fashion and design – and are exported around the world. Its rich encyclopedic collection, distributed among five pavilions, includes international art, world cultures, decorative arts and design, and Quebec and Canadian art. For more information, consult the Website mbam.qc.ca
---
---