Advertising in
If you want a campaign that turns heads, generates clicks, drives revenue or inspires your audience, we want to hear about it!
We offer outstanding digital campaigns in a variety of formats and media such as advertorials, landing pages and native advertising to promote your products, services and events to an affluent local audience with a median household income of $130,000, more than half of whom have a university degree.
Digital campaigns to fit your goal and budget…
BRANDING & NOTORIETY
SOCIAL MEDIA BLITZ
FLASH SALES
360° MARKETING
Many ways to personalize your message:

ADVERTORIALS
NATIVE ADVERTISING
DISPLAY ADVERTISING
NEWSLETTER BANNER ADS
PROFILE LISTINGS
REAL ESTATE LISTINGS
SEASONAL PROMOTION ADS
SOCIAL MEDIA BLITZ

Call us for more details at
514 931-6098

With more than 20 years of experience in advertising and branding, we offer all the professional services you may need
• Graphic design and production of banners
• Advertorial copywriting and translation
• Photography and video production
• Event promotion and media planning
---
READ ALSO:
Real Estate advertising and listings in WestmountMag.ca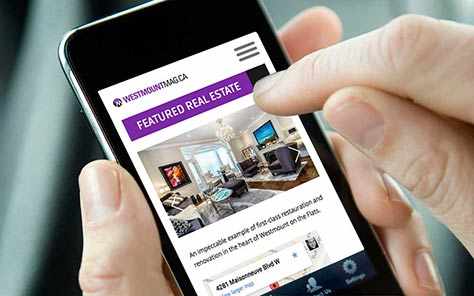 ---

A bilingual Lifestyle publication
available on any desktop computer, tablet or smartphone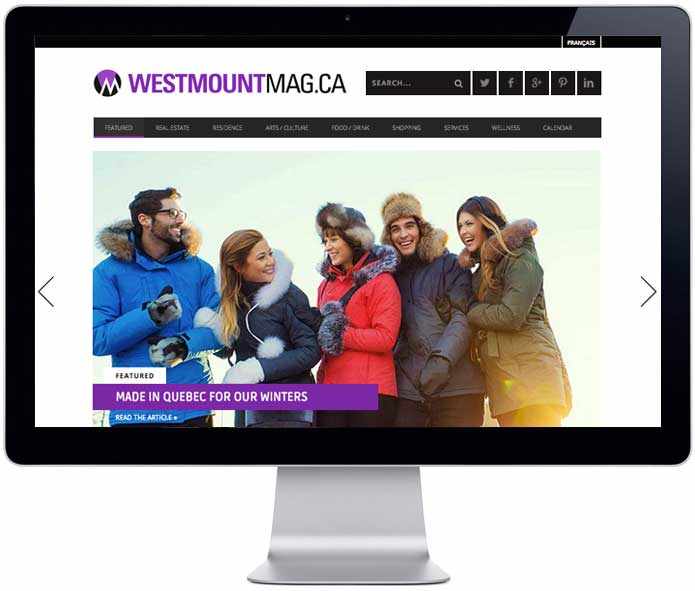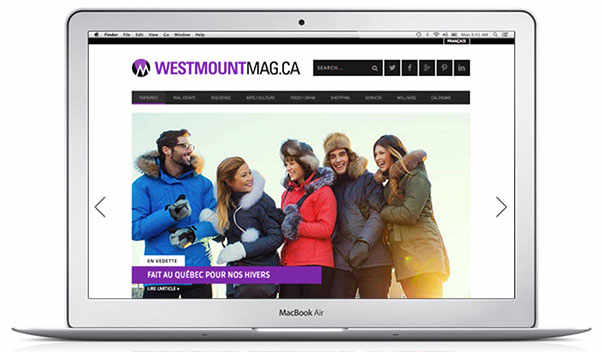 Our readers are trendy, engaged and
connected adults from thriving communities


A bilingual, Urban Lifestyle publication available on any digital platform, desktop, tablet or phone.
WestmountMag.ca publishes over a dozen new articles and columns twice weekly. Our editorial line covers community life, arts and culture, show reviews, residential decoration and design, personal finances, education, real estate, family law, gastronomy and recipes, leisure, travel, health and wellness, public and international affairs, among other popular topics. In addition, WestmountMag.ca offers its readers and advertisers a listing as well as a calendar of local events listed by category. Our bilingual content is highly optimized for search engines, and half our traffic is organic, generated through keyword searches.
'Our readers are trendy, affluent, highly engaged and connected adults from Westmount and surrounding areas.'
Our readers have some of the highest per capita incomes in Canada, with a median family income of $130,000, and more than half have a university degree. The majority of our readers are women between the ages of 30 and 60 who consult an average of two or more articles during each visit, which lasts about seven minutes. All our content is optimized for search engines, and more than half of our traffic is generated by keyword searches. Our newsletter's 24% open rate is 3 times higher than the industry standards for online leisure publications (8%).
'The ideal media to promote your store, products, property, services or brand to affluent consumers.'
WestmountMag.ca is the perfect way to reach wealthy customers from Westmount and surrounding communities. You can post your professional profile in the bilingual directory of merchants, properties and service providers, or pass your message through native advertising in your advertorials or in our weekly column, 'Westmount Here and There. You can also promote your profile or advertise with banner ads placed throughout the site, or with specific articles or topics, or in our exclusive newsletter banner that differs from traditional advertising units by its predominance, exclusivity and high response rate. For realtors, real estate listings showcase properties for sale in our exclusive real estate section.

'We offer several turnkey solutions to ensure that your promotional campaign reaches its target audience.'
In order to maximize the conversion rate of your promotions, whether it is for a branding and notoriety campaign, a social media blitz, Flash Sale announcement, email campaign or 360° marketing effort, we build customized promotions according to your goals and budget and optimize your return on advertising investment.
---
ADVERTORIAL SAMPLE
A vibrant legacy: The Campbell brothers
There are many ways to promote your brand via
With WestmountMag.ca, you can advertise on all pages of the publication or select a specific page or article for promotion. We also offer sponsorship opportunities as well as social media blitz campaigns on Twitter, Facebook, YouTube, Pinterest and Linkedin.
Advertorials
The ideal tool to provide detailed and relevant information about your products and services
Advertorials with branded content take the form of featured articles, or a series of articles, providing useful, relevant, entertaining and shareable information in order to attract interest from a potential audience segment interested in the product or service offered.
Native Advertising
Allows your ad or call-to-action to distinguish itself from traditional advertising units by the predominant position it occupies within the article
Rather than being placed in spaces traditionally reserved for advertising banners, native advertising naturally fits into the context of an article or advertorial in which it is deployed. Native advertising can be linked to a customized page that allows for analytical and marketing follow-up of the campaign.

Display Advertising
Display

Advertising

associated with an article, a section, or visible throughout the magazine
You can place advertising banners on the pages of your choice or on the entire site. You can also put a slideshow or video on our homepage, or embed it in an article or infomercial as native advertising. Be visible everywhere on WestmountMag.ca with sideboxes or banner ads, available in various sizes.

Newsletter Banner Ads
Published twice a week, the WestmountMag.ca newsletter will help you reach over 1,200 prime subscribers with a banner linked to your website, profile or Facebook page, posted in 2, 4 or 8 consecutive newsletters. This exclusive positioning differs from traditional advertising units by its predominance, exclusivity and high response rate of 24% open rate, 3 times more than industry standards.
Profile Listings

Listing
in our exclusive directory of merchants, real estate agents and p
rofessional
service providers
Your profile is the showcase for your services and products, in a page that is entirely dedicated to you and which can contain all your articles, videos and photos, as well as catalogues, sales documents, invitations and descriptions of events, seasonal promotions and items for sale. Several plans are available on an annual subscription basis.
• ESSENTIAL – $99 / year * – Permanent: $299
Address, phone, 1 link, 1 featured image, plus a description of up to 100 words in each language.
Example: Annie Young Boutique Spa

• PRESTIGE – $179 / year * – Permanent: $549
Full page width (no other advertiser), unlimited addresses with geolocation, slide-shows, videos, links and text.
Example: Boutique Bilodeau
* 24-month initial plan to cover graphic production cost
Real Estate Listings
Showcase your properties for sale in our exclusive real estate section.
Bilingual real estate listings are available for 1, 3 or 6 months in our exclusive Featured Real Estate section, with video, slideshow of up to 8 full-screen images per listing, and hyperlink to MLS.
Seasonal Promotion Ads
Highly promoted seasonal advertorials, each with a theme: Spring Renewal, Back to school, Holiday Gift Ideas and Valentine's Day
Up to 12 selected advertisers per advertorial, each with one or more ads linked to their profile in WestmountMag.ca, website and Facebook page or Linkedin profile.
Social Media Blitz
A supplemental advertising campaign via

Westmount Magazine's exclusive

social channels
Multiply your campaign's impact with 7, 15 or 30-day social media promotions through WestmountMag's owned and operated channels on Facebook, Twitter, Linkedin and Pinterest.
Rates are subject to change without notice. Some production fees may apply. Taxes not included.  15-04-2020 
---
READ ALSO:
The Pros of advertising in WestmountMag.ca
---


WestmountMag.ca / Westmount Magazine  © Visionnaires Branding Design Inc. •  1106, avenue Greene, Westmount QC  H3Z 1Z9 • 514 931-6098
---