Advertising in
For advertising that gets attention, generates clicks,
drives revenue and inspires your prospects
Customize your campaign with an animated gif, native advertising, infomercials, landing pages and a social media blitz.
Reach a connected and engaged audience with a median household income of $130,000.
BRANDING & NOTORIETY
SOCIAL MEDIA BLITZ
FLASH SALES

There are many ways to personalize your message

Click on the item you are interested in to see our rates

ADVERTORIALS
SPONSORED CONTENT
DISPLAY ADVERTISING
PROFILES
REAL ESTATE LISTINGS
SEASONAL COOP ADVERTORIALS
NATIVE ADVERTISING
NEWSLETTER BANNER ADS
SOCIAL MEDIA BLITZ

We offer all the services you need
• Graphic design and banner production
• Advertorial copywriting and translation
• Photography and video production
• Event promotion and media planning
Available on any desktop computer, tablet or smartphone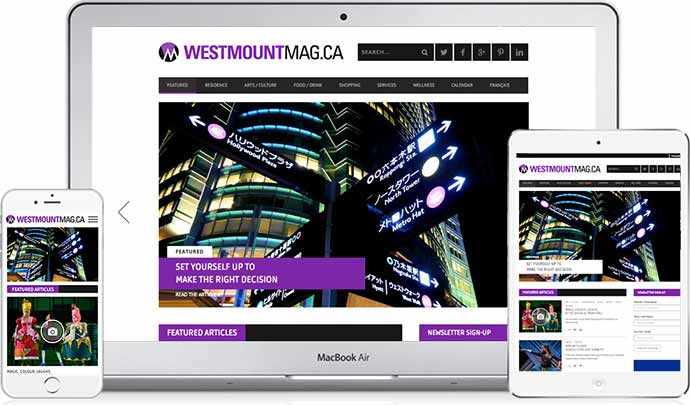 Our readers are engaged and connected adults from thriving communities


A bilingual, Urban Lifestyle publication available on any digital platform
Each week we publish a dozen new articles and two newsletters. Our editorial line covers local community life, arts, culture and entertainment reviews, architecture and home design, wildlife protection, real estate, health, and environment issues among other topics of interest to our audience. WestmountMag.ca also offers its readers a listing of local merchants' profiles, real estate properties for sale, and professional service providers by category.
'Connected and highly engaged readers from Westmount and the surrounding area.'
Our readers have some of the highest per capita incomes in Canada, with a median family income of $130,000, and more than half have a university degree. 66 % of our readers are women between the ages of 45 and 65.
'The ideal media to promote your store, products, property, services or brand to affluent consumers.'
All our content is optimized for search engines, and more than half of our traffic is generated by keyword searches that are 5 times more valuable than paid searches, according to Google's Economic Impact Report. With an open rate of over 40%, 5 times more than the industry standard for online publications (8%), WestmountMag.ca is the perfect way to reach wealthy customers from Westmount and surrounding communities on the island of Montreal.
There are many ways to advertise with
We build customized advertising, branding and notoriety campaigns according to your goals and budget. Our aim is to maximize the return on your advertising investment.
With WestmountMag.ca, you can advertise on all pages or select a specific article or category for your promotion. We also offer social media blitz campaigns, Flash sale announcements, email marketing, 360° marketing, and sponsorship opportunities.
Turnkey solutions for your promotional campaigns
Advertorials, sponsored posts and inserted links
The ideal tools to provide detailed and relevant information about your products and services
Advertorials build awareness and credibility, with 3 Do-Follow links to your promotions, several images or videos, and up to 2000 words of text, Sponsored Posts are perfect for press releases and promotions, with 2 Do-Follow links, up to 750 words, and a featured header image. Advertorials are displayed as Featured Articles for 30 days on our home page and are included in our twice-weekly newsletter.
Sponsored Posts, with 2 Do-Follow links and up to 750 words, are perfect for flash sales, press releases, promotions and announcements.
Inserted links, with up to 50 words, are located in specific articles and linked to your promotion with a Do-follow link.
Click to view the advertorial sample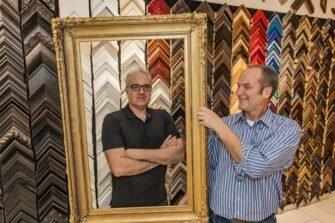 ---
Display Advertising
Optimize your visibility with a Sidebox visible on all pages and well-positioned advertising banners
Be visible everywhere on WestmountMag.ca with a Sidebox on every page, and with display banner ads on specific pages or topics.
Banner ads are offered in different sizes and durations.

---
Profiles

Listing in our exclusive directory of merchants, real estate agents and professional service providers
Your showcase for your services and products, this page is entirely dedicated to your brand and contains all your articles, videos and photos, as well as catalogues, sales documents, invitations and descriptions of events, seasonal promotions and items for sale. Plans are available on an annual or permanent subscription basis.

PRESTIGE PROFILE
Full page width, multiple addresses, slide shows, videos, and up to 2,000 words of descriptive text with up to 3 links.
See our sample Prestige Profile Geordie Theatre
ESSENTIAL PROFILE 
1 address, 1 featured image, and up to 350 words of descriptive text with 1 link in each language.
See our sample Essential Profile Galerie Noël Gouyomarc'h
---
Real Estate Listings
Showcase your properties for sale in our exclusive real estate section.
Bilingual real estate listings are available for 1, 3 or 6 months in our exclusive Featured Real Estate section, with video, a slideshow of up to 8 full-screen images per listing, and hyperlink to MLS.

 
Click here to view real estate listings samples
---
Seasonal Coop Advertorials
These highly promoted coop advertorials are perfect for seasonal offerings
12 selected advertisers per advertorial: Spring, Summer, Back to School & Work, Holidays and Valentine's Day.
All inserts are linked to profiles in WestmountMag.ca, client websites, Facebook page or Linkedin profiles.
---
Native Advertising
Allows your ad or call-to-action to stand out by its predominant position in our weekly most-read article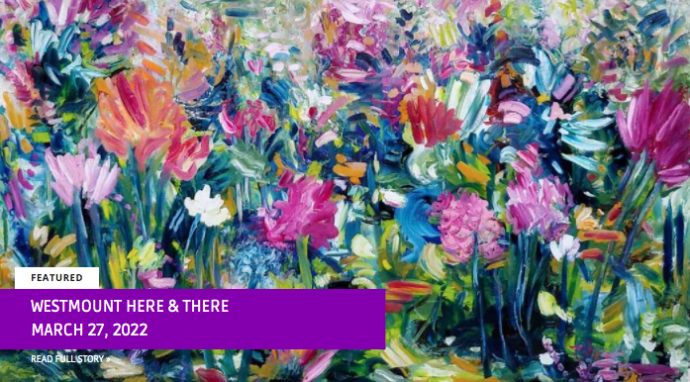 Native ads are considered the most effective tool for sales and provide up to 3 times higher CTR and 2 times higher conversion rates, increasing the total income of advertisers up to 6 times! Rather than being placed in spaces traditionally reserved for banner advertising native advertising integrates naturally in Westmount Here and There, our weekly community events column.
---
Exclusive Newsletter Banner Ads
Reach over 1,250 newsletter subscribers with WestmountMag.ca email marketing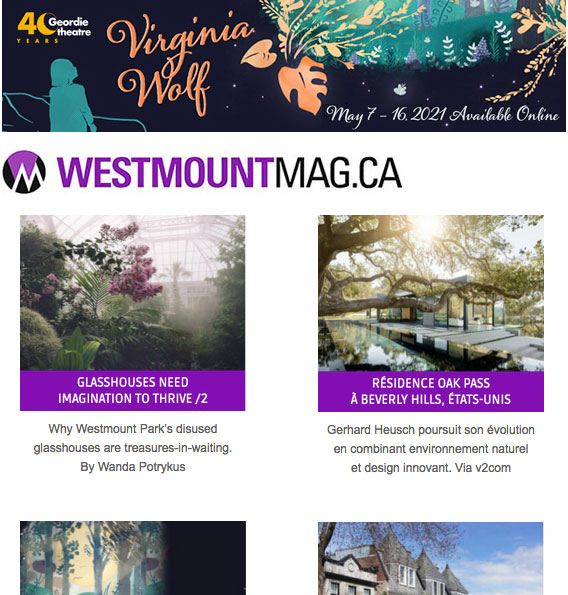 Different from traditional advertising units by its predominance, absence of other advertisers, exclusivity and high response rate, the exclusive newsletter banner lets you reach prime subscribers weekly with a link to your WestmountMag profile, website or landing page.
---
Social Media Blitz
A supporting advertising campaign via WestmountMag's exclusive social channels
Multiply your campaign's impact with one or two weeks of social media promotions
through WestmountMag's owned and operated channels on Facebook, Linkedin, Pinterest and Twitter.
Rates are subject to change without notice. Some production fees may apply. Taxes not included.
TERMS AND CONDITIONS

All sponsored content is subject to preliminary approval and possible editing by our editorial board. Westmountmag.ca reserves the right to refuse any link, advertorial or sponsored post at its sole discretion. Please send content material to <info@westmountmag.ca>.
Advertorials and sponsored posts must be provided in MS Word format, with images inserted and with no more than the allowed number of hyperlinks. We can provide translation in both official languages at a rate of $75.
At least 1 image of 3,000 pixels wide by 2,000 pixels high with photo credit is required. An additional fee of $75 per image will be charged for in-house image search and formatting if no acceptable images are provided.
In order to maintain the trust of our audience and to avoid misleading our readers, advertorials and sponsored posts are categorized as sponsored unless a non-fictional author name with a by-line of approximately 100 to 150 words is provided (a square photo of the author is optional).
Absent exceptional circumstances, the turnaround time (TAT) is 48 business hours from receiving the content for editorial approval, plus 24 business hours for editing and preparation of the material provided before client approval. The amount of sponsored content published each week being caped, there may be a lag period to get on the publication schedule.
All sponsored content must be paid in full via PayPal to <info@visionnaires.com> before publication. A link is provided for client approval prior to payment.
We do not accept links or sponsored posts related to gambling, betting or lotteries. Other restrictions may apply. We are not interested in link exchanges.
Any dispute arising out of or relating to the use of WestmountMag.ca shall be subject to the jurisdiction of the courts of the District of Montreal, Province of Quebec.
---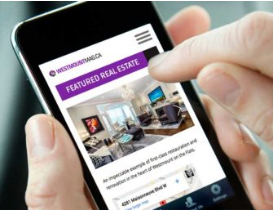 READ ALSO:
The Pros of advertising
in WestmountMag.ca
---


WestmountMag.ca / Westmount Magazine  © 2015-2022 Visionnaires Inc.
---