Beef Carpaccio with Bagel Chips
Named in honour of the Venetian painter Vittorio Carpaccio
Recipes and photos by Josee Brisson
Previously published April 23. 2023
Granted, the idea of eating raw beef is not appetizing to everyone. Once you have tried beef carpaccio however, you are bound to fall in love with it. When it is prepared with care using high quality beef, the meat is sweet and literally melts in your mouth! Of course, my recipe for carpaccio deviates from the original. I also tipped my hat to our beautiful Montreal by serving it with bagel chips.
The name carpaccio was given in honour of the Venetian painter Vittorio Carpaccio, whose prominent use of red and white paints reminded Signor Cipriani of the raw beef and white truffle.
Carpaccio is the name of a typical Italian dish made with raw meat. Based on the Piedmontese delicacy Carpaccio di carne cruda all'albese, it was invented by Giuseppe Cipriani, general founder of Harry's Bar in Venice. He created it in 1963 for his friend Contessa Amalia Nani Mocenigo, who, under medical advice, was forbidden to eat cooked meat. The original recipe was raw beef served with olive oil, lemon and white truffle or Parmigiano Reggiano. The name carpaccio was given in honour of the Venetian painter Vittorio Carpaccio, whose prominent use of red and white paints reminded Signor Cipriani of the raw beef and white truffle. It also helped that there was an exhibition of Carpaccio's work in Venice in 1963.
I served this sublime dish with a 2013 Masciarelli Montepulcciano d'Abruzzo, produced by Azienda Agricola Masciarelli. This wonderful medium-bodied red wine is both floral and fruity. Serve it slightly cooler than you would most reds, and it will leave you wanting more!
Beef Carpaccio with Bagel Chips
Serves two
Half a pound of high quality beef fillet
1 bagel, whole
1 large lemon, scrubbed, washed and dried
Half a small French shallot, finely chopped
1 tablespoon of Italian parsley, finely chopped
1/2 teaspoon of Dijon mustard
6 tablespoons of extra virgin olive oil, divided
1 large handful of baby arugula, washed and dried
French grey sea salt
Freshly ground black pepper
Pinch of sugar
Pinch of hot pepper flakes
5 caper berries, sliced into thin rounds
Parmigiano Reggiano
Beef Carpaccio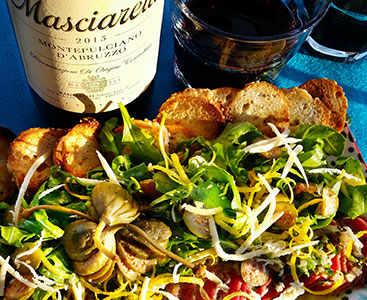 To ensure the beef is of the highest and freshest quality, you must inform your butcher that you will be making carpaccio. Your butcher will likely ask if you want it sliced or if you want do it yourself. Obviously, it is much easier to have it sliced for you, as all you will need to do is assemble the dish.
If you choose to slice the fillet yourself, make sure you remove all silver skin and sinews with a sharp knife. Then, place the meat on a large piece of plastic wrap and roll tightly. Make a knot at one end, roll the fillet to tighten the plastic wrap again, and make a knot at the other end. At this point, you can shape the wrapped fillet into a cylinder or you can flatten it to make it rectangular. Place in the freezer for an hour and a half to two hours.
When you are ready to plate, remove the fillet from the freezer. Unwrap it and, using your sharpest knife, slice it into very thin slices. You can flatten the slices with a meat mallet, or leave it as is.
Bagel Chips
Slice the bagel into ¼-inch rounds and set aside. In a large non-stick skillet, heat 2 tablespoons of olive oil on medium heat and season with salt and pepper. Drop the bagel slices into the hot oil and stir to coat. Arrange in one layer and toast until golden. Make sure you watch them carefully as they burn easily. Flip the slices and toast the second side. Remove the bagel chips from the pan and set aside.
Vinaigrette
Using a zester, remove the lemon zest and set aside. Juice the lemon into a small mixing bowl, add the French shallot and a pinch of sugar and mix. The lemon juice will start cooking the shallot and it will decrease its sharpness. Add 1 teaspoon of Dijon mustard, the parsley, a small pinch of hot pepper flakes and season with salt and pepper. Slowly whisk in 4 tablespoons of olive oil.
Salad
Place the baby arugula into a small mixing bowl and dress with 2 tablespoons of vinaigrette and the slices of caper berries.
Plating
Add a tearful of olive oil to your chosen serving plate and spread with your fingers to coat. Arrange the slices of beef onto the plate and top with the remaining vinaigrette and add the arugula salad. Using a zester, remove thin strands of Parmigiano Reggiano and scatter on top of the salad. Serve with the bagel chips and a glass of wine.
Buon appetito!
Images by Josee Brisson
Other recipes
Other recent articles
---

Josee Brisson is a culinary creator passionate about archaeology, mythology, history, literature, and the arts. She trained as a professional cook at École Hôtelière des Laurentides, in Sainte-Adèle, Québec. Among other food projects, she collaborated on two cookbooks with world-renowned food and wine expert François Chartier, and offered a Chef at Home service. Josee is also a translator, researcher and social media community manager. Her cookbook, L'Apéro: Appetizers & Cocktails, was #1 Best Seller in Appetizer Cooking at Amazon. Here's the link to Josee's book.
---
---