Real Estate Talk:
The best months to sell
Windows of selling opportunity occur throughout the year
By Joseph Marovitch
Updated April 3, 2019
Often, I am asked when is the best time to place a residential property on the market. If one must sell, any time is a good time if the price is at market value. However, there are busy months in real estate and not so busy months. Some sellers and brokers like the not so busy months because of several reasons such as:
– The buyers that come visit in the quiet months are serious buyers otherwise they would be on vacation.
– There is less competition. When the seller has an open house, they are one of the few. There are not many open houses to see.
It can be argued that the quiet months are good months however it is better to market your property in the busy months when there are more buyers and more property for sale. More buyers drive the price of your property upwards. More sellers mean more buyers are generated, therefore more visitors come to your property. If there are three open houses on the same street that means all three homes get the visitors. A property for sale requires as many visitors as possible to sell quickly and at the highest price possible.
If one must sell, any time is a good time if the price is at market.
Quiet times in real estate include late summer during construction holiday and holidays over the year. Most people do not want to shop for a property during the Christmas period.
The following are the best months to place a property on the market:
February to April – The holidays are over, everyone is back to work and if you buy a house in late winter, you can plan a move in the spring when the snow is melted.
May to mid-July – Summertime is when a home shows best. Spring is a time of excitement and everyone is still available to visit a property for sale right up to the middle of July.
September to December – People go back to work after the summer vacation. They discussed a move over the holidays and now that everyone is back home and work, it is time to get serious and go house hunting.
Quietest times of the market are:
July 15 to August 31 – Summer vacation and workman's holiday
December 1 to January 30 – People are away on vacation and with family.
In the end, there are pros and cons to selling off-season. There are few visitors to an open house during the holidays, however, the buyers that visit are serious.
Should you have questions or comments, please refer to the comments section at the bottom of the page. As well, to view past articles, click here.
Have a great week!
Next article: Special Westmount history story and a Westmount Gem
---
State of The Market
Montreal has become one of the leading housing markets in Canada, even outpacing Vancouver.
While the rest of the country is lagging in residential sales due to interest rates and mortgage rules, Montreal real estate is growing. Prices are rising and people are buying.
The question is why is Montreal real estate progressing while the rest of the country is falling back? Because Montreal is an island that is running out of space to build either outwards or upwards. If you plan to purchase a property either for investment or to simply live in, now is the time to buy. There will come a time when prices on the island are exorbitant. When that time arrives, those that own property on the island will sell or expand their portfolio to the Suburbs as that is where the next investment opportunity will arise.
Image: Andrew Burlone
Read other articles by Joseph Marovitch
---
Joseph Marovitch has worked in the service industry for over 30 years. His first career was working with families from Westmount and surrounding areas, hosting children between the ages of 6 to 16 as the owner and director of Camp Maromac, a sports and arts sleep away summer camp established in 1968. Using the same strengths caring for the families, such as reliability, integrity, honesty and a deep sense of protecting the interests of those he is responsible to, Joseph applies this to his present real estate broker career. Should you have questions please feel free to contact Joseph Marovitch at 514 825-8771 or josephmarovitch@gmail.com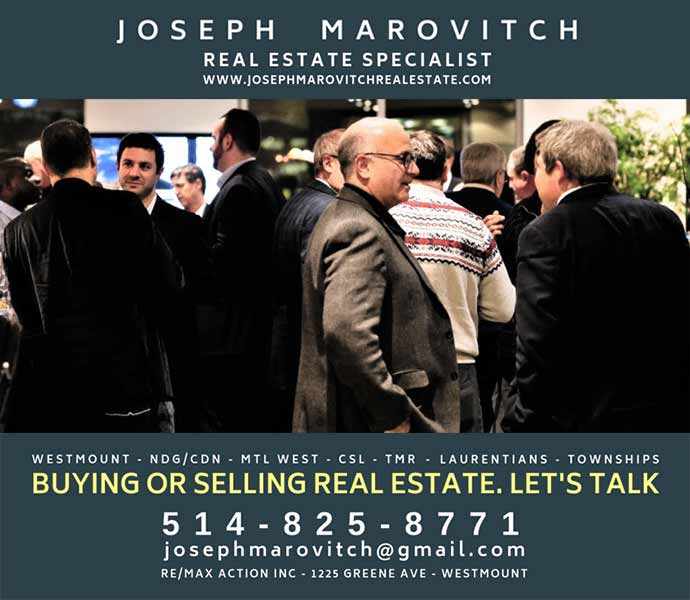 ---
---