Portfolio manager:
Line in the Sand
Shale companies are now enjoying record profits and have little motivation to go back to the old days
By Al Rizk
June 10, 2023
Since the early days of the pandemic, a major shift has occurred in the oil market; the Saudis have regained control of the market and the consequences for investors and politicians are undeniable.
In the years preceding the pandemic, American shale producers were increasing production with little regard for profits, discipline, or the consequences of their actions. Production grew from roughly 7 million barrels per day(bpd) a decade ago to 13 million (bpd) prior to the pandemic. They had become a thorn in OPEC's side as any attempt made to cut production in order to defend the global price would simply result in market share loss to the shale producers.
The historic crash of oil prices during the pandemic (negative futures prices) came as a huge wake-up call. Investors in shale companies, tired of years of losses demanded discipline. From now on, they wanted to see the money. They wanted profitability and demanded cash in the form of dividends and/or stock buybacks. Production today has not yet recovered to pre-pandemic levels. Shale companies are now enjoying record profits and have little motivation to go back to the old days. In addition, even if they wanted to increase production, shortages of labour, materials, and drilling equipment make the task extremely difficult. Finished are the days of reckless drilling and massive production growth, the market is in the hands of the Saudis!
Shale companies are now enjoying record profits and have little motivation to go back to the old days.
The Saudi-American relationship is complex but at its core is very simple: Provide the West with cheap and reliable oil and we will protect you. Protect you from your internal enemies, those who do not see the royal family as legitimate rulers and external enemies (Iran). This arrangement is slowly changing in the new world order. China's rise and growing influence has eroded American supremacy and influence in the region. The new reality is a little more subtle, no longer do the rulers have to be subservient to their masters in Washington. Now they can play Washington, Beijing and Moscow against each other and look after their own interests.
A great example of this new thinking occurred prior to the U.S. mid-term elections in November. Oil prices were high and President Biden, seeking a strong showing for the Democrats, knew well that high prices at the pump would hurt the Democrats as the incumbent party. He flew to Riyad hoping to convince them to pump more oil. In the past, such a request would have been acted on, this time they politely did nothing.
President Biden, desperate to lower prices at the pump, decided to release oil from the Strategic Petroleum Reserve. The Reserve was created in 1975 as an emergency stockpile to counter any future disruptions in supply. The fact that Mr. Biden felt he needed to dip into this reserve shows his desperation and highlights how much the game has changed.
'The fact that Mr. Biden felt he needed to dip into this reserve shows his desperation and highlights how much the game has changed.'
This April, Saudi oil minister, Abdulaziz bin Salman Al Saud surprised the market with a production cut. He warned speculators who were short oil (betting on a decline) would be "ouching like hell". Prices subsequently jumped, no doubt fueled by speculators scurrying to cover their short positions. The move and subsequent market reaction made clear who was in charge. There is a line in the sand!
Since the early days of the Russian invasion of Ukraine, oil prices have been drifting lower. Many factors have been at play: China's Covid restrictions reduced demand, the strength of the dollar has been a headwind and more recently the slowing American economy and fears of outright recession have been tampering with the bulls' optimism.
I would not be surprised to see oil trade into the 60s as these short-term factors play out. However, China's reopening will eventually gain traction, economies may enter recession, but there will be an inevitable recovery. The story regarding the lack of investment in new production as well as ESG pressures are now well understood. Hence, we may go lower for a while, but I think we have a defendable floor and that prices will eventually go higher as the global economy recovers.
The Canadian producers are quietly benefiting from these shifts. No doubt executives in Calgary are big fans of Mr. Al Saud and are very happy to see their neighbours to the south finally behaving rationally.
Unfortunately, the losers in this new reality are consumers, in particular those at the lower end of the income spectrum. They will spend a greater portion of their earnings on energy. Perhaps they can complain to or even replace, their elected officials whose misguided policies are at least partially responsible for this situation.
Feature image courtesy of BMO Nesbitt Burns

BMO Nesbitt Burns Profile
BMO Nesbitt Burns newsletters
Other recent articles
---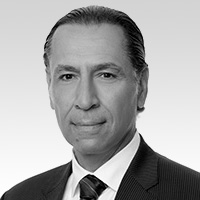 Al Rizk is an investment advisor and portfolio manager at BMO Nesbitt Burns. After earning his business degree, he entered the financial services industry in 1990 and has been with BMO Nesbitt Burns since 1999. Al is married and has two young boys. He is an avid fisherman and golfer.
---
---