Review: Butcher
Butcher is indeed a meaty play
By Byron Toben
Butcher has it all: a revenge play that features humorous relief, fine direction and superb acting, and a clever plot with lots of twists does not come along often.
As Matthew began his Gospel, "In the beginning was the Word" so it is with drama. Montrealer Nicolas Billon, now working out of Toronto, adds Butcher to his string of 9 plays and 6 classic adaptations, all of which are an actor's delight.
And what actors here at the Centaur! All four fresh from the recent META Awards gala… Julie Tamiko Manning, Alain Goulem and Chip Chiupka all winners there, and James Loye the co-M.C.
Mr Chiupka plays a beat up drunk found on the doorstep of a small police station in Toronto on a rainy Christmas eve, speaking no English but only a vaguely Balkan language later identified as Lavinian, from the fictional country of Lavinia. As he happens to bear a business card of an intellectual property lawyer (Mr Loye), that person is summoned to possibly cast light on the identity of the derelict.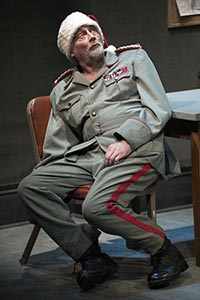 All this is bothersome to the sole cop on duty (Mr Goulem), a gruff guy who is anxious to wrap up and get home to wife and daughters. Finally, a translator appears (Ms Manning) and the plot thickens.
While it is a year off, Mr Chiupka is definitely in the running for best or supporting actor in the next METAS even though he speaks no English in this show, just an artificial language written by two linguists, Christina Kramer and Dragona Obradovic. It is amazing what posture, grimaces and tonalities can convey.
Other performing works have used an artificial language… Vulcan in Star Trek, Valyrian in Game of Thrones, Barsoomian in John Carter and my own favorite, Natsad in Clockwork Orange.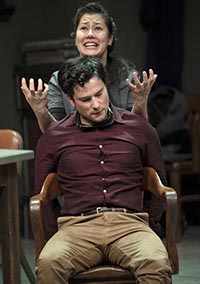 This is the best performance of many I have seen by Ms. Manning in her career since first spotting her with Alison Darcy and Laura Teasdale in Girls! Girls! Girls! – also a sort of revenge play – at the Montreal Fringe 2000.
Mr Goulem and Mr Loye are consummate pros and deliver accordingly.
All the technical stuff, lighting, set, music, further enhanced the show and the often not mentioned services of a fight choreographer, here Jean-Francois Gagnon, added to the believability of key scenes.
We were also glad to see that director par excellence Roy Surette, never too accomplished to seek new insights, selected the multi talented Tamara Brown as an assistant on this production.
Butcher continues at the Centaur until December 5.
For information and tickets call 514-288-3161 or centaurtheatre.com
Images: Andrée Lanthier

---
Byron Toben is the immediate past-president of the Montreal Press Club.
---
---