Calendar
To announce an upcoming event on this calendar please send details to info@westmountmag.ca
Please include the name of the event, the date, time, location, address, contact information and a brief description. You may also include an image.
Select Categories to filter type of event: ARTS & CULTURE, COMMUNITY, GARAGE/ESTATE SALES, KIDS, MERCHANT PROMOTIONS, SENIORS, SPORTS & LEISURE.
Click the + on each event for more information.
Feb
7
Thu
City of Westmount Winter Carnival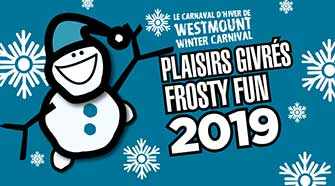 Westmount Winter Carnival 2019 takes place from Thursday, February 7 to Saturday, February 9. Consult the full schedule of activities.
SENIORS' CARNIVAL LUNCHEON
Thursday, February 7 from 12:30 pm to 3 pm
Contactivity Centre, 4695 de Maisonneuve W
Tickets: $10. Reserve tickets by contacting the Contactivity Centre at 514 932-2326.
FAMILY DINNER AND DANCE: UNDER THE SEA
Friday, February 8 from 5:30 pm to 9 pm
Victoria Hall, 4626 Sherbrooke W
Dinner served between 6:30 pm and 7:30 pm. Cash bar. Please bring your indoor shoes!
Tickets: adult $12 ; 12 years and under $6. Available at Victoria Hall and the Westmount Public Library. Cash only.
More information at 514 989-5226 (Community Events Division)
FUN-FILLED SATURDAY
Saturday, February 9 from 10 am to 4 pm
King George Park, Côte St. Antoine and Murray
Skating, old-fashioned sleigh rides, fun games on ice and a sugar shack await!
More information at 514 989-5353 (Sports and Recreation)
NOTE: In the event of inclement weather, some activities will take place in the Westmount Recreation Centre.
---