Centaur's Brave New Looks
presents What Rough Beast
Playwright Alice Abracen and director Jessica Abdallah discuss the play in a Q&A
By Irwin Rapoport
March 6, 2023
After the runaway success of Alice Abracen's award-winning The Covenant at the Segal Centre in 2022, the next production from Theatre Ouest End is here. In collaboration with Tantalus, What Rough Beast, a play written by Abracen, is being performed for a second time in Montreal at the Centaur Theatre until March 11.
What Rough Beast was featured as part of Centaur Theatre's 50th Anniversary Legacy Series in 2019, and is now being featured at Centaur's Brave New Looks selection for 2023.
The play begins as a controversial professor is invited to speak at a progressive college, kicking off a political firestorm and tearing the campus apart. As the factions form and the rhetoric flares, on the other side of the city a young man slouches down the rabbit hole of radicalization with devastating consequences.
Look at us. Screaming across the void. Don't you wanna try to close that gap?
— Thomas
Through the story of seven young adults, What Rough Beast engages with topical questions such as: how do we engage with those whose ideas we find hateful? What do we risk in having empathy for the other side, and how, or should we, try to reach across the chasm? This thought-provoking, contemporary play presents a brave new look at some of the most heated questions facing our city, our country, and our world, exploring the danger of dehumanization and the limits of empathy and tolerance. The play contains mature themes and deals with challenging topics such as extremism, bigotry, and gun violence.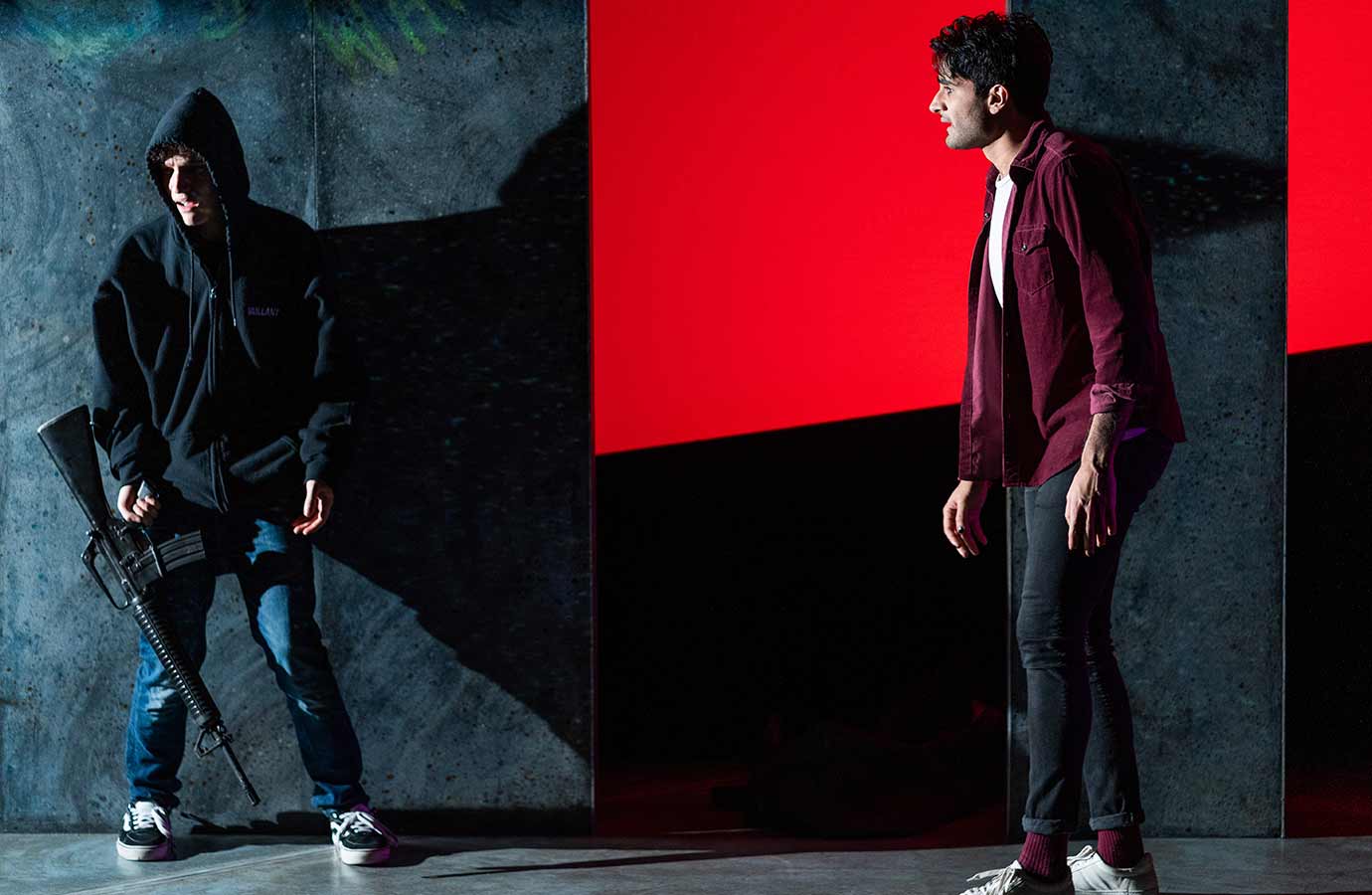 Theatre Ouest End is hot off the productions of The Covenant and Still Got Something to Say: Six Plays on Age. This intergenerational company believes theatre exists to provoke empathy, challenge apathy, and inspire positive change not only in its audience, but also in its performers, production team, and community.
centaurtheatre.com/shows/what-rough-beast
  *   *   *   *   *
Director Jessica Abdallah and playwright Alice Abracen provide some insights into the play and how the words are being converted into live performances.
WM: How would you describe the writing process for What Rough Beast and looking back on the script with the play being presented now, are you satisfied with the text?
Abracen: What Rough Beast was developed as my third year project at the National Theatre School. Third Year Projects are written by the playwrights but developed and presented by the graduating class, and What Rough Beast was a labor of love on the part of many people. While the initial drafts and discussions were between me and my dramaturges, I was surrounded by a team of brilliant students and teachers whose offers and exploration were critical to the development of the script. It was the perfect environment to encourage the crafting of a challenging play. The script has changed in the years since; I continued the exploration that began at NTS with the Underlings team in Boston; new scenes were added then, and small adjustments have been made for other incarnations since.
What Rough Beast is a living play. Set in the now, I will always be listening to make sure that its moments and references remain resonant.
WM: Did any particular world events, tragedies, or personal experiences of yours call you to tell this story? Did any occur during the writing process that altered your approach?
Abracen: It's difficult to answer this question while steering clear of major spoilers, but a number of world events and personal experiences helped to shape and influence What Rough Beast. When I find myself caught between orthodoxies, when I'm grappling with existential questions, I tend to write my way out; I like to write from a place of uncertainty, and What Rough Beast is no exception.
I started to write the play in the aftermath of the 2016 American election and Charlottesville. As elections revealed the depth of ideological polarization in our society, as white supremacist violence announced itself proudly and as new hate groups began to emerge from the woodwork, I found myself reconsidering the idea that compassion and diplomacy, virtues I'd held to be sacred, were the answer to the rising tides of white supremacy and far-right extremism. I grappled with the idea that empathy might be an act of dangerous moral compromise; that dialogue across divisions, something I'd always considered to be a long-term goal of my work in theatre, might be antithetical to social justice.
I felt the news cycle chipping away at my pillars of virtue until those pedestals began to give way beneath me. And in that free-fall I wrote What Rough Beast. I was struggling with the following questions: how do we engage each other across political divides? When is dialogue across the ideological gap a necessity, and when it is an act of moral compromise? Can empathy truly change a person's mind, or is it only putting the most vulnerable members of our society at risk?
'I started to write the play in the aftermath of the 2016 American election and Charlottesville… I found myself reconsidering the idea that compassion and diplomacy, virtues I'd held to be sacred, were the answer to the rising tides of white supremacy and far-right extremism.'
WM: Do you think American audiences who saw the production in Boston will react or reflect on this show differently than audiences in Montreal in 2023?
Abracen: Good question! I think every audience has carried their own lived experience with them into the play. Certain lines and moments do hit differently for American and Canadian audiences, whereas others tend to echo across borders. This will be my first time hearing an audience's reaction to the play in three years; I can't wait to engage with them in the post-play talkbacks and hear their responses.
WM: What does it mean to you to have your work featured at Centaur Theatre as the Brave New Look selection?
Abracen: It is extraordinarily meaningful to me to have What Rough Beast be selected for Centaur Theatre's 50th Anniversary Legacy Series and Brave New Looks. I'm thrilled to be working with this stellar Montreal team in a piece bound for a theatre that I've been attending since childhood. It's been three years since the pandemic cut short Beast's intended run in 2020; that this team has remained eager and excited for this project for so long is incredibly heartening for me as a writer.
  *   *   *   *   *
WM: How did you prepare to direct What Rough Beast?
Abdallah: Thanks to COVID, I've had a long time to prepare for this play – almost three years! We were initially going to present What Rough Beast as part of Centaur's Brave New Looks in March 2020, but were shut down right before the start of rehearsals. Since then the play has continually occupied a part of my thoughts. New ideas, realizations, and inspiration would come in the most unexpected ways as we waited to be able to finally bring this play to life.
In addition to my regular preparation of research and diving into the script for understanding and rhythm, I feel that one of the most impactful ways that I've prepared to direct this play was actually through challenging myself to better understand the idea of what it means to be an ally – authentically – in 2023. The conversation has changed so much over the past few years and to be able to explore What Rough Beast, I needed to first explore my role in this conversation. I believe we all do, we all need to be open to having uncomfortable conversations with humility in order to grow as individuals.
WM: What drew you to directing plays, and how have you progressed as a director?
Abdallah: I began my theatre career as an actor, but I had always been interested in all different parts of theatre. While studying theatre at Concordia, I loved diving deeper into the impact theatre could have from sharing a story with an audience and sparking a dialogue to theatre education. Then one day I decided to take a directing course and I ended up falling in love with the process. I love immersing myself in a script trying to understand it on multiple levels and then working collaboratively with a group of artists to bring that script to life. I respect the work and artistry that each member of a production brings (the actors, designers, stage management, assistants, producers, and so on) and I love being the person who gets to engage with each of them to help bring the collective vision together.
WM: Based on your experience as a director, what are the best ways to maximize the performances of actors?
Abdallah: I believe in creating a space where all the artists involved in a production can feel supported and inspired. This is especially important when working on a piece as charged and complex as What Rough Beast, which asks us all to examine some pretty big and polarizing ideas while also coming face to face with our own biases. In regards to the performers, what that looks like for me is recognizing them as individuals, taking the time to understand what they need as unique artists, and then creating a container for the work so we can all be our best selves.
'I respect the work and artistry that each member of a production brings… and I love being the person who gets to engage with each of them to help bring the collective vision together.'
It can be difficult to authentically explore such complex ideas and be open to the deep emotions that follow if there isn't a strong enough container keeping us all safe. In the case of What Rough Beast, this has allowed us to find absolutely breathtaking and impactful moments throughout the play, which we can't wait to share with an audience. It's also allowed us to laugh – deep, full belly laughs – because laughter allows us to disengage from the moment and reconnect as humans so that we can go back into the discussion stronger. That has been the beauty of this process, which is so fitting because that is also the beauty of What Rough Beast.
WM: Who are some of the theatre directors that have inspired you, and what are some of the productions that have influenced your methods?
Abdallah: There are so many directors that have inspired me for different reasons. The first has always been Sarah Stanley because it was her work and her influence that started me down this path. I admire how Sarah's way of working seems to not be a set method, but instead adapts and grows based on the project – and people – she's working with.
I've had the pleasure of working with Mike Payette several times over the years and I have always loved his respect for the actors and the process, coupled with his fearlessness in never backing down from an ambitious show.
Images for What Rough Beast: Emelia Hellman

Other articles by Irwin Rapoport
Other recent articles
---
Irwin Rapoport is a freelance journalist with Bachelor degrees in History and Political Science from Concordia University.

---
---