Choir Boy sings out to theatre buffs
A moving and entertaining musical that introduces exceptional new talent
By Byron Toben
Here is a formula for a fine evening out.
Mix a proven writer with a proven director and add a fine cast of actors supported by fine technical people and voilà, a moving and entertaining result.
Such is the case with Choir Boy, the play written by Academy Award (for Moonlight) writer Terrell Alvin McCraney and directed by Mike Payette (who just won a META for Around the World in 80 Days) with key musical direction and arrangement by Floydd Ricketts.
A real revelation is the five student actor-singers selected. All five both act and sing with great aplomb.
Taking place in a boys private boarding high school, the cast of seven is anchored by two veterans, Quincy Armorer as Headmaster Marrow and Paul Rainville as Mr Pendelton, a retired teacher donating his time to teach the chorus a special course. The two are proven actors and they deliver in these roles.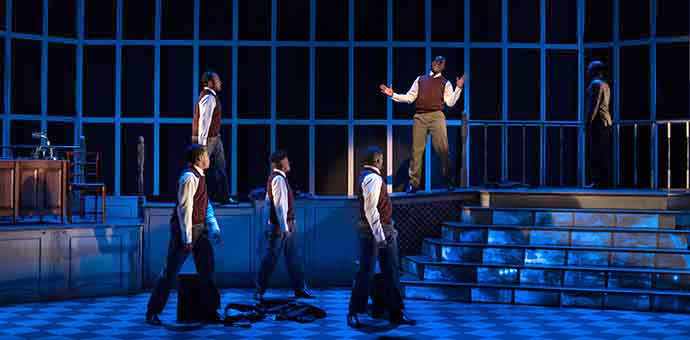 A real revelation is the five student actor-singers selected. All five both act and sing with great aplomb.
Overheard singing extemporaneously in the shower room, they are enlisted by the headmaster to be in the school choir and soon become a local attraction, generating funds for the struggling school.
Their a cappella renditions are superb, combining gospel, blues and contemporary. As a Paul Robeson fan, I particularly enjoyed Motherless Child.
Despite their harmonious vocalisations, internal conflicts are slowly revealed, in part by jealousy of lead singer Pharus (Steven Charles). This is evidenced by tensions with Bobby (Patrick Abellard). These two are grads of theatre programs at John Abbott and Dawson respectively, while David (Christopher Parker) obtained same at Western University and Junior (Vlad Alexis) known to local audiences, recently honed his skills at the Canadian Film centre in Toronto. The oddly named A-J (Lyndz Dantiste) graduated from the Conservatoire d'Art Dramatique.
The ensemble's smoothness was further enabled by music director and arranger Floydd Ricketts who is interviewed in the printed program by Barbara Ford.
All in all, a great introduction to Artistic director Eda Holmes' first season of her own selections, coinciding with the Centaur's 50th anniversary.
Choir Boy continues at the Centaur until October 28.
514 288-3161 or centaurtheatre.com
Images: Andrée Lanthier
Read also: Once an Irish film, now a hit Broadway musical

---
Byron Toben is the immediate past-president of the Montreal Press Club.
---