Cinegael Presents
The Best of Irish Film
Montreal Irish Film Festival opens with Young Offenders
By Byron Toben
Friday January 20 will witness two important events.
The larger one will witness a billionaire moving into public housing while evicting a black family. You have to travel to Washington, DC to view that.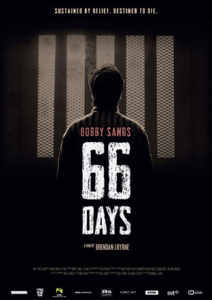 The smaller one you can view at Cinema de Sève at downtown Concordia. It is the 25th anniversary of Montréal's Cinegael Irish Film Festival, apparently the largest such in the world outside the Emerald Isle itself.
Last year's edition was an especially evocative one, marking amongst other subjects, the 100th anniversary of the ill fated, but historically important Easter Rising of 1916.
Unlike other film festivals here such as the World Film Festival, the Festival of New Cinema, the Black Film Festival, etc., Cinegael is not compressed into 5 to 10 days, but rather stretched out for several months, January to April, usually on Friday evenings with gaps in March wherein something called… um… oh yeah… St. Patrick's Day parade and attendant breakfasts, lunches, dinners and other events crowd the Irish calendar.
This year's selection, so far, is heavy on 2016 films.
If you like caper films, the opening night January 20, has Young Offenders voted best Irish Film at Galway festival, involving a cocaine seizure in Cork in 2007.
If you are keen on political documentaries, February 3 has Bobby Sands: 66 Days about Mr. Sands' fatal hunger strike while in prison in 1981.
Have a taste for innovative dance? February 17 brings We Are Moving: Memories Of Miss Moriarty that relates the career of Joan Denise Moriarty who blended ballet with Irish folklore.
Séances for March 4 and April 7 are still being negotiated. March 31 brings the ever-popular series of Irish Short Films, wherein the audience gets to vote on their favourite top three.
April 21 and 22 brings a weekend of Irish films, often with a guest director and includes a lunch break at McKibbin's pub next door.
The closing gala on Thursday, May 4 spotlights A Date For Mad Mary and is followed by a catered buffet in the Concordia hall building.
The best deal for the whole package of 10 films, opening reception and closing gala with buffet is only $75. This membership also includes ad hoc special events later in the year, usually at Hurley's pub and occasional complimentary first run movie tickets.
Otherwise, individual tickets are $12 except the opening reception $20 and the closing gala or special weekend of three films at $25.
For further info see the Cinegael website: CinegaelMontreal.Com
Feature image: Young Offenders
All images courtesy of Cinegael
---
Byron Toben is the immediate past-president of the Montreal Press Club
---
---