Cinema sous les étoiles
available online this summer
11th edition features free unreleased films from July 28 to September 24
July 22, 2020
Due to the provincial government's directives banning cultural gatherings until August 31, 2020 and the uncertainties regarding future confinement measures, Funambules Médias recently announced the cancellation of its Cinéma sous les étoiles outdoor performances. As is the case with many other activities, the pandemic forced the company to cancel certain projects and reinvent itself..
Therefore the Funambules Médias team has decided to roll up its sleeves and set up an exceptionally online, still free, abridged 11th edition of the Cinéma sous les étoiles. More solid than ever, Cinéma sous les étoiles relies on local and international documentaries tackling issues of the day and on the organisation of large panels bringing together artists and specialists who will engage in dialogue in order to push the debate even further.
Cinema sous les étoiles' programming will once again address major current issues: colonialism and racism, the environment, feminism, social and class struggles, democracy, neo-liberalism, artificial intelligence and privacy.
A must-see summer documentary film event for Montrealers, this edition will showcase 12 feature-length documentaries on TV5's digital platform (website and applications for mobiles and connected televisions) and will broadcast its competition of 24 short films hosted on the platform of La Fabrique culturelle.
All feature films will be available free of charge for 72 hours in TV5's digital universe, at the end of which an interactive discussion with the audience will take place.
The films presented will be followed by live discussions with filmmakers and specialists on the issues addressed in order to open up spaces for dialogue and further the debate, all on the Cinéma sous les étoiles Facebook page.
Cinéma sous les étoiles invites the public to take a seat on their balcony or in their backyard – "it's a question of having stars among us for real," as one loyal festival-goer summed it up so well – and send them pictures of their home open-air theatre!
PROGRAMMING OVERVIEW
The festival will be launched live on the Facebook page of Cinéma sous les étoiles on Tuesday, July 28, 2020, at 7 pm on TV5 with each film followed by a panel discussion. The films will be available on TV5's platforms from July 28 to August 20, one new documentary per week. From August 31 to September 24, two documentaries will be added weekly on the channel's platforms. One week, August 24 to 30, will be reserved for the short film competition on the La Fabrique culturelle website.
Always rooted in national and international current events, Cinéma sous les étoiles' programming will once again address today's major issues: colonialism and racism, the environment, feminism, social and class struggles, democracy, neoliberalism, artificial intelligence and privacy.
Featured documentaries
The first documentary of this edition, Welcome to Sodom (July 28 to 31), directed by Florian Weigensamer and Christian Krönes, tackles ecological issues from the outset with a hard-hitting film about a dumping ground in the heart of Ghana where the main economic activity has been built around the world's largest illegal electronic waste dump. The documentary confronts us with the social, ecological and human consequences of the proliferation of our electronic objects and the management of their obsolescence, and will be followed by a panel discussion about waste management and programmed obsolescence with, among others, the presence of Amélie Côté, a specialist in waste management.
The Quebec documentary Soleils noirs by Julien Élie (August 3 to 6), recently nominated at the gala Québec Cinéma, draws an alarming portrait of Mexico, immersed in a climate of impunity installed by criminal groups and the authorities in place, through intimate testimonies and ambitious journalistic work.
Denys Desjardins's poignant, exploratory and intimate documentary, Le Château (August 10 to 13), tackles the question of ageing and memory through the disarming and very personal portrait of a mother who must face the hazards of advancing age. A film about our elders at a time when health news reminds us of their vulnerability, bringing us back to the humanity behind the statistics.
Alexe Poukine's film, Sans frapper (17 to 20 August), tackles with modesty and accuracy the delicate and intimate question of rape and consent through the story of Ada. At a time when we are currently experiencing a second wave of public denunciations, the film makes it possible to intelligently dissect the question of consent and to confront us with our most tenacious prejudices.
Thomas Lafarge and Adrien Pinon's The World According to Amazon (September 7 to 10) takes a striking plunge into the world of this sales and web giant that governs many aspects of our lives and our way of consuming. The documentary tells the story of Amazon's strategy, its ambitions and its ramifications to the economy and tries to answer the big question: what future is Amazon preparing for us?
Fredrik Gertten's documentary Push (August 31-September 3) will plunge us into the ruthless real estate, financial speculation and gentrification problems of major cities, including Montreal.
These two films allow us to draw a portrait of the inordinate power of large corporations in the face of increasingly destitute public authorities.
Elaine Brière's Haiti Betrayed – La trahison d'Haïti (September 14-17) reveals how Canada, once considered by Haitians as a constructive partner, conspired with the United States and France to overthrow its democratically elected government. This movie is a stunning indictment of the complicity of Canadian leaders in the international oppression of a nation that has been suffering since it claimed independence.
Finally, the inescapable themes of racism and colonialism will be at the heart of the final week of programming (September 21-24), represented by two Canadian films directed by aboriginal women: Nîpawistamâsowin: We Will Stand Up by Tasha Hubbard and Alanis Obomsawin's Jordan River Anderson, The Messenger, both of which deal with systemic racism against First Nations people in Canada in the justice system.
&
We Will Stand Up exposes racism against Aboriginal people through the murder of Colten Boushie, a young Cree from the Red Pheasant Nation, and the high media profile of his trial. This detailed examination of a system built over centuries of colonial domination joins a shocking portrait with an urgent call to action.
 Jordan River Anderson, The Messenger deals with the legal struggle for equitable access to public services for aboriginal children through the infamous case of Jordan River Anderson. Using archival footage and numerous interviews, the filmmaker immortalizes Jordan's life and the legal battle that made it difficult to establish a more equitable policy for First Nations children, which is a fundamental human right.
This double programming both points out the flaws in the Canadian justice system and highlights the victories that have resulted from the fierce struggles of Aboriginal people to defend their rights.
Keep up to date on programming via the Cinéma sous les étoiles website (in French): cinemasouslesetoiles.org
LIVE DISCUSSIONS AND PANELS ON FACEBOOK
Discussions are scheduled on Facebook Live at the end of the 72-hour broadcast period of each film. Funambules Médias was keen to reproduce the ambiance of Cinéma sous les étoiles by transferring its socio-political debates, usually in the public space, to the internet, The collective nature of political discussions remains paramount, especially in a context of social confinement, and that is why the films will be followed either by live discussions with the filmmakers, by online panels with specialists or by question and answer interviews with filmmakers and experts.
SHORT FILM COMPETITION
For the 6th year, Funambules Médias is renewing its short film competition consisting of a solid selection of local and international documentaries. This year, an entire week will be dedicated to the broadcasting of short films, from Monday, August 24, to Sunday, August 30, during which the public will be able to discover 24 short films carefully selected by the programming team. The competition is presented by Télé-Québec's La Fabrique culturelle, which will host the online competition.
Thanks to its generous partners – Spira, Main Film, NFB-ACIC, SLA Productions, Coop l'Argot and Paraloeil – the jury will present the winners with $20,000 in prizes in six categories at a live awards ceremony on the Cinéma sous les étoiles Facebook page on Thursday, August 27, 2020 at 7:30 pm.
'For the 6th year, Funambules Médias is renewing its short film competition consisting of a solid selection of local and international documentaries.'
COLLABORATIONS AND PARTNERSHIPS
This year, Funambules Médias' Cinéma sous les étoiles is collaborating with major media partners thanks to the involvement of TV5 and Télé-Québec's La Fabrique culturelle in hosting the online edition. Once again this year, Funambules Médias has the support of major players in the Quebec film community, such as the Rencontres internationales du documentaire de Montréal (RIDM), the National Film Board of Canada (NFB), Québec Cinéma, Cinéma Politica, les Réalisatrices équitables and the Festival Filministes. Funambules Médias also maintains relationships with numerous collaborators in the community such as Mer et Monde, Humanité & Inclusion Canada, UPop and many activist groups that will allow you to learn more about local struggles and alternatives.
Cinéma sous les étoiles would not be possible without the support of valuable partners such as the Caisses Desjardins, the City of Montreal and its boroughs, the Confédération des syndicats nationaux (CSN) and the Fonds de solidarité (FTQ), which provide financial backing for this large-scale project, in addition to the essential support of institutions from all three levels of government: the Canada Council for the Arts (CCA), the Conseil des arts et des lettres du Québec (CALQ) and the Conseil des arts de Montréal (CAM).
FUNAMBULES MÉDIAS: PROMOTING SOCIAL CHANGE
Funambules Médias works for the advent of a fair and inclusive society through video production, training and distribution of documentary films, promoting the expression of citizens' voices and the development of critical thinking.
Follow Cinema Under the Stars
cinemasouslesetoiles.org
facebook.com/cinemasouslesetoiles
twitter.com/cse_funambules
#CinePourEmporter
#CinemaSurMonBalcon

Feature image: courtesy of Cinéma sous les étoiles

Read also: Other articles about cinema

---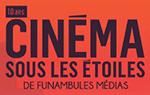 Cinéma sous les étoiles is an outdoor social and political documentary film festival, entirely free and open to all. This major event takes place every year in many parks and outdoor venues throughout Montreal and surrounding areas. The public can discover quality works on local and international current events in the heart of their neighbourhood, free of charge. cinemasouslesetoiles.org
---
---