David MacNaughton on
prosperity, opportunity
Canadian Ambassador to USA addresses over 300 attendees at CORIM luncheon
By Byron Toben
CORIM (Conseil des relations internationales de Montréal) sponsored a lunchtime presentation by David MacNaughton, Ambassador to the USA earlier this week. His topic Canada-USA: Together for Prosperity and Opportunity attracted over 300 business leaders.
Mr MacNaughton is only 8 ½ months into his position as the 25th holder of that title. Interest was particularly high as the policies of a Trump presidency slouches toward Washington to be born.
Prime Minister Trudeau has wisely refrained thus far from being drawn into specific comments on hypothetical actions by the president elect and MacNaughton tried to emphasize the historic bonds between the two countries, each other's greatest trading partners. He implied that Trump's rhetoric about tearing up NAFTA was primarily aimed at Mexico and that the dependence of 35 US states on this traffic plus Canadian recitation of the interwoven advantages of our relationship would educate the new administration on opportunities for greater prosperity for both countries.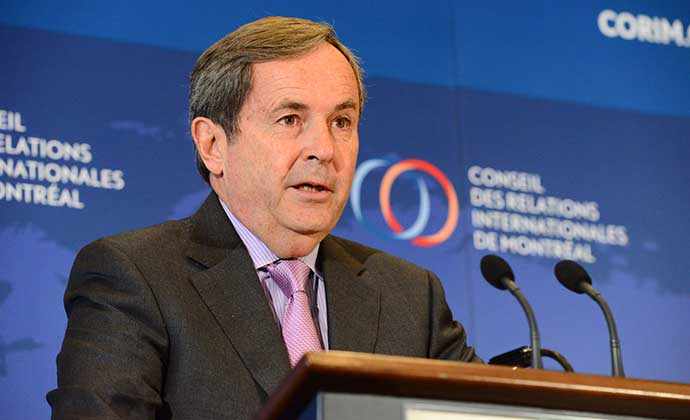 The accomplished Mr MacNaughton (both private and public service in the past) will have his hands full. Witness the Trump statement that "NAFTA is maybe the worst trade deal signed anywhere".
On the never-ending dispute over softwood lumber, Raymond Chretien, Canada's ambassador (1994-2000) and now Quebec's representative in those negotiations, told the audience that, "Americans never give gifts".
Mr Trudeau has stated that he was open to renegotiating NAFTA, to the criticism of the Conservatives.
This writer hopes that if such becomes the case, Canada can ameliorate the nefarious Chapter 11 dispute settlement clause, whereby 35 claims have been brought against Canada vs. 22 against Mexico and only 11 against the US. Under the trade lawyers who comprise the judging panel, the US has never lost a case against it whereas Canada has lost or settled 6 claims, paying out $170 million in damages plus $65 million in legal fees.
The majority of these suits involved environmental protections. Plaintiff US corporations were able to collect large hypothetical future profits as well as actual damages. This chapter is repeated in CETA (Canada-Europe Trade Agreement), recently signed by Canada, but may become academic as European members are encountering difficulties in getting it ratified, not to mention the possible 'Italexit', rarely covered here, predicted in the approaching Italian referendum on December 4.
It is presumed that the chapter is also repeated in the pending Pacific Trade Agreement, but we do not know yet as much of the provisions are still secret.
Fasten your seat belts, international trade watchers, as the Pacific waves crash against the Trump reef barrier. An assembly of other fora, business and academic, are gearing up to discuss the pros and cons, both in general and specifically the effect on our True North, Strong and Free.
Images (unless specified): Sylvie-Ann Paré / CORIM

---
Byron Toben is the immediate past-president of the Montreal Press Club
---
---