O'Donnell charms Montreal
with bustling one nighter
Popular Irish singer packs Théâtre St-Denis on cross-Canada tour
By Byron Toben
I must have led a deprived adulthood, not having heard of the wonderful entertainer Daniel O'Donnell from county Donegal in Ireland before.
He appeared here last week at the huge (933 seat) Théâtre St-Denis for a packed one nighter to a packed house. The Montreal stop was part of a Canada-wide tour that had started in Victoria in September.
Accompanied by seven fine instrumentalists (accordion, piano, percussion, violin and three guitars) as well as a talented soprano lady, Mary Duff, he blended song, dance, jokes and tender reminiscences into a balanced three-hour show.
Overall, his enthusiasm reminded me a bit of Al Jolson (You Ain't Heard Nothing Yet) and his voice at times of Bing Crosby, even though he sang neither jazz nor croon tunes.
He first shot to fame in England and Ireland, issuing many albums and winning many awards (photo of him congratulated by Prince Charles flashed on the screen). He then was invited to the USA where he engineered many specials on PBS.
His original specialty was country music and indeed his show was heavily laden with that and many Irish classics. On the Irish side were such as There's Always a Kettle, Galway Bay, Wild Irish Rose, Tura Lura Lura and of course Danny Boy.
… his enthusiasm reminded me a bit of Al Jolson… and his voice at times of Bing Crosby, even though he sang neither jazz nor croon tunes.
A surprise number featured four of our own Bernadette Short dancers joining Mr. O'Donnell in the classic "broom dance". You have to be nimble on that one and the 54-year-old O'Donnell still is, exhibiting his rubber leg skills throughout the evening.
The country side included tributes to both Hank Williams with Fun On The Bayou, This Heart O Mine and Elijah. Johnny Cash got his due with Ring of Fire and others. The largely senior crowd really enjoyed Fats Domino's Blueberry Hill.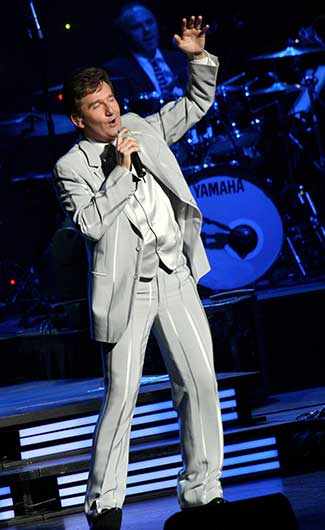 Country icon Charlie Pride appeared on screen to do a duet with O'Donnell on stage. I couldn't decide if it was pre-recorded or a superior Skype.
One fascinating moment was a photo of O'Donnell with cinema star Maureen O'Hara, then 91, revisiting the town where some 50 years prior, she had starred in the film The Quiet Man.
Another photo paid tribute to O'Donnell's mother Julia who passed away a few weeks short of 95 four years ago. She was the force sustaining her five children (Daniel was the youngest) when the father died at only 49. Part of her toil involved knitting Aran island style wool sweaters, many shipped to her brother in law in North America who sold them here and sent the proceeds back. His descendants – O'Donnell's second cousins – were in the audience.
At the intermission, dozens of CDs and DVDs were sold, as well as before and after the show. His Christmas albums are among the biggest sellers.
Daniel O'Donnell typically hangs out with the crowd after the show to chat and be available for snap shots with him. This is a guy who really works at it. A blend of sincerity, talent and family values that goes a long way.
So, Danny Boy, come ye back here afore too long.
Images: danielodonnell.org

Read also: The Films of My Life at the Outremont

---
Byron Toben is the immediate past-president of the Montreal Press Club.

---
---