David Bowie dies and lives
Making love to the future
Words by Robert Kilborn
Image by Anthony Jenkins
I remember being introduced to David Bowie's fourth album, 1971's Hunky Dory, by the hippest record store owner on Crescent Street, Montreal's translation of Carnaby Street, swinging London's epicentre of cool. The visual style of Bowie's image on the album cover — an homage to a classic Hollywood portrait of Marlene Dietrich — and the melodic beauty, longing, and rapture of such songs as "Life on Mars," "Changes," and "Oh, You Pretty Things" took my adolescent imagination captive in black flowers of sound and poetry. In 1972, I tried to play Bowie's breakthrough fifth album, The Rise and Fall of Ziggy Stardust and the Spiders from Mars, to my rock bandmates. We gathered around the turntable, the spiritual hearth of our unheated practice space in a rickety former warehouse on Saint Antoine Street. Stroking his shoulder-length hair, the lead guitarist stopped me after two songs. "Too weird," he said. "Let's work on Stairway to Heaven."
It's January 2016 and Bowie has died. People are comparing him to Sinatra and Presley. Marathon radio play has awakened many to the sophistication, intellectual depth, and protean genius of his multiplex career. No, he's not just the pop artist of "Fame," "Let's Dance," and "Modern Love." He's eased into the front row of music history, right next to Bob Dylan, Jimi Hendrix, Led Zeppelin, The Beatles and the Stones. The range and power of his achievements and worldwide influence are almost too much to take in (see below). Let us focus, then, on a few quick frames of his deep focus expeditions through time, space, and polymorphous subversion.
Alien street gang culture
Last year on YouTube, I stumbled upon a "lost" 1973 Top of the Pops (TOTP) performance of the classic "The Jean Genie." Bowie was in his early glam rock phase of glittery jackets, pajama trousers, kabuki make-up, spiky red hair, and groundbreaking musical invention. Remarkably, as reported on BBC television in 2012, this performance had been lost for almost 40 years — wiped from history by shortsighted BBC producers — until a former TOTP cameraman revealed that he had made a copy of the video. He had stored it at home, along with "another hundred" video recordings from the same era.
The TOTP clip features Bowie's early 70s backing band "The Spiders from Mars": the extravagantly talented Mick Ronson on guitar (who later collaborated with Bob Dylan and Morrissey), and Ronson's bluff Hull chums Mick "Woody" Woodmansey on drums and Trevor Bolder of the notorious elongated sideburns on bass (Bolder later joined heavy metal veterans Uriah Heep). Here was the band that created three of the greatest and most influential records in the rock/pop/experimental art rock canon: Hunky Dory (1971), The Rise and Fall of Ziggy Stardust and the Spiders from Mars (1972), and Aladdin Sane (1973).
Bowie's music, androgynous beauty and wavering sexuality, cinematic romanticism, mingling of high and low art, intentional kitsch, and knowing, mocking attitude had a massive impact on subsequent musical and cultural movements worldwide.

Bowie's music, androgynous beauty and wavering sexuality, cinematic romanticism, mingling of high and low art, intentional kitsch, and knowing, mocking attitude had a massive impact on subsequent musical and cultural movements worldwide. The ever-evolving phases of Bowie's music and image in the 70s influenced, among other genres, punk, post-punk, new wave, blue-eyed soul, pop, glam rock, avant-pop, dance rock, goth rock, industrial rock, alternative rock, the New Romantics, experimental rock, and electronica.* The self-consciously detached, campy theatrics and style of the 80s found its defining inspiration in Bowie's "post-Ziggy" musical mutations and personae: the dystopic futurist outsider in Diamond Dogs (1974), the effete mannerist of "plastic soul" in Young Americans (1975), the aloof "Thin White Duke" of eerie avant-pop in Station to Station (1976), and the daring rhythmic and sonic experimentalist in the "Berlin Trilogy": Low (1977), Heroes (1977), and Lodger (1979).
Bowie's various phases bridged mainstream and underground culture. He introduced surrealism, German expressionism, music hall, mime, avant-garde theatre and dance performance to the under-30 masses. He brought the seductive decadence of Weimar Berlin and Warhol's New York, kabuki, commedia dell'arte, and dandified cool into a visibility that shaped the club and street culture, fashion, art, design, entertainment, and social attitudes that metastasized in 70s and 80s London, Paris, Berlin, New York, Toronto, Los Angeles, Tokyo, Madrid, Sydney, and Montreal. Bowie's collaborations with Montreal dance innovators La La La Human Steps, choreographed by the singular Édouard Lock, and featuring ferocious principal dancer Louise Lecavalier, colonize YouTube like purgatorial fever dreams.
At the end of the "The Jean Genie" TOTP clip, in homage to the internal language and spiritual continuity of rock and pop music, Bowie inserts John Lennon's harmonica riff from the Beatles's "Love Me Do" into his harmonica solo. The Spiders from Mars back him up with the otherworldy toughness of an alien street gang.
To die creating is to know how to die
In 2003, after 33 years in the light, Bowie dropped out of sight. In 2013, he emerged with the universally acclaimed album The Next Day. Three years later, on his 69th birthday, two days before his death, he released his 25th studio album, Black Star. His final songs — created in full knowledge of a cancerous endgame — are as melodically fresh, alluring, and experimental as his best work. Listen to Black Star's beguiling title track, or "Lazarus," or "Dollar Days," or "I Can't Give Everything Away."
Goodbye, David. Your now-finished work embodies the fearless, the curious, the inventive, the polyvalent best in the human spirit. You showed us the difference between factual and poetical truth. You showed us that the imagination is more akin to sensation than to thought. You are now one of those exceedingly rare artists whose futurity will spark the self-recognition of the yet-unborn.
* A short list of artists influenced by Bowie includes Madonna, Queen, Depeche Mode, ABC, Roxy Music, Björk, Eurythmics, The Smiths, Morrissey, Lady Gaga, Nirvana, The Human League, Howard Jones, Frankie Goes to Hollywood, Bauhaus, Radiohead, Blur, The New York Dolls, Duran Duran, Blondie, Television, Orchestral Manoeuvres in the Dark, Pet Shop Boys, Talking Heads, Pulp, Moby, The Verve, Jane's Addiction, Kiss, Suede, Placebo, Siouxsie and the Banshees, Muse, Joy Division, New Order, The Runaways, La Roux, Hurts, Nine Inch Nails, Vampire Weekend, TV on the Radio, Culture Club, Arcade Fire, and The Cure.
---
Robert Kilborn has written fiction, nonfiction, essays, articles, and reviews for the National Post, the Montreal Gazette, La Scena Musicale, Westmount Magazine, Cult Montreal, Whitehot Magazine of Contemporary Art (New York), and Tuck Magazine (London, England). He started out as a rock singer. At the University of British Columbia he read Literature, Philosophy, and Art History. He's been an English teacher, a restaurant consultant, a Don Draper, and General Manager of one of Canada's leading modern dance companies, Anna Wyman Dance Theatre.

Check out Robert Kilborn's LinkedIn profile and Westmount Magazine listing. Contact him at rkilborn@sympatico.ca.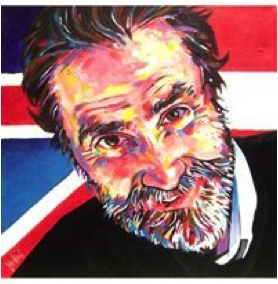 Illustrator, caricaturist, and writer Anthony Jenkins frolicked, gambolled, and capered at Canada's national newspaper, The Globe and Mail, for nearly 40 years. He has freelanced for publications including The Wall Street Journal, Maclean's Magazine, The Medical Post (Canada), The Straits Times (Malaysia), The South China Morning Post (Hong Kong), and The Melbourne Age. He has also created book covers and illustrations for numerous publishers, including The Lonely Planet series of travel guidebooks. Most recently, he created the cover art and author illustrations for Douglas Gibson's Across Canada by Story, published October 2015 by ECW Press.
Check out Anthony Jenkins's Linkedin profile and website jenkinsdraws.com. Contact him at jenkinsdraws@sympatico.ca.

---
---