Krzysztof Kieslowski's magnificent epic
Dekalog film series continues and a list of film festivals to come
By Byron Toben
Last week, I reported on the troubled Montreal World Film Festival which salvaged a decent presentation, all things considered. I also mentioned how its foreign film content had co-incidentally been supplemented by the Cinema du Park's running of some Hungarian and Polish films.
The latter consisted of multiple viewings of Krzysztof Kieslowski's magnificent epic, Dekalog, amazingly filmed in 1989 Poland just before the Soviet yoke broke up. This 10-hour epic, very loosely based on the 10 commandments was, to my mind, the greatest long film achievement since Kobayashi's 1959 The Human Condition about the Japanese occupation of Manchuria in WW II. That one was shown in three 3-hour segments, while Dekalog is packaged in 5 segments, each containing 2 of the 10 episodes.
I previously covered Episodes 1 and 2. Here are 3 to 8 of the whole, praised by everybody from the New York Times to Roger Ebert.
The whole revolves around various tenants of a Warsaw apartment complex, each with conflicted personal relations and lots of close-ups in generally winter weather. To me, there is a fleeting resonance to some Ingmar Bergman films
Episode 3
is set on Christmas Eve. A married man, a taxi driver, plays Santa for his kids. The Xmas dinner is interrupted by a phone call that his taxi has been stolen. He leaves to investigate, to find out that was a ruse by Ewa, a former lover, desperate for his help in finding Edward, her husband, who has disappeared that day. This turns into an all night search as plot twists and complications occur. The sad but unexpected ending is poignant.
Episode 4
is set on Easter morning. A father, Mickael, lives with his 20-year-old daughter, Anka, an acting student. Their relationship seems more like brother and sister than parent child. When he is called out of town overnight, she discovers an envelope to be opened upon his death. She opens it, only to discover another sealed envelope from her long dead mother, addressed to her.
Upon the father's return, she confronts him as not being her real father, which he admits. Hidden attractions emerge. What did the mother's letter really say? Does it matter now?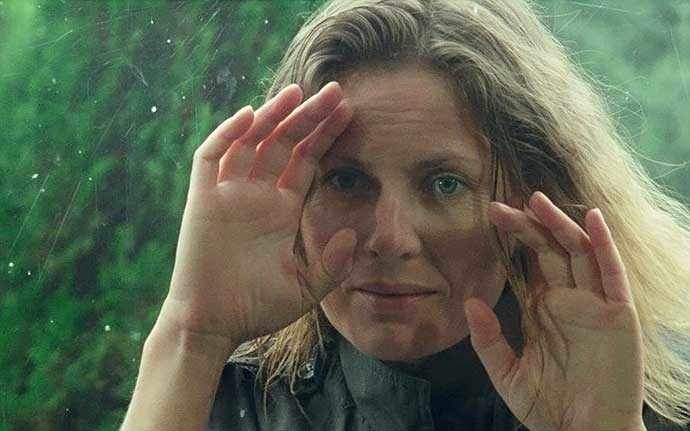 Episode 5
Another taxi driver in the complex picks up a disturbed youth from the countryside, who strangles and brutally clubs him to death. A newly admitted idealistic lawyer is assigned to defend the killer. Despite the lawyer's plea against capital punishment, the youth is convicted and sentenced to hang. The youth begs to see the lawyer before the hanging and reveals his inner conflicted history. The lawyer agonizes over good and evil and difficulty of judging.
Episode 6
A teen-aged orphaned youth lives with his friend's mother while the friend is off fighting in the military. He becomes a peeping Tom, using a telescope to watch a middle-aged woman across the courtyard and stalks her. Eventually she confronts him and discovers his naivety and sexual inexperience. His guilt over morality leads to a suicide attempt.
Episode 7
A 16-year-old daughter has a child out of wedlock. Her mother, disappointed at not being able to have more children of her own, raises her granddaughter, Anka, as "mommy" and the real mother is treated as a sister. At 22, the real mother devises a plan to kidnap her daughter and flee to Canada. She stops en route at the hut of the child's father, a maker of stuffed toys. When he suggests she return to the grandmother's apartment, she flees to a train station to go to Rumania. "Mommy" discovers her there and the little girl runs to her. The daughter boards the train alone.
Episode 8
An elderly woman, professor of ethics, is visited by a younger American woman, translator of the Polish professor's books in to English. Slowly turns out that the American visitor was a Jewish child who was refused hiding in the Polish professor's apartment during WW II. Conflicting decisions and explanations lead to a rapprochement even though others blanket out their remembrances of that era.
Readers who wish a copy of my Senior Times article a few years ago about Righteous Polish Gentiles during those years, please contact me at info@westmountmag.ca
All 10 episodes are repeated from September 16 to 20 at Cinema du Parc.
Images: stills from the Dekalog series
---
Other film festivals approaching at various venues are:
September 28 to October 2 – Black Film Festival
October 5 to 16 – Festival Nouveau Cinema
October 21 to 27 – Brazilian Film Festival
November 3 to 13 – Cinemania (French films w/English subtitles)
November 10 to 20 – RIDM (International Documentary Fest)
---
Byron Toben is the immediate past-president of the Montreal Press Club
---
---