Turn off the lights
and come on over!
Westmount's upcoming ever popular Earth Hour event
By Tony Moffat and Margaret Gundara
Earth Hour is a global grassroots environmental movement celebrated annually at the end of March. At 20:30 local time, across 24 time zones and 6 continents, power is extinguished, lights out – including the Eiffel Tower! The goal is to raise awareness of the devastating effects of light pollution on human, animal and plant life, its broad impact on all aspects of our environment, and the wider repercussions for climate change.
Light pollution (LP) is increasing at an alarming rate worldwide: 6% per year. That may not sound like much, but it does compound like interest on a bank loan, so if we don't do anything about it, LP will double in just 12 years, and be 10 times worse in 40 years. Left unchecked, LP could reach an intolerable level for humans, animals and plants alike – i.e. all living things on the planet. We need darkness at night! Without it, essential sleep is compromised and many animals lose their orientation. In a broader sense, LP is a proxy for all our environmental carelessness, especially our over-consumption of non-renewable energy sources, such as fossil fuels, that are contributing significantly to a runaway growth in green-house gases (GHGs), and hence global warming.
It was for this reason that Earth Hour (EH), now celebrated worldwide, was created in Sydney, Australia in 2007, and followed in Westmount in 2009. The idea to start celebrating EH in Westmount began in the early 2000s during a Westmount Healthy City Project (WHCP)/Environment Committee meeting chaired by Don Wedge. Our initial objective was to alert our fellow citizens to the adverse effects of our unconstrained use of energy on the environment in general, and in particular, the significant contribution that our excessive use of outdoor lighting makes to the pollution of the night sky. Four of us got together, encouraged by Don: Eve Aspinall, Pat Dumais, Paul Marriott and Tony Moffat – and the rest is now history. Starting last year we were joined by Margaret Gundara. We are also aided by the invaluable Virginia Elliott at Victoria Hall and the City Councillor responsible for the Environment, Cynthia Lulham, a great asset to the cause.
Our initial objective was to alert our fellow citizens to the adverse effects of our unconstrained use of energy on the environment in general, and in particular, the significant contribution that our excessive use of outdoor lighting makes to the pollution of the night sky.
The first two times we celebrated EH were outside at the Westmount Lookout, accompanied by amateur astronomers with their precious telescopes showing us some of the brighter wonders of the night sky. (More numerous fainter objects are no longer visible even through a telescope due to the bright night sky in the city, even without the Moon.) We also had Mayor Trent and his cohorts, including George Bowser and Stan Grossman, singing and playing (with frozen fingers) environmental chansons. Luckily, we were able to convince Hydro Westmount (HW) to douse the lights at the Lookout, which helped greatly. But the next year, in 2010, a brisk cold wind blew from the North, reducing our turnout; so from then on we decided to hold EH in the civilized warmth of Victoria Hall from 6 pm to 10 pm. That will also be the case this year (2016), when we shall also be celebrating the 25th anniversary of WHCP, a World Health Organization initiative to put all aspects of health high on the social, economic and political agenda of city governments.
In Victoria Hall we typically entertain over 20 booths or display tables, all clearly identified, that relate to what EH stands for. This includes exhibits by Hydro Westmount (HW), the International Dark Sky Association/Quebec branch, the Royal Astronomical Society of Canada (RASC)/Montreal Centre, Friends of Summit Woods, Westmount Public Works, the Association of Pedestrians and Cyclists of Westmount (APCW), Environmental Options for the Home, and many more.
The evening programme, to be MC-d by George Bowser, also includes short speeches by our political leaders at all three levels (municipal, provincial and federal). Of special note is Dr. Marc Garneau, former astronaut who went "up" with the NASA shuttle three times, and is our MP. This year's keynote speaker will be Dr. Lawrence Mysak, emeritus professor at McGill University's Dept. of Atmospheric and Oceanic Sciences. He will share his extensive research and views on climate change, and answer your questions.
We also plan to offer a family workshop on bees, short talks on seeds, and milkweed and Monarchs, along with a continuous screening of an environmental film, all in neighbouring smaller rooms of Victoria Hall. Simply Wonderful will be offering delicious vegetarian fare, incidentally, another boost for the planet. (Animal Agriculture is also a strong contributor to GHG, so if vegetarianism and especially veganism is an option for you, then the planet would definitely appreciate it.)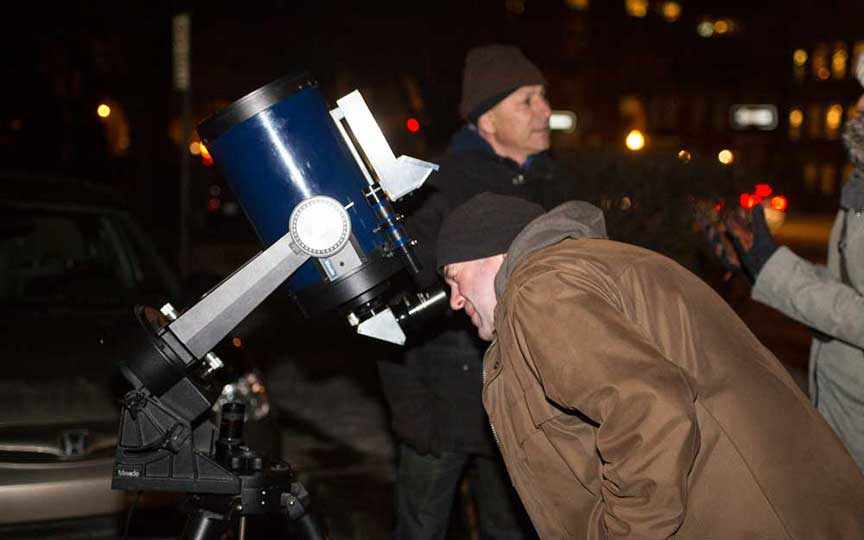 All the while, if the sky is clear (50% chance) the amateur astronomers of the RASC will be outside pointing their telescopes skyward to provide splendid views of giant planet Jupiter with its amazing four bright orbiting moons, the Moon and other celestial delights. HW will also douse the lights around Vic Hall for a better view and as a symbol of what the whole City could look like with reduced lighting (the City of Montreal still dominates the pollution of the night sky). The RCMP Pipes and Drums Band will announce with great fanfare the beginning of Earth Hour at 8:30 pm
Come and join us at Victoria Hall, 4626 Sherbrooke W, on Saturday March 19 from 6 pm till 10 pm for this year's version of Westmount EH, along with the 500 others (and growing) who now join us each year!
Watch the Earth Hour 2016 video and find out more.
Planet Earth image: Saad Faruque via StockPholio.net
All other images courtesy of Morrie Portnoff, RASC Montreal Centre
---
Anthony (Tony) F. J. Moffat
An emeritus professor of astronomy at the Université de Montréal, Dr. Moffat was appointed as a fellow of the Royal Society of Canada in 2001. Dr. Moffat's interests focus on massive stars (Wolf-Rayet stars in particular), stellar winds, binary stars, as well as the structure and dynamics of galaxies.
Gundara, Margaret
Margaret Gundara trained at the Conservatoire, Yale Music School and London's Royal Academy of Music. A member of I Medici di McGill for the past 10 years, Margaret is on the part-time Music Faculty at Concordia, teaches privately, and snuck on to Arcade Fire's Neon Bible.
---
---