Elinor Frey performs
the music of Dall'Abaco
Pascaille presents an enchanting new compact disk by the famed cellist
By Luc Archambault
October 20, 2022
Cellist Elinor Frey has released a brand new CD, The Cello according to Dall'Abaco, which is a wonderful follow-up to Guiseppe Clemente Dall'Abaco: Cello Sonatas, released on the Pascaille label in 2020. It includes Sonata ABV 37, Duo ABV 48, Sonata ABV 28, Duo ABV 49, Duetto ABV 47, and Sonata ABV 45.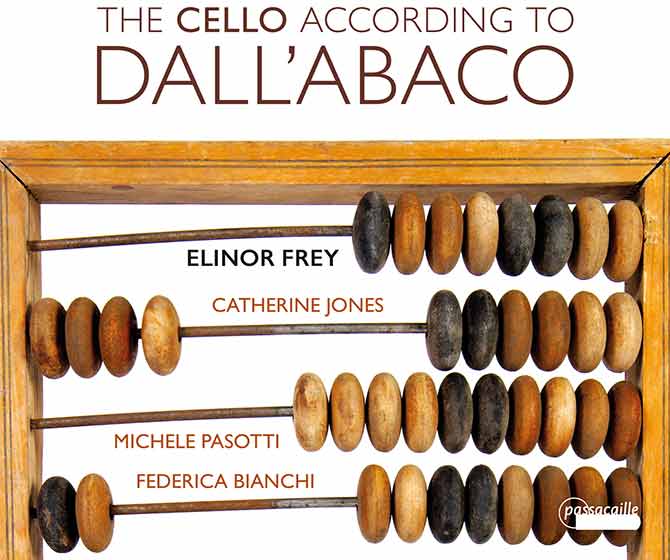 A shimmering, rich and melodious tone, masterfully accompanied by her companions Catherine Jones on cello, Michele Pasotti on the theorbo, and Federica Bianchi on the harpsichord. The various pieces seem to be woven as if by magic, fitting into each other like the bricks of a perfect building.
The sonatas come to demonstrate all the orchestral finesse of this quartet of instrumentalists, and the duets reserve the fireworks that the two cellists use to conjure us completely.
Dall'Abaco
Giuseppe Maria Clemente Ferdinando Dall'Abaco's main professional activities took place between 1730 and 1750, the period of his long life (he died in 1805 at the age of 95) most likely corresponding to the composition of his sonatas and duets.
The various pieces seem to be woven together as if by magic, fitting into each other like the bricks of a perfect building.
Eldest son of Evaristo Felice Dall'Abaco (1675-1742), a composer of great renown and Kapellmeister of the Bavarian court in Munich, Giuseppe Maria Clemente Ferdinando Dall'Abaco was born in Brussels in 1710, at a time when the Prince Elector of Bavaria, Maximilian II Immanuel, had been exiled as a result of the War of the Spanish Succession.
The Prince-Elector would have sent the young cellist to complete his musical studies in Italy. The young Dall'Abaco obtained his first position as a cellist when he was only 19 years old, in Bonn, at the court of Clement Augustus, Prince-Elector of Cologne, a position which would, fortunately, grant Dall'Abaco the freedom to travel.
Sonatas and duets for cello
Dall'Abaco persisted in composing for the cello, his main instrument, despite a clear influence from French music for the viola; in fact, a four-string cello, tuned in C-G-D-A, extends over the entire production of Dall'Abaco for the cello.
French, German, Italian influences come together in these magnificent sonatas and duets, works that present a range of technical demands and musical variety. The three duets (ABV 47, 48 and 49) are placed in the catalog "ABV" (Abaco Verzeichnis), compiled by Iser, in numerical sequence, just after his 35 cello sonatas.
Dall'Abaco cello duets usually begin with melodic material for one instrument while the other plays purely accompanying bass. The melody is repeated by an exchange of roles during which the listener can revel in the changes of timbre and phrasing offered by another instrumentalist and another instrument.
This alternation often dissolves into shorter gestures of call and response between the two voices which then merge into a shared melody. The full range of the cello is skillfully exploited as the lead voice sings in the upper register, often using the thumb in combination with idiomatic string crossings that manifest the intimate knowledge of a virtuoso singer-songwriter.
Elinor Frey
Fascinated by the origins of the cello and the creative process behind modern music, Elinor Frey masters both ancient and modern instruments. Her CDs on the Belgian Passacaille label include Berlin Sonatas (2015) with Lorenzo Ghielmi on pianoforte (nominated for a Juno award and winner of the Prix Opus du Québec), La voce del violoncello (2013) and Fiorè: Complete Cello Sonatas and Italian Arias (2017), on which she co-stars with soprano Suzie LeBlanc.
I am continually enchanted by Dall'Abaco's music. The sonatas are full of cantabile melodies with the lightness of folk songs while slow movements bring out the natural beauty of the cello's tone, accompanied by clear harmonic motion. Cello playing demands brilliance and facility, yet it conveys a sense of elegance and refinement that remains accessible and intelligible.
With at least forty works for cello, Dall'Abaco is certainly one of the more prolific composers for the instrument. As we begin to perform more of Dall'Abaco's music in today's concert halls, we not only restore his compositional voice but bring into our lives cello music that remains fresh, audacious, alluring, and often utterly beautiful.
Elinor Frey
Her CD of contemporary works for baroque cello, entitled Guided By Voices, was released on the Analekta label in 2019. She also conducts the quartet Pallade Musica. Ms. Frey is a graduate of McGill, Mannes and Juilliard. She teaches cello at the University of Montreal, is a lecturer at McGill University, and is a visiting researcher at Lady Margaret Hall at the University of Oxford. She has edited and published early cello music, including the complete cello sonatas of Giuseppe Dall'Abaco.
Another nomination (no, several more) to come for this musical gem? Do not sulk your pleasure and run without reserve as soon as the goddess Elinor Frey presents the concertante version of these marvels. Your ears will thank you. And to prolong the spell, get this CD (or download all the music). As a music lover, you will be able to tell all about the whirlwind of emotions that will result from listening to it.
Images courtesy of Elinor Frey
---
Luc Archambault, writer and journalist, globe-trotter at heart, passionate about movies, music, literature and contemporary dance, came back to Montreal from an extended stay in China to pursue his unrelenting quest for artistic meaning.
---
---