Expo 67: Mission Impossible
The English premiere of the docu-thriller coming to Victoria Hall – not to be missed!
By Wanda Potrykus
In addition to this year being Canada's 150th and Montreal's 375th, 2017 is also the 50th anniversary of Montreal's record breaking Expo 67 World's Fair and Westmount is marking the occasion (almost to the day as Expo 67 opened to the public on April 28, 1967) with the English language première of a brand new documentary film entitled Expo 67: Mission Impossible.
Conceived as a thriller, the documentary features an unlikely cast of characters, who can be indubitably referred to in so many ways as the Mad Men of Montreal. They had only 1,628 days to add another island to the Hochelaga Archipelago in the St. Lawrence river (and reshape two more), construct 90 pavilions (847 buildings in total), as well as a futuristic housing complex, a boat pier, a metro tunnel and station, three bridges and trains capable of transporting tens of millions of visitors along with canals, lakes and oh yes… a children's play garden and an amusement park.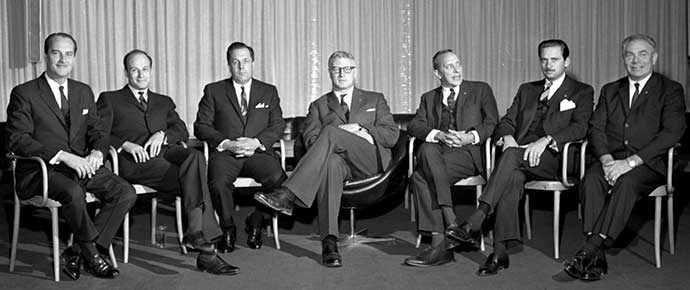 It seemed such an impossible dream, so much so that even a computer modeling team at the Stanford Research Institute in the US predicted failure. Many members of the first organizing committee resigned (although that was probably more a case of the changing of the guard at the federal level); nevertheless the media coverage was negative, speculators got edgy and Ottawa and Quebec City were reluctant to fork over the cash for a temporary one-time event that would be more expensive to build than the St. Lawrence Seaway and all the bridges of Montreal had been in their time. Meanwhile the rest of Canada looked on and shook their heads in wonder and amazement at those crazy Montréalais and their 'pie in the sky' dream-big schemes.
… a combination of Québéçois flair and English-Canadian pragmatism…
Pierre Berton – 1967: The Last Good Year
Expo 67 Mission Impossible invites us to relive the incredible adventure of the men (and women) behind Man and His World and in the intervening years, as tongues have loosened and the full story is now emerging, just like Notre-Dame Island and Ile Ronde did out of the murky waters of the St. Lawrence.
With unprecedented access to over 80,000 Archives Canada documents, along with uncensored accounts by some of the movers and shakers behind this success story, filmmakers Guylaine Maroist, Michel Barbeau and Éric Ruel have made it possible for us to relive the white-knuckle countdown to the grand opening of the fair on April 28, 1967.
"We thought it important, especially in this 50th anniversary year, that the stories of the people involved in this singular achievement should emerge from the shadows. They are part of our history and should not be forgotten, especially since it's such a wonderful story of Anglophones and Francophones working tirelessly side by side to surmount the impossible challenge of creating a Universal Fair in only four years, since Moscow, the original choice of the BIE – the Bureau International des Expositions / International Exhibitions Bureau – had reneged on its commitment to host the 1967 World's Fair, so Montreal stepped in and shouldered the daunting task." Éric Ruel, filmmaker
Billed by its makers as a docu-thriller, the film sheds light on the exceptional contribution of some of the creators of Expo 67, such as Colonel Edward Churchill, Director of Installations, Yves Jasmin, Director of Advertising, Public Relations and Information as well as businessman and unofficial "Mayor of the Fair" Philippe de Gaspé Beaubien, Director of Operations.
Pierre Berton in his book 1967: The Last Good Year claimed its success was due to a "combination of Québéçois flair and English-Canadian pragmatism" but even he acknowledged that was probably too much of an over-simplification. In reality it took more of a splendid smorgasbord of visionaries, guts, talent, luck and a tremendous amount of sheer hard work and determination by a great many people from a variety of nations and backgrounds working hand in hand using the latest technologies and techniques in a race against time.

Come relive your Expo 67 memories
After the film screening (approximately 70 minutes) there will be a Q and A period with guests that will include film producers Guylaine Maroist and Éric Ruel and feature others, such as former Westmount PAC chairman Jerry Miller, who as a young architect was an integral part of the architectural team led by Expo's chief architect Édouard Fiset.
This will be accompanied by a pop-up ecomuseum (a community "museum without walls") segment that will allow the audience to showcase and share their 50-year old Expo 67 memories and mementoes.
"We're hoping the audience will bring their Expo souvenirs to show us and/or anecdotes and stories to share at the open mike portion of the evening. There will be display tables set up and also a travelling exhibit courtesy of Productions de la ruelle, the makers of the film." Virginia Elliott, Westmount, Community Events
Weren't here for Expo? Wondering why all the fuss?
Come learn what it was all about and why your parents, family, friends and neighbours keep saying what a simply marvellous time it was and how much fun they had way back when. Maybe then you'll understand a little of what it was that created the buzz and the sense of pride and accomplishment that Expo 67 brought to Montreal and to Canada. You'll know where Imax came from and perhaps the next time you're visiting Parc Jean Drapeau to go to La Ronde or to a rock concert you'll comprehend that some of those existing structures (the Biosphere, the Casino, the Concorde Bridge, Habitat 67, the huge metal statue on the Belvedere, the sculpture garden, etc.) are but the repurposed remnants of bygone glories from a time when the future seemed unbelievably bright and shiny new and anything was possible.
Reserve your place
Free tickets are available at Victoria Hall and the Library. As always, seating is limited so do call up to reserve or drop by the Community Events office in Victoria Hall, or the Adult Circulation desk in the Library and pick up your tickets so you won't be disappointed at the door.
There will be a cash bar (sparkling water, beer and wine) to add to your enjoyment and fresh popcorn courtesy of the new Vic Hall popcorn machine.
---
English premiere of Expo 67: Mission Impossible
Film screening event with guest speakers and a pop-up 'ecomuseum' segment that will permit the audience to showcase and share their 50-year old Expo 67 memories and mementoes.
Saturday, April 29 from 7 pm to 9:30 pm in Victoria Hall, 4626 Sherbrooke W
More information at Community Events Westmount 514 989-5226.
Images: courtesy of Productions de la ruelle

---
Wanda Potrykus is a writer, editor, translator and poet. A graduate of McGill, she has spent most of her career in marketing communications, PR, event and media relations specializing in international aviation, telecommunications, education and the marketing of the arts.
info@westmountmag.ca
---
Remembering expo 67
Do you remember the excitement and magic of expo 67, the most successful world's fair of the 20th century?
Do you have an anecdote aboutexpo 67 that you wish to share with WestmountMag.ca readers?
Well this is your chance!
Send in your text (between 50 and 100 words) to info@westmountmag.ca by Thursday, April 27 and look for it in our upcoming article Remembering expo 67.
DEADLINE EXTENDED TO WEDNESDAY, MAY 3
---
---
---