A forgotten wilderness
in the heart of the city
Falaise St-Jacques, key battleground in the effort to save and link green spaces
By Lisa Mintz
La falaise St-Jacques – or the St. Jacques Escarpment -– is one of 10 eco-territories on the Island of Montreal 'slated for priority protection and enhancement,' according to Montreal's own Policy on the Protection and Enhancement of Natural Habitats. It is only 20 hectares in size, but its strategic position makes it a key battleground in the effort to save and link green spaces.
This thin ribbon of trees – just below the businesses on the South side of St. Jacques Street in NDG – stretches 4 km from Westmount to Montreal West, ending at Pullman Steet near the Canadian Tire. Immediately south of the falaise are the Turcot Yards, where the Ministry of Transport (MTQ) is working on the $3.7 billion Turcot highway project. Beyond that is the Southwest Borough.
The falaise is key to linking green spaces in Westmount, NDG, Montreal West, Lachine, the Southwest, and LaSalle. Its strategic importance for a greenbelt is accepted by every environmental group on Montreal Island. Some 65 species of birds can be found in this 20-hectare green space, many of which follow the falaise as part of their migratory flight path.
The falaise is key to linking green spaces in Westmount, NDG, Montreal West, Lachine, the Southwest, and LaSalle.
But this vital area is under attack. Some 10% of the falaise has already been bulldozed by the MTQ as a necessary 'incursion' for part of the Turcot project. Ten percent is a lot of this important natural space, and if we are not vigilant, bits and pieces of this or other eco-territories may be chipped away and disappear. In fact, in the western edge, this is exactly what is happening.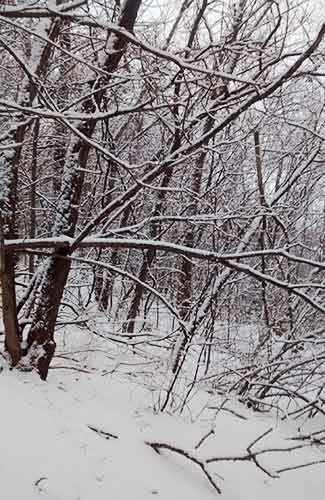 The aim of Sauvons la falaise! is to be a watchdog over this important green space: ensuring the connectivity between the abovementioned areas which surround the falaise through bike and pedestrian paths, creating a green corridor which would include the falaise St-Jacques, connect south to the Lachine Canal, Parc Angrignon, the Douglas Hospital and parc des Rapides, east to Mont Royal and west to Parc Rene Levesque, Parc Meadowbrook, and hopefully some day, all the way to l'Anse à l'Orme.
The story of the falaise is a partial success story. Though we lost 2 hectares of greenspace, we did not lose more, and the MTQ knows its actions are being watched. There is much political and public support, as well as support from other green organizations. The local Borough Council in NDG unanimously passed a motion in April to protect the falaise, clean it up, and ensure connectivity. The Southwest borough followed suit in June. Mayors and councillors of both boroughs have been extremely supportive. We also held a successful public assembly in June in order to mobilize citizens and create public support.
A mise en valeur is being done of the falaise, to decide on its future, by the Ville de Montréal. We are concerned that neither Sauvons la falaise! nor the other environmental groups concerned are being included in the process. Last month two incursions were made into the falaise to create space for drains. This was never satisfactorily explained, nor have the promised public consultations on the falaise materialized.
Sauvons la falaise! also wants Montreal to reach its promised goal of 10% of the Island preserved as green space, a percentage still below that found in many other urban areas in Canada. According to Sylvia Oljemark of the Green Coalition, Montreal Island has now protected 6% of its territory as green space. To reach 10%, we must protect another 2,000 hectares and to do that, we cannot afford to lose even the tiniest bit of existing green space!
Some 65 species of birds can be found in this 20-hectare green space, many of which follow the falaise as part of their migratory flight path.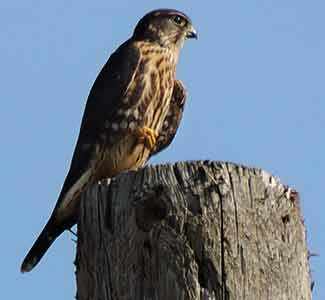 Connectivity of green spaces is also a key issue. Our vision includes bicycle and pedestrian paths linking many existing and future greenspaces. Terrestrial fauna could use such corridors, taking advantage of different food sources or habitat. Hopefully native vegetation could be planted along such corridors, especially plants appreciated by birds such as Saskatoon berries, Canada plum, and Mountain ash.
We also see the falaise as a vital area for education. Three of the poorest areas in Montreal, St. Pierre, St. Henri and St. Raymond border it and have no access to it. If the falaise could be opened up, it would be a very important educational and recreational resource for the people of these areas.
This is why the impending development of the wetlands of Technoparc in St. Laurent and the wet meadows of l'Anse a l'Orme are so disturbing. Such projects will chip away at what little green space we have left and further fragment it. There are several species of endangered wildlife and plants in these areas. And more areas are slated for development.
Recently, the Caisse de dépot proposed an electric train line but strangely it will be largely built in areas of low population density, likely causing increased urban sprawl as the Go train did outside of Toronto. This will be a new threat for green spaces close to Montreal, where the richest biodiversity in all of Quebec is found. It is my hope that alternative transit plans – which are also much more cost-effective in moving commuters – will eventually be chosen instead.
Birding is the largest leisure sport in North America and generates millions if not billions of dollars of revenue. Montreal, with its two official languages and superb biodiversity could be the capital of North American ecotourism. Instead of generating revenue through development, Montreal could be the place to go to see the birds! This is my dream. Bird habitat protected and valued for its beauty.
Fund Raising Calendar
This year Sauvons la falaise and les Amis du parc Meadowbrook have created a calendar together to create green links between the areas and the groups. We will be selling them to raise money for our efforts to protect green spaces at the Coop la Maison Verte, 5785 Sherbrooke W. If you are interested in a calendar or in getting involved you can also contact me at the coordinates below.
Personally, I do this for the birds.
Lisa Mintz
Co-founder, Sauvons la falaise!
Co-chair les Amis du parc Meadowbrook
Board Member Green Coalition
(Environmentalist and Birdwatcher)
sauvonslafalaise1@gmail.com
Please visit sauvonslafalaise.ca and our Facebook Page
Images: courtesy of Sauvons la falaise!
---
---