From fun and light-hearted to the darker days of history
From Mr. Crum's Potato Predicament to Fania's Heart, Anne Renaud does it again!
By Mona Andrei
What's most striking about Westmount resident and children's author, Anne Renaud? Her infectious smile, talent for spotting a story that needs telling, and ability to spin a tale that children fall in love with. Her secret (and we don't need to tell the kids this) is that while she's known for entertaining young minds and their parents, many of her stories also share pieces of history.
Launched in September 2017 and listed as one of the 10 best books to give children for Christmas by CBC, Anne's Mr. Crum's Potato Predicament tells the story of restaurant owner, George Crum, who is credited for inventing the potato chip in his home town of Saratoga Springs in the 1850s.
As noted in the opening pages of Mr. Crum's Potato Predicament, "The story you are about to savour is a fictional tale with a helping of truth."
Anne goes on to recount the story of how a very picky patron returned his meal, not once but TWICE, to poor George's kitchen, complaining that the potatoes were too thick.
As a prank, or possibly out of frustration, George decided to shave the potatoes paper-thin, douse them in oil, shower them with salt, and serve them up. Expecting the potatoes to be returned once again, the patron loved them, much to George's surprise!
While intended for 4 to 8 year olds, Anne confesses that she never shies away from using big words in her writing. Entertaining with a dollop of history, Mr. Crum's Potato Predicament demonstrates Anne's love of language and alliteration.
From fun and light-hearted to the darker days of history
Anne has a new book coming out this month called, Fania's Heart, that tells the powerful story of courage and resilience within the confines of the Auschwitz concentration camp.
Written for 9 to 12 year olds, this true story begins post-WWII when a young girl finds a tiny heart-shaped birthday card safely kept among her mother's prized possessions. After asking about the heart's origin, the girl learns of her mother's horrific days as a holocaust prisoner.
Told with a delicate voice, Anne recounts the story of Fania's birthday card and how it was crafted with the barest rations of materials within the camp's walls. The women of Auschwitz, Fania's prison camp mates, made the card in spite of their fear, demonstrating massive amounts of courage, love, and humanity in their determination to celebrate Fania's 20th birthday on December 12, 1944.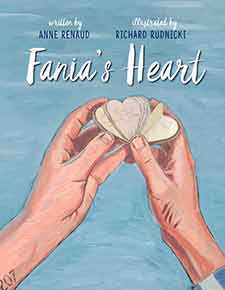 Fania's Heart will be launched on Sunday, March 25 at the Montreal Holocaust Museum, 5151 Côte-Ste-Catherine, where the actual birthday card, known as The Heart from Auschwitz, is on display. There will be a guided tour of the museum at 2 pm leading to an author reading and book signing at 3 pm. RSVP at info@museeholocauste.ca or 514 345-2605.
A children's book author with a life-long passion for books, it's no surprise that Anne's very first job was in a library. For anyone with a penchant for telling a story, Anne will be teaching two workshops: Writing for Children Part 1: Creating Picture Books (April) and Writing for Children Part 2: Consider Magazine Writing (May).
For more information bout the workshops or to register, visit the Quebec Writers' Federation website at qwf.org
Feature image: The Heart from Auschwitz – © Montreal Holocaust Museum – Vadim Daniel

Read also: Insights from the hood (Parenthood, that is) /2
More articles by Mona Andrei HERE

---
Mona Andrei is a digital copywriter, writer, and social media strategist with over 20 years of experience, both on the advertising agency and corporate sides of the communication spectrum. When she's not working on client projects, she likes to write irreverent posts for her personal blog, Moxie-Dude, where she writes about life updates gone wrong. Or right. She's undecided. You can connect with Mona on Twitter or email her at Mona@MonaAndrei.com
---
---