The things we know
we knew are now behind
Festival TransAmériques presents choreographer Euripides Laskaridis' Elenit
By Jacqueline van de Geer
June 2, 2022
This week, I was introduced to the work of the Greek choreographer Euripides Laskaridis for the first time – a mix of satire, buffoons, commedia dell'arte, poetry, opera, cabaret, ancient Greek tragedy, circus, humour and cruelty. Elenit is foremost an invitation to look around in a dark but sparkling universe, funny and disturbing at the same time.
The close-knit group of ten performers presents a series of characters. In the opening scene, we see a whimsical diva smoking and making a phone call – a strange apparition with a long nose, a blond wig and an old pink dress. She is babbling in unintelligible language. The only intelligible sentence is: "What is your problem?"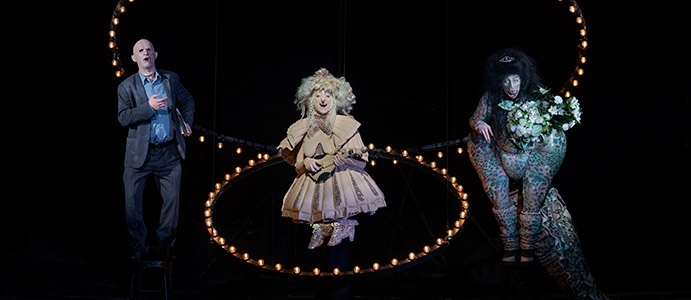 More strange characters are added: a singing dragon, Dorothy from the wizard of Oz with her red shoes who regularly suffers from narcolepsy, a cohort of small bald men who turn out to be interchangeable, a DJ sitting on top of a watchtower, a mad butcher…
The ten performers are strong in their presence, their movements are powerful and precise, and yet everything unfolding on the scene seems spontaneous and authentic. The scenography is eclectic: circus hoops, a wind turbine, and wavy metal plates that dance and float on the stage. It is these metal plates, which we sometimes see on the roofs of buildings, that inspired the name of this show, Elenit.
There are multiple meanings to be found. Elenit seems open to various interpretations: is it a political mirror, is it about us humans, is it about power and weakness? Or is it simply a glimpse of the world beyond time, floating between dreams and the end of ideals? A highlight of the FTA, don't miss it!
Elenit runs until June 5 at the Théâtre Jean Duceppe.
Feature image: Julian Mommert
Read also other articles by Jacqueline van de Geer 

---
Originally from the Netherlands, Jacqueline van de Geer crossed the Atlantic Ocean in 2005 to live and work in Montréal. She has a bachelor's degree in visual arts and performance arts.
---
---