Gazpacho Fresca
The quintessential summer soup
Recipe and photos by Josee Brisson
Previously published in WestmountMag.ca

Were I asked to name my favourite summer soup, I would undoubtedly describe the gazpacho. Fragrant with raw vegetables, spicy and healthy, gazpacho soup is like summer in a glass. And as soon as the days get longer and warmer, I start longing for this Spanish delight.
Originating in Andalusia, in the south of Spain, gazpacho is commonly served throughout Spain and Portugal during the sweltering summer months.
… as I serve it unstrained, it is a rustic, red and green mixture of pure summer freshness.
Modern Andalusian gazpacho is typically made with raw tomatoes, cucumber, bell pepper, onion and garlic, stale bread, olive oil, salt, wine vinegar and water. All the ingredients are coarsely chopped and then blended together, traditionally using a mortar and pestle. Usually strained through a mesh sieve, the result is a smooth and refreshing pinkish soup.
My easy version of gazpacho is similar to the Andalusian one, but it is made exclusively with fresh, unpeeled vegetables. And as I serve it unstrained, it is a rustic, red and green mixture of pure summer freshness.
The wine I chose is the salmon pink Coto de Hayas, from Bodegas Aragonesas, served very cold. This Spanish rosé is fruity and medium-bodied. As it is both floral and dry, it stands up very well to the vegetable spiciness of this succulent gazpacho.
Have a fabulous summer!
Gazpacho Fresca
Serves four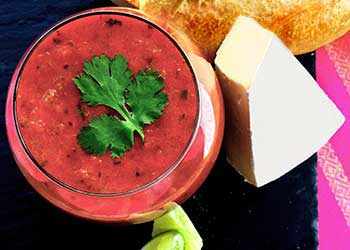 One 19 oz. (540 ml) can of tomato juice, refrigerated for a minimum of 2 hours
3 small vine tomatoes
1 small green pepper
1 small red pepper
Half a small red onion
Half an English cucumber
Half a small jalapeño pepper (to taste)
A handful of coriander leaves
1 small garlic clove
1 small lime, scrubbed and patted dry
French grey sea salt
Freshly ground black pepper
A splash of Sherry vinegar
A dash of your favourite hot sauce
For serving
1 small lime, scrubbed, patted dry and quartered
Brie cheese, at room temperature
Fresh baguette
Place four serving glasses in the freezer.
Roughly chop all the vegetables and the coriander leaves, and place everything in the jar of a blender. With a Microplane or a fine grater, zest the lime and grate the garlic clove into the jar. Add the juice from the lime and season with salt and pepper. Add three-quarters of the cold tomato juice, and purée. Add the remaining tomato juice and a splash of Sherry vinegar and a dash or two of hot sauce. Pulse 2-3 times to blend. Adjust the seasoning to taste and place the gazpacho in the refrigerator for a minimum of 2 to 3 hours.
Just before serving, mix the gazpacho with a ladle, remove the serving glasses from the freezer and fill them with the soup.
Serve the gazpacho with the quartered lime, room temperature Brie and slices of fresh baguette.
¡Buen provecho!
My previous recipes in WestmountMag.ca:
Roasted Tomatoes and Herbed Feta Crostini
Grilled Halloumi Cheese with Pomegranate Arils and Syrup
Roasted Fresh Figs with Goat Cheese and Rose-scented Honey
Oven-roasted Almonds with Garlic, Rosemary and Thyme
Melted Fontina Cheese with Sundried Tomatoes
Pan Seared Scallops with Perfumed Coconut Milk Reduction, Cilantro Oil, Passion Fruit Juice
Sunny Lemony Stracciatella Zuppa
Marinated Olives with Preserved Lemon Dirty Vodka Martini
Pear and Blue Cheese Crostini
Tortilla de Patatas
Beef Carpaccio with Bagel Chips
Matane Shrimp, Asparagus and Pink Grapefruit Salad
Red Beet, Goat Cheese and Raspberry Napoleons
Prosciutto e Melone with Insalata Caprese
---

Josee Brisson is a culinary creator passionate about archaeology, mythology, history, literature, and the arts. She trained as a professional cook at École Hôtelière des Laurentides, in Sainte-Adèle, Québec. Among other food projects, she collaborated on two cookbooks with world-renowned food and wine expert François Chartier, and offered a Chef at Home service. Josee is also a translator, researcher and social media community manager.
Her cookbook, L'Apéro: Appetizers & Cocktails, was #1 Best Seller in Appetizer Cooking at Amazon. Here's the link to Josee's book.
---
---