Acting, yes, but so much more
How kids and teens develop many truly practical skills when studying and practicing the craft
ADVERTORIAL
One is always amazed at the many residual benefits acting classes deliver. More often than not and for obvious reasons, children will ask to take acting classes in the hopes of learning the coveted skills required to emulate their television and cinematic heroes. Who doesn't dream of playing a lead role in a major motion picture, right? This is often the immediate lure: Fame. But what usually surprises students and parents alike is how many truly practical skills kids and teens develop when studying and practicing the craft.
Let's face it, not everyone who jogs becomes an Olympian. Nor do they aspire to. But the benefits of a daily run are manifold. The same holds true for the art of theatre. The subtle techniques required to bring a monologue to life are the same that make a book report or presentation all the livelier. That in-class scene work provided the safe space needed to take chances and learn how to work with others creatively on a group project. What could be more fulfilling and give a bigger boost to one's confidence than stepping out on a stage to open one's heart to a listening audience and be applauded for it? If you've never tried it, let me share a secret with you: nothing.
What could be more fulfilling and give a bigger boost to one's confidence than stepping out on a stage to open one's heart to a listening audience and be applauded for it?
Of the few companies who offer young people the chance to dive into the ever-fascinating world of acting, Geordie Theatre School stands out for its commitment to provide its students with exceptional theatre training.
"What's amazing and unique at GTS is that kids get to study with Montreal's working professionals; trained actors who are out there working on professional productions", says school director Jessica Abdallah. "The teachers are really passionate about inspiring the next generation. They teach them how to create characters, tell stories, improvise and work as an ensemble."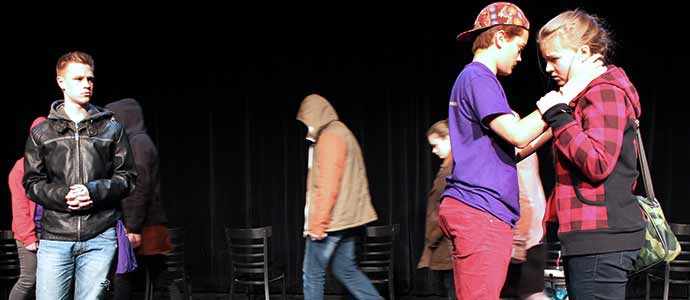 The school is run by Geordie Productions, one of Canada's leading Theatre for Young Audience companies. Celebrating its 37th anniversary this year, Geordie is renowned for producing the country's furthest reaching and longest running annual theatre tour. Its commitment to excellence and inclusion is reflected by the several META (Montreal English Theatre Award) nominations and awards it receives every year. From this community of theatre professionals, Geordie Theatre School finds its teachers who look forward each session to passing on their knowledge to a new group of aspiring artists.
"Teaching the students at GTS reminds me of how boundless our imaginations can be and how far we can explore just by playing," says teacher Alarey Alsip. "The children remind me how very important storytelling through a visual art such as theatre is to understand where our hopes and fears come from and how love will capture our hearts and allow us to shine with the stars."
Taught at Westmount's Centre Greene Community Centre every Saturday, the Fall and Winter Sessions run for 12 weeks apiece and end with final performances that family and friends can attend and applaud. Take home DVDs are even available for future portfolios – or just for the memories.
If your child is ready to break out, registration is now open. The Fall Session starts September 9.
To see teacher bios and learn more about classes, visit geordie.ca/about-gts
---
Geordie Theatre School aims to entertain, provoke thought, fire up the imagination and challenge audiences of all ages. It celebrates the art of theatre and its impact by working with emerging and established artists from various disciplines and cultural backgrounds to create theatre that is provocative, relevant and enchanting; inspiring dialogue between communities, children and parents as well as teachers and students of all ages.

---