Boys With Cars:
Geordie's boldest show yet
A fiercely relevant award-winning contemporary Canadian masterpiece comes to Montreal
Without question, Geordie's first public offering of the season is the company's boldest to date. A play for teens, Boys With Cars examines the increasingly current and everyday topics of female empowerment, unchecked male privilege and the critical discussions of rape culture and consent.
Why didn't I fight harder? Why didn't my face… my face looked like nothing! Like I was just watching this school-assembly dance like it was nothing! Like nothing was happening!
Naz
Written, choreographed and performed by the electrifying Anita Majumdar, the play tells the story of teens in a small Canadian town high school, told through the persona of two diametrically opposed female characters, both performed by Majumdar who recently won two of Toronto's Dora Theatre Awards – one of Canada's most highly regarded peer-assessed awards – for her original text and performance. "I keep waiting for Boys With Cars to become irrelevant. Every year, I think, "This is it", says Majumdar, who has been touring the show across the country to critical praise. "I use Indian dance as a kind of scaffolding that lets me tell stories about young women learning about patriarchy and privilege through the microcosm of high school", says Majumdar. "I write stories like these because I'm tired of seeing young men and women fear the word 'feminism' like it's the new f-word."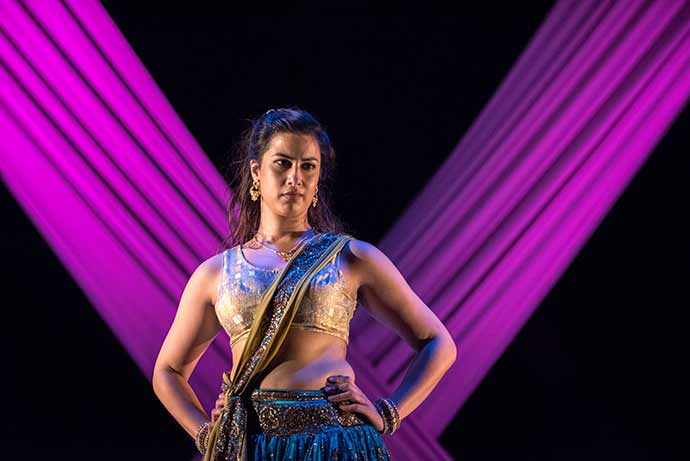 Commissioned by Nightswimming Theatre, in conjunction with Young People's Theatre, Toronto and The Banff Centre, the production raises the stakes, weaved together with traditional Indian, Bollywood and hip-hop dancing. Director Brian Quirt says, "Boys with Cars truly is a tour de force by Anita, featuring dance, music, humour and great stories. Beyond the issues of consent, empowerment, gender and coming of age that it addresses so beautifully, it also speaks powerfully to the cultural dynamics of our country."
Set in a British Columbian high school where cultures collide, women struggle for status, and dancing raises the temperature of every moment, the piece tells the story of Naznin, a classically trained Indo-Canadian dancer who struggles to balance her traditional heritage, her tumultuous relationships with boys, and realizing her dreams of leaving her small town for the bright lights of the city while dealing with her nemesis Candice, the local sweetheart. It is a coming-of-age piece with tremendous comic flourish and potent dances that is at once bold and innovative while being wildly funny and engaging.
'While none of the plotlines have happened to me, I think 13 years' worth of thoughts, joys, rage, hair pulling frustrations – MY STORY – is embroidered into THESE stories.'
Anita Majumdar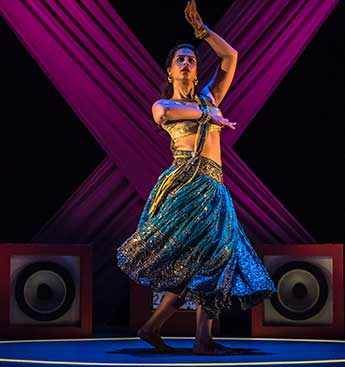 "The inception of this play began 13 years ago during my time at the National Theatre School of Canada. I performed the beginning ideas for an audience at the Monument-National theatre", reflects Majumdar, who returns to the Monument 13 years later to share the culmination of a journey. "Since then, a lot of people have assumed these stories are my story. While none of the plotlines have happened to me, I think 13 years' worth of thoughts, joys, rage, hair pulling frustrations – MY STORY – is embroidered into THESE stories."
Committed to showcasing powerful, diverse voices and telling stories seldom told, Geordie's Artistic Director Mike Payette is honoured to have the company be the show's ambassador here in Montreal. He says, "The power of Anita's script is intensely provocative. When I read it, the story stayed with me for many days, and that fuelled the decision to give this remarkably unique production a home in Montreal. After seeing the show in Toronto at Young People's Theatre, I knew that what I was watching was not only powerful, but also urgent in its desire to give young women a voice to explore challenging issues they face every day. I'm excited for Geordie to be bringing this ambitious show into our repertoire, and I look forward to the discussions between young people and adults about issues that are tragically inescapable in today's world."
Performances
Opening Night: Friday, November 24 at 7 pm
Saturday, November 25 at 2 pm
Thursday, November 30 at 7pm
Saturday, December 2 at 2 pm
ASL interpreted performance and talkback – hosted by CTV's Christine Long: November 25 at 2 pm
Le Monument National's Studio Hydro-Québec
1182 St-Laurent, Montreal
Box office and information: 514 845-9810
geordie.ca
Read also: Magic, Colour, Laughs at the Opéra de Montréal!
---
---
---