Chaconne and chocolate:
Two Italian delicacies
Carte blanche concert with Dorothéa Ventura and the spellbinding sound of the chaconne
February 22, 2023
Following the success of its first edition, which received an Opus Prize nomination, Les Idée heureuses presents the concert Chaconne and Chocolate: Italian Delights, which plunges us once again into the spellbinding world of the chaconne, but this time in 17th-century Italy. The concert will take place on Tuesday, February 28 at 7:30 pm. at Bourgie Hall.
The chaconne, a very popular dance for several centuries, is fascinating for its simplicity of composition. It consists of a bass motive that is repeated continuously throughout the work, in an almost hypnotic way, on which one or more voices are placed, which can thus bloom, discourse or be improvised.
This concert features a suite of vocal and instrumental chaconnes by 17th-century Italian composers, making the most of the boundless creativity and virtuosity of its nine performers, all of whom are seasoned in this musical style.
Through laments, improvisations and frenzied rhythms, themes draw the framework of the concert, such as love shared or scorned, happiness or despair, loyalty or betrayal, life or death.
And why chocolate? Because everyone who has tasted the chaconne knows how difficult it is to come to terms with the fact that it ends like melting chocolate. A treat following the delectation, chocolates offered to the audience at the close of the concert will prolong the experience.
Programme
Ciaccona for violin by Antonio Bertali (1605-1669)
Lumi, potete piangere by Giovanni Legrenzi (1626-1690)
Che si può fare by Barbara Strozzi (1619-1677)
Voglio di vita uscir by Benedetto Ferrari (1603-1681)
Lamento della Ninfa, Zefiro torna, Ohimè che cado and Pur ti miro, by Claudio Monteverdi (1567-1643)
Angela siete, o come lieto ascolto by Cherubino Busatti (1600-1644)
Ciaccona et Or ch'è tempo di dormire by Tarquino Merula (1595-1665)
Vieni'in questo seno by Francesco Cavalli (1602-1776)
Passacalle a tre by Andrea Falconiero (1585-1656)
Partite sopra diverse sonate per il violone by Giovanni Battista Vitali (1632-1692)
Diverse bizzarie Sopra la Vecchia Sarabanda o pur Ciaccona by Nicola Matteis (c. 1650-1700)
Passacalli della vita by Stefano Landi (1586-1639)
Tarantella by Lucas Ruiz de Ribayas (1626-1667)
Così mi disprezzate by Girolamo Frescobaldi (1583-1643).
The concert will last one hour and twenty minutes.
L'Ensemble des Idées heureuses
Dorothéa Ventura, soprano, harpsichord and musical direction
Ariadne Lih, soprano
Janelle Lucyk, soprano
Kerry Bursey, tenor and archlute
Tanya LaPerrière, violin
Vincent Lauzer, flute
Camille Paquette-Roy, cello
Antoine Malette-Chénier, triple harp
Matthias Soly-Letarte, percussion
CHACONNE AND CHOCOLAT : Italian delicacies
Tuesday, February 28 at 7:30 pm
Bourgie Hall, 1339 Sherbrooke Street West, Montreal
General public $44  •  34 years and under $23  •  MBAM members $38
By phone from Monday to Saturday, 9 am to 4 pm at 514-285-2000, option 1 or 1-800-899-6873
Service charges and taxes are included in all prices.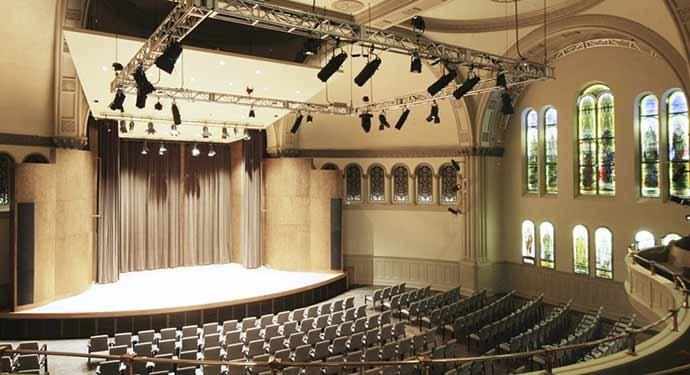 About Bourgie Hall
Bourgie Hall, the concert hall of the Montreal Museum of Fine Arts, is located in the restored Erskine and American Heritage Church (designed in 1894 by architect Alexander Cowper Hutchison in the Romanesque Revival style). Designated a National Historic Landmark in 1998, the transformed space now boasts outstanding acoustics and exceptional décor, including twenty historic Tiffany windows. Perfectly suited to the needs of chamber music ensembles and other groups such as string orchestras, Bourgie Hall offers fans musical experiences that reflect the encyclopedic diversity of the MBAM.
Featured image: Dorothéa Ventura – courtesy of Les Idées Heureuses
---
---
---