A tribute to the creativity
of women artists
Bourgie Hall Celebrates International Women's Day with the concert Journaux intimes au féminin
March 1, 2022
In celebration of International Women's Day, Bourgie Hall of the Montreal Museum of Fine Arts (MMFA) pays tribute to the creativity of women artists, whether they be performers, actresses, authors or composers.
This unique concert brings together music and literature, piano performances and text readings.
On Tuesday, March 8 at 7:30 pm, pianist Jeanne Amièle and actress Pascale Montpetit highlight the talent of exceptional 19th century women with a concert titled Journaux intimes au féminin. Based on an original idea by writer Lise Gauvin, this unique concert brings together music and literature, piano performances and text readings.
Journaux intimes au féminin
This concert will also be an opportunity to hear the magnificent Érard piano, centerpiece of Bourgie Hall's instrument collection. Built in London in 1859, this piano possesses an exceptional tone, ideally suited to the subtleties and nuances of the Romantic repertoire and thus enabling the performer to recreate with accuracy the pianistic style of the time.
Furthermore, the public will have the opportunity to hear exceptionally talented women musicians from various musical horizons who distinguish themselves on some of the world's most prestigious stages. In the theme of diversity and discovery, they lead listeners off the beaten track: from the court of King Louis XIV to Acadia, Mozart to Mahler, silent film to improvised music, this rich and varied programming reflects the creativity of these remarkable women.
MMFA's Bourgie Hall
Inaugurated in September 2011, Bourgie Hall is a 462-seat concert hall at the heart of the Montreal Museum of Fine Arts. Possessing exceptional acoustics, it has quickly made a name for itself as one of Canada's most beloved venues for concert music. Located in the nave of the former Erskine and American Church, its spectacular architecture includes a collection of twenty Tiffany stained glass windows that is unique in the country.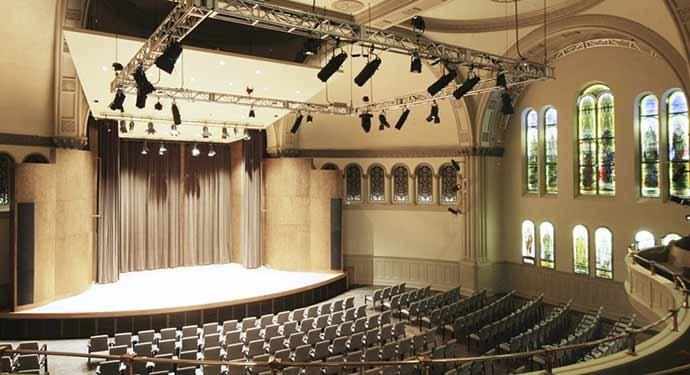 Bourgie Hall presents over a hundred concerts a year in various musical styles, ranging from jazz to classical works, from Baroque music to contemporary creations. Its high-calibre programming features some of the most prominent Canadian and international musicians of their generation, whether they be at the beginning of their careers or already well established.
Images: Courtesy of Bougie Hall
Other articles on musical events and concerts
---

Bourgie Hall, the concert hall of the Montreal Museum of Fine Arts, is located in the restored Erskine and American Heritage Church. Designated in 1998 as a "Historic Site of National Interest", the metamorphosed venue now boasts outstanding acoustics and an exceptional decor, including twenty historic Tiffany stained glass windows. Perfectly suited to the needs of chamber music ensembles and other groups such as string orchestras, the Bourgie Hall offers music lovers musical experiences that reflect the encyclopedic diversity of the MMFA.
---