Jean-Claude Poitras
retrospective at the McCord
The museum presents the best of the acclaimed Quebec fashion designer
By Carmen J. Michaud
Photography by James St Laurent
On Tuesday, October 22, the McCord Museum launched a retrospective of the work of a great Montreal… Quebec… Canadian designer… Jean-Claude Poitras. The exhibit produced in conjunction with the Musée de la Civilization highlights Mr Poitras' contribution to the Quebec fashion scene from the 1970s through to the 2000s.
"This year is a critical juncture for me, first because I'm moving into a new decade of my life, but also because this exhibition has given me an opportunity to assess my 30-year career as a fashion designer. I remember while I live.
With hindsight, I now realize how little Quebec fashion was known a few years ago and how much progress we have made since then. I am very proud to have left my mark on this marvellous time for Quebec and to have dressed so many women and men with the passion that still drives me today," said Poitras.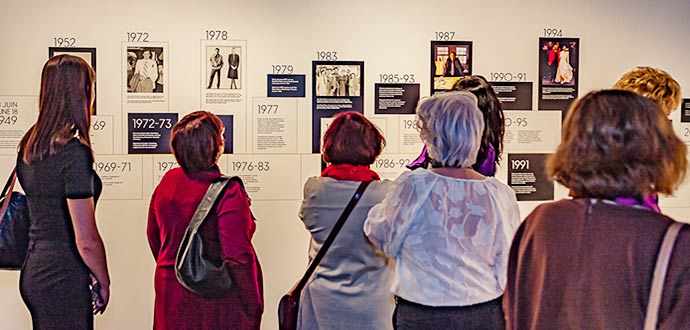 The evening began with remarks from Suzanne Sauvage, President and Chief Executive Officer of the McCord Museum, followed by Stéphane LeRoche, Director of the Musée de la Civilization. Alexis Walker, Curatorial assistant, Dress, Fashion, Textiles, who co-curated this exhibit with Valerie Laforge of the Musée de la Civilization, spoke about the process of working with Mr. Poitras on best presenting his extensive archive.
Jean-Claude Poitras, accompanied by his muse, Colette Chicoine, spoke to the crowd, many of whom were dressed in their Poitras clothing spanning three decades.
The exhibit shows the breadth of Mr. Poitras' work, from commercial coating to haute gamme evening wear. And the sketches and press clippings are a marvellous voyage through the recent history of fashion in Quebec.
Jean-Claude Poitras: Fashion and Inspiration is on at the McCord until April 26, 2020.
On November 13 at the J.A. Bombardier Theatre of the McCord, you are invited to participate in a conversation with Mr. Poitras, hosted by Stephane LeDuc, professor at the ESG-UQAM-École Supérieure de mode. A question period will follow.
Images by James St Laurent
Read also: other articles by Carmen Michaud
Other articles featuring photography by James St Laurent
---
Carmen J. Michaud likes to write (and paint) and is majoring in Curiosity.
James St Laurent – My work consists of finding subjects to photograph that will engage the viewer by presenting a visual paradox through images with an emotional context. Different types of subjects and genres require different approaches, but the end result is always a unique and convincing image that captures attention. The obvious is easy – the unique takes a little more time. jamesstlaurent.com

---
---