The Bursary of the MNA
for Westmount—Saint-Louis
 Jennifer Maccarone is pleased to announce the four recipients of her Student Bursaries Program
MNA for Westmount—Saint-Louis, Jennifer Maccarone is pleased to announce the four recipients of the first edition of the Bursary of the MNA for Westmount—Saint-Louis.
Intended for students residing and attending a post-secondary institution located in the riding of Westmount – Saint-Louis, four bursaries are awarded. Of the four bursaries, two in the amount of $250 will be allocated to college students and two of $500 will be awarded to undergraduate level university students.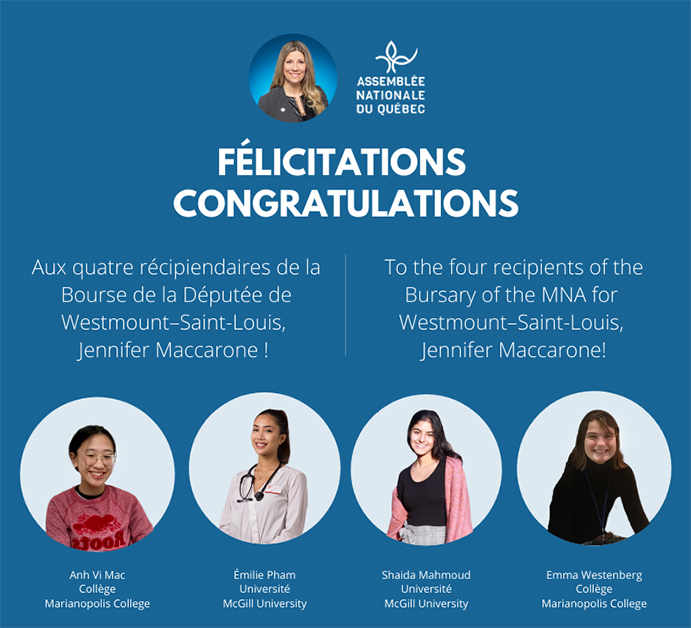 Anh Vi Mac and Emma Westenberg, both students at Marianopolis College, will each receive a $250 bursary.
Shaida Mahmoud and Emilie Pham, physiology and nursing students at McGill University will each receive a $500 scholarship.
The four bursary recipients will also be given the opportunity to do a one-day internship with the MNA for Westmount-Saint-Louis to learn more about her role and present their projects.
To be eligible, students had to reside in the riding and attend a post-secondary institution in Westmount-Saint-Louis. They also had to submit a project under provincial jurisdiction that they would like to carry out in the riding.
The MNA for Westmount-Saint-Louis would like to thank the following post-secondary institutions for their participation and valuable collaboration:
Dawson College
Marianopolis College
McGill University
Concordia University
Université du Québec à Montréal (UQAM)
École de technologie supérieure (ÉTS)
"I would like to thank all the students who applied to this first edition of the Bursary of the MNA for Westmount-Saint-Louis. We have received many applications and the projects that have been submitted are very interesting. Congratulations to our first four bursary recipients, whom I am eager to meet during their one-day internship," said Jennifer Maccarone, MNA for Westmount-Saint-Louis.
Feature image: Gustavo Fring from Pexels
Other articles about Jennifer Maccarone
---
Jennifer Maccarone is the Official Opposition Critic for Diversity and Inclusion, LGBTQ2 and for People Living with Handicaps or Autism Spectrum Disorder.
---
---