John A. Schweitzer:
Text and Image
Exhibition is winding down this Sunday at the Westmount Public Library
By Marilynn Vanderstaay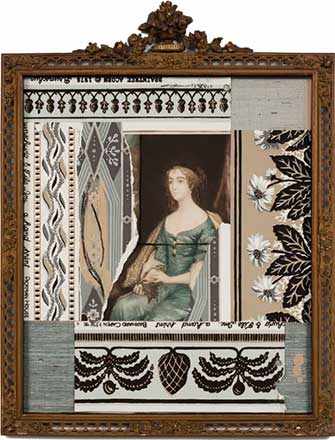 Westmount artist John A. Schweitzer, LLD, OSA, RCA, is celebrating the 40th anniversary of his graduation from York University, Toronto (Master of Arts Painting, 1978) in part with the commemorative exhibition Text & Image this month at the Westmount Public Library, 4574 Sherbrooke W. The installation is a collection of his favourite images that appropriately feature books and text. But sadly, if you do not view it in the atrium (adjacent to the reception desk) in the next four days you will miss it. It ends on Sunday, September 30.
Text & Image is a treat for the eyes and the soul and includes two collages, Snows of Ruskin and Benjamin Alphabet. The images feature text from his favourite authors as varied as Virgil, Donne, Ruskin, Proust, Flaubert, Joyce and Nabokov.
When Schweitzer started at York University he was torn between studying English Literature and Visual Arts. The latter won out… but not really. His love of literature became the underlying theme of his works making him one of the rare artists who is literate in both verbal and visual literacy.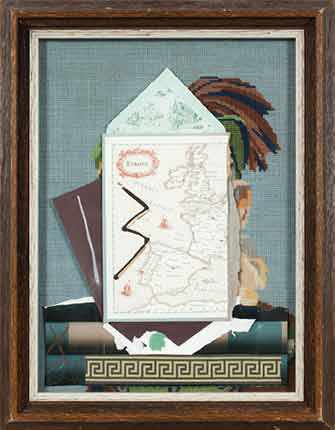 The internationally acclaimed artist is best known for mixed-media collage incorporating text and image colliding in collage. Schweitzer discovered at an early age he has a predilection for collage as his primary medium, creating his first work while just in secondary school in Delhi, Ontario. Breaking all the rules of his art teacher and his assignment to create a landscape, Schweitzer created an abstract oeuvre on the rough side of a piece of Masonite using thick tar as his medium.
His teacher not only appreciated his work, she purchased it. That experience encouraged him to start investigating the relationship between text and image in the "reading" of words through imagery. For Schweitzer it meant the beginning of a career he would later say is a vocation – it is in his DNA.
Schweitzer's next solo exhibition, Vallum Hadrianus, will be part of the world premiere of the Canadian Opera Company's opera Hadrian in Toronto from October 13 through 31. Enjoy.
Images: courtesy of John A. Schweitzer
Read also: Fundraiser features formerly loved art
---

Long-time Westmount resident Marilynn Vanderstaay has been writing since she could hold a pencil. Marilynn's writing has been published in national and local magazines including Canadian Living, Readers Digest, Barricades Magazine, and municipal and community newspapers including the Montreal Gazette. Contact Marilynn at marilynn@aroundwestmount.com.


---