Josephine: A Musical Cabaret
is a most spectacular show
What was a superior small-stage Fringe show has become a splendid large-stage production
By Byron Toben
July 13, 2023
One year ago, I saw Josephine: A Musical Cabaret at the 2022 Montreal Fringe Festival and was so impressed by it that in my review I hinted to the Segal Centre that this would be great remounted there. So it has come to be, and even greatly enhanced, but I doubt that my hint triggered the move, as Lisa Rubin had scouts that reached the same conclusion.
What was a superior small-stage Fringe show has become a spectacular large-stage production that the technicians and equipment of the Sylvan Adams space at the Segal offer. Co-created and performed by Tymisha Harris, the further choreography and direction of Sean Cheesman has provided a "wow" factor.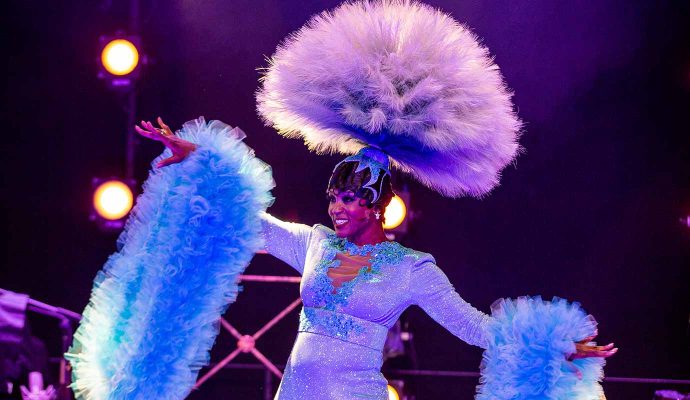 The show features an on-stage band, headed by pianist Taurey Butler with JenniferBell on woodwinds, Morgan Moore on bass, and Wali Muhammad on drums. The staging includes many on-stage costume changes, some audience participation, and songs like Minnie The Moocher and The Times they are a-changing.
Hard to picture anyone else so perfect in depicting Joséphine Baker as Ms. Harris in this role. At the standing ovations at the end of the June 1 press launch, the director Mr. Cheesman was accompanied by his small pet dog, defying W.C. Field`s warning about being upstaged by dogs and small children. A post-show buffet featured fruit slices on a slender stick, a reminder of Josephine`s outrageous hats.
The real-life Josephine Baker (1906-1975) became the first internationally famous Afro-American actor/singer/dancer "before Ella, Tina, Billie or Beyonce" when she went to Paris which provided her with opportunities denied in then racially restrictive America.
Her accomplishments go beyond her famous banana skirt dance and included her aiding the Allies by spying on Nazi-occupied France during WW II as well as joining Martin Luther King, Jr. in his 1963 March on Washington. Josephine Baker also managed to squeeze in four husbands and twelve adopted children. She was buried in Monaco and inducted into the French Pantheon in Paris, the resting place of Victor Hugo, Voltaire, and Mme. Curie, among others. Not bad for a gal born in Missouri.
Images: Leslie Schachter
Other articles from Byron Toben
Other recent articles
---
Byron Toben, a past president of The Montreal Press Club, has been WestmountMag.ca's theatre reviewer since July 2015. Previously, he wrote for since terminated websites Rover Arts and Charlebois Post, print weekly The Downtowner, and print monthly The Senior Times. He also is an expert consultant on U.S. work permits for Canadians.
---
---