Kim's Convenience
Not a Dull Moment
The latest in a long line of plays about immigrant families
By Byron Toben
The charming play Kim's Convenience is the latest of many plays over the ages dealing with the problems of immigrants in assimilating and yet retaining some cultural values of identity.
One can journey back to ancient Greece with Medea by Euripides. That was one heavy play, still often produced today. Irish influences are found in O'Neil, Jewish in Odets, Chinese in Hwang, Latino in Fornes and Afro-American in Hansberry.
It was only inevitable that the Korean community should also be represented on stage.
Kim's Convenience originally was a stage play. Then it had a meteoric rise in 2016 as a CBC television series, culminating in this revised stage version by Toronto's famous Soulpepper Theatre, now brought, fittingly, to Montréal's Segal Theatre that has staged many immigrant-themed productions over the years.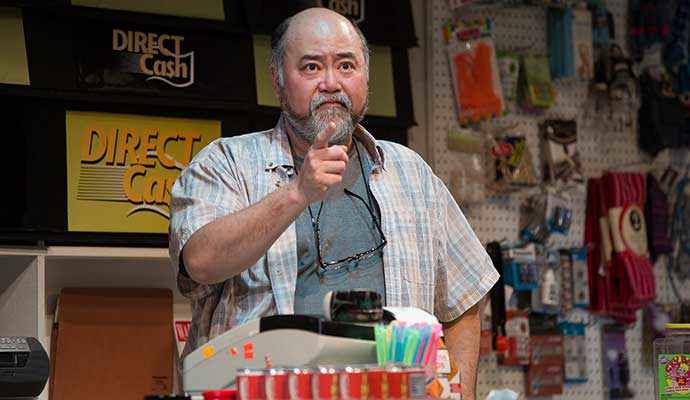 Playwright Ins Choi… is to be congratulated for writing about what he knows and skilfully extrapolating it.
One common theme, whatever the ethnic community involved, is the simple desire to lead a peaceful life and achieve sustainable economic security. Still, generational differences intervene, oft providing some of the humour. And humour is abundant in Kim's Convenience.
The original mom and pop of the show reprise their roles here. Paul Sun-Hyung Lee and Jean Yoon are Appa and Umma, the parents who have started and built up a local convenience store, now threatened with gentrification in their Toronto neighbourhood. Son Jung (Richard Lee) is estranged from the family, working as a car rental salesman. Daughter Janet (Rosie Simon) prefers a photographic career while Ronnie Rowe Jr. portrays several store visitors including a real estate agent, a policeman, and a pilferer. Lots of language and accent confusion.
Playwright Ins Choi, who grew up in an apartment above his uncle's grocery store, is to be congratulated for writing about what he knows and skilfully extrapolating it.
Congrats also to director Wenyi Mengesha whose experienced hands keeps things hopping. Not a dull moment.
For readers who, like me are fans of the now discontinued series Depflies at the cosy Theatre Ste-Catherine, taking place in a decidedly less organized St-Henri dépaneur also facing gentrification, note that the door bell in the Kim's set actually rings, eliminating the need for the actors to voice "ding-a-ling-in" while entering or exiting.
Kim's Convenience continues at the Segal Centre until Sunday, March 19.
Information and tickets at 514 730-7044 or segalcentre.org
Images: Cylla von Tiedemann
---
Byron Toben is the immediate past-president of the Montreal Press Club
---
---