See Momentum, Kleztory's
20th anniversary concert
Don't miss the webcast replay of the launch show for the sixth album of Montreal's renowned Klezmer quintet
Edited March 19, 2021
On March 19, Théâtre Outremont hosted an ultra-festive evening of klezmer music presented by Traquen'Art and Amérix Artists, as the renowned Montreal quintet Kleztory, accompanied by a string quartet, pianist and percussionist, celebrated their 20 years anniversary by offering a webcast replay of the launch show for their sixth album, Momentum.
The album is distributed in more than 50 countries since last October by the prestigious British label Chandos Records on the international markets, and by Amérix Artists for the Canadian market.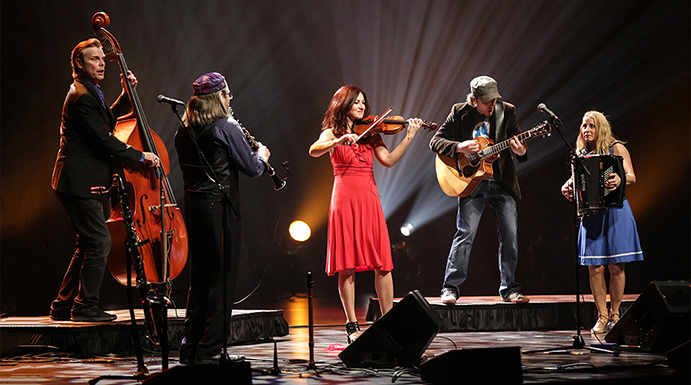 Like the music from Eastern European shtetlech — small Eastern European villages or ghettos in Yiddish — they play so passionately, Kleztory is a mosaic of cultures (Russian, Québécois, Canadian), with different training (conservatory, self-taught) and diverse musical sensibilities (classical, contemporary, jazz, blues, traditional, country and folk). Their uplifting shows, peppered with humour, overflowing with energy and charged with emotion, never fail to bring joy to audiences.
 … the creative tension between masterful artistry and unrestrained klezmer…
– Yves Bernard | Le Devoir
MOMENTUM, KLEZMER MUSIC AND MORE
This album features Kleztory's best tracks. "We selected 10 songs from our repertoire, audience favourites that we have enjoyed playing over the last 20 years, as well as a few more recent pieces," explains Airat Ichmouratov, winner of the 2020 Charles Biddle Award.
"This is a special and important event in the life of an ensemble. We decided to present the songs in a different way with a slightly different feel and a touch of jazz to enrich our repertoire.
So we rearranged the pieces and recorded them "live" in the studio, accompanied by a string quartet and two excellent jazz musicians: improvisational pianist David Ryshpan, and percussionist Bertil Schulrabe."
' … One of Montreal's—and the world's—musical treasures… '
– Dan Behrman | TED Audio Magazine
Since its European release on October 30, Momentum has been getting excellent reviews, especially from the two BBC radio stations in England. "Like our Klezmer album (Chandos Records) recorded in 2004 with the I MUSICI de Montréal Chamber Orchestra under the direction of Yuli Turovsky, I believe that this project will enable us to build new relationships on the national and international scene," adds Airat Ichmouratov.
'This celebration of twenty years of Kleztory's commitment to the genre demonstrates that Klezmer is a living tradition and this album portrays it at its absolute best.'
– Paul Thomas | Radio Folk, R.U. (link to the article)
KLEZTORY'S MUSICIANS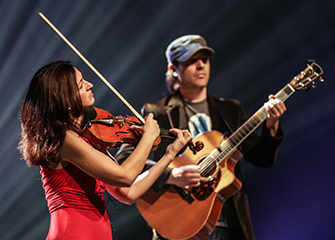 Airat Ichmouratov
musical direction, clarinet, bass clarinet and duclar
Elvira Misbakhova
violin and viola
Dany Nicolas
guitar
Mélanie Bergeron
accordion
Mark Peetsma
double bass
GUEST PERFORMERS
David Ryshpan
piano
Bertil Schulrabe
percussion
Veronika Cherniak
violin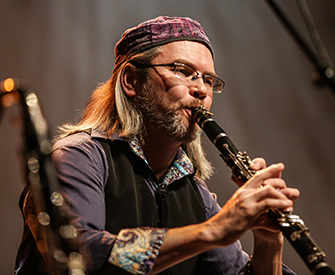 Anastasia Virlan
violin
Cynthia Blanchon
viola
Jean-Christophe Lizotte
cello
ABOUT KLEZTORY
Founded in 2000, Kleztory began their joyful and extraordinary journey by traveling all over Quebec, performing in numerous festivals, theatres, cafés and small venues. In the years since, the ensemble has played about 1,000 concerts in Canada, the United States, the Netherlands, France, Germany, Austria, Belgium, Romania, Brazil, Mexico, Norway, Switzerland, Hungary, Costa Rica and China.
'Accompanied by a string quartet, a pianist and a percussionist combining their talents, the musicians play with an emotion and virtuosity that are in the true spirit of klezmer music.'
In 2001, they self-produced their first album, Kleztory – Musique Klezmer, with what little means they had available at the time. They were so proud of their first recording that they presented it to Yuli Turovsky, artistic director of the I Musici de Montréal Chamber Orchestra. A few days later, he proposed that they make a recording together. Klezmer, featuring Kleztory and I Musici de Montréal under the direction of Yuli Turovsky, was released in 2004 on Chandos Records and distributed in 50 countries.
The project prompted invitations from the classical music community to perform as a soloist with numerous orchestras including Orchestre symphonique de Montréal, Orchestre symphonique de Québec, Orchestre symphonique de Laval, Orchestre Métropolitain, Thirteen Strings Chamber Orchestra, Orchestre Nouvelle Génération, Violons du Roy, McGill Chamber Orchestra and Orchestre de Bruxelles.
A third album, Nomade, came out in 2007 and won them an Opus Prize as the best Jazz / World Music album of the year in Quebec. In 2012, they were selected to play at the prestigious International Jewish Music Festival in Amsterdam, where they won the Fürth Klezmer Prize.
'Often invited to perform alongside numerous orchestras, the Montreal quintet has given more than a thousand concerts….'
In 2013, Kleztory produced their fourth album, entitled Arrival, which was nominated as Best album of the year in the Traditional Music category by ADISQ. In April 2017, the quintet launched a fifth album, Nigun, the Hebrew word for melody, at the Salle Wilfrid-Pelletier of Place des Arts and landed a second Opus Prize, this time for the Best Concert of the year in Quebec.
Accompanied by a string quartet, a pianist and a percussionist combining their talents, the musicians play with emotion and virtuosity that are in the true spirit of klezmer music. Through innovative, yet respectful arrangements of original compositions, the Kleztory ensemble has forged a unique and authentic musical journey, acclaimed around the world for their electrifying performances.
ACKNOWLEDGEMENTS
This project has been made possible in part with the support of the Government of Canada. Kleztory would like to express their deep gratitude to SODEC, MUSICACTION, and Canada Council for the Arts for their generous support over the years.
TICKETS – WEBCAST REPLAY
From Saturday, March 20 (noon) to Saturday, March 27, 2021 (11:59 pm)
Regular ticket: $20
Solidarity ticket: $30 ($10 donation)
Would you like to support Traquen'Art, NPO specialized in world music, or would you like to enjoy this concert as a group? The solidarity ticket is for you!
Images: Sylvain Légaré – Courtesy of Traquen'art
Other articles on musical events and concerts
---

Traquen'Art has an impressive track record with more than 600 concerts in music and other forms of performing arts. A rich and varied programming, introducing on different Quebec stages internationally renowned artists such as Jordi Savall, Manu Dibango, Diego el Cigala, Nusrat Fateh Ali Khan, Israel Galván, Zakir Hussain, Salif Keita, Sister Marie Keyrouz, Angélique Kidjo, Fela Juti, Mariza, The Mystery of Bulgarian Voices, Youssou N'Dour, Paco Peña, Philip Glass Ensemble, Arditti Quartet, Mercedes Sosa, King Sunny Adé and many others.
---
---