Leonard Cohen,
He's Our Man
A tribute to the late great poet, singer, song-writer
By Wanda Potrykus
If you want a lover
I'll do anything you ask me to
And if you want another kind of love
I'll wear a mask for you
If you want a partner, take my hand, or
If you want to strike me down in anger
Here I stand
I'm your man
I'm your man, Lyrics by Leonard Cohen
The year the music died
2016 has been a particularly heavy year of losses in the music and artistic worlds, especially in regards to 'greats' such as David Bowie (January), Prince (April) and now Leonard Cohen. While Minneapolis fans mourned Prince, and London (UK), and more specifically the Borough of Brixton, eulogized Bowie, so do we, the citizens of the Island of Montreal, and of Westmount, in particular, get to assert our own connections to Cohen and claim him as one of our own, although we recognize like all famous artists, they do in truth belong to the world and to all those their talents touch.
Life begins in Westmount
Leonard Cohen was born and raised in the middle reaches of Westmount on the side of Mont Royal in the house located at 599 Belmont, with a garden that backs onto King George VI Park (aka Murray Hill Park by many Westmounters). He later became a resident of Montreal's Plateau neighbourhood, where he owned an iconic Montreal grey stone house with a stoop situated opposite Parc du Portugal near the conjunction of rue Marie-Anne and St Laurent, purchased in the 1970s for a mere $7,000 after stints living a somewhat peripatetic life in Europe and elsewhere. It's the home his son Adam fondly speaks about in a UK Guardian book by Ted Kessler entitled My Old Man.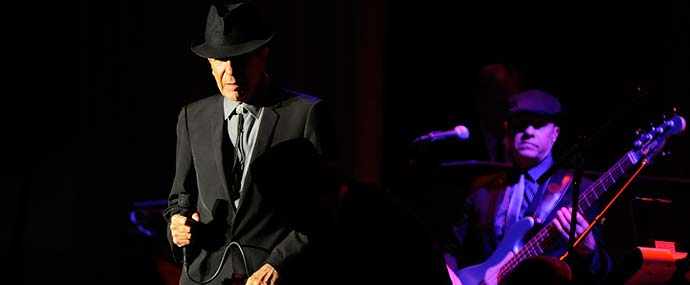 The circle closes
In his later years, Cohen lived mostly in Los Angeles where he died of cancer on November 7, 2016, a few short weeks after the launch of what was to be his final album "You Want it Darker". In some ways reaching back to his roots in Westmount since the album features the singing talents of Gideon Zelermyer, the cantor along with the choir at the Shaar Hashomayim synagogue on Kensington, just down the hillside from his first home. On November 10, he was quietly buried in a private 'family-only' service in a Jewish cemetery on Mont Royal in the family plot where he now lies alongside his parents and grandparents. "Leonard's wish was to be laid to rest in a traditional Jewish rite" read the statement released by Rabbi Adam Scheier and Cantor Gideon Zelermyer who presided over the burial. Later that same evening his death was announced to the world by his record company.
The words tell the story and the music plays on
Cohen's two children, Adam and Lorca, were born in Montreal to mother Suzanne Elrod, and today son Adam, also a writer, musician and a record producer, continues to divide his time between Montreal and Los Angeles. By the way, their mother is not, the 'Suzanne' of the famous Cohen song that many of us grew up with. It was written about another Montreal resident – Suzanne Verdal – dancer and wife of Quebeçois sculptor Armand Vaillancourt, and although she most certainly did feed Leonard oranges and tea (apparently Bigelow's Constant Comment), she also claimed never to have been his lover – asserting that was her choice not his. So, however much some of us might have thought the song's lyrics were autobiographical, the truth is, they aren't, not completely anyway; or at least not quite in the way most of us might have understood them to be from listening to the lyrics.
Although there is some dispute about which building Suzanne Verdal actually lived in "down by the river" in Old Montreal, the Sailor's Chapel (aka Notre Dame de Bonsecours – Our Lady of the Harbour) is still there with its epochal (and I would imagine somewhat priceless) collection of "ship in a bottle" votive lamps hanging from the ceiling that were made by sailors and subsequently donated to the chapel in gratitude for a safe voyage across the Atlantic. "Jesus was a sailor" indeed, and "Our Lady of the Harbour" continues to welcome all visitors coming by water into its safe harbor with arms outstretched (myself included since I arrived on CP's Empress of Canada ocean liner in June 1971 and one of my first indelible views of the island city that was become my home, as we rounded a bend in river shortly after dawn, was of that rooftop statue with its halo of stars).
In his footsteps
For a description of a pleasant, and not too strenuous, hillside walk one can take in Westmount to see the (outside) of the childhood home of Leonard Cohen, I refer you to a blog post in the 'Leonard Cohen Files' featuring a reprint of a "A Short Walk in Leonard Cohen's Westmount", a text authored by T.F. Rigelhof , a former Dawson College instructor and lifelong Cohen fan. It appears, along with photos and an extract from Cohen's first novel "The Favourite Game" (1963) whose protagonist, Lawrence Breavmann, also 'lived' at the same address. Although the house on Belmont remained in the Cohen family until it was sold by Leonard and his sister in 1996, Cohen had not resided in it for some time prior to its sale, although he was viewed from time to time strolling around the streets of our city.
"Some say that no one ever leaves Montreal, for that city, like Canada itself, is designed to preserve the past, a past that happened somewhere else. This past is not preserved in the buildings or monuments, which fall easily to profit, but in the minds of her citizens… So the streets change swiftly, the skyscrapers climb into silhouettes against the St. Lawrence, but it is somehow unreal and no one believes it, because in Montreal there is no present tense, there is only the past claiming victories."
Leonard Cohen, Excerpt 'The Favourite Game', 1963
In the coming days, weeks and months, no doubt a great deal of information has been, and will be, written on, and about, the recently deceased Mr Cohen, but to Montrealers and to some Westmounters, in particular, he will always be the kid who grew up in the neighbourhood; just as our own children have, walking the streets, going to local schools, playing baseball, tennis and hide and seek in the parks, learning music and mastering guitar chords, as well as attending services at the Shaar Hashomayim synagogue or any other of the 14 other places of worship in Westmount; and for that (along with his written legacy of songs, poems, novels) he will always be, quite simply… Our Man.
Note: On hearing of his death this morning on this, a suitably cloudy, yet windy November11, 2016 Remembrance Day, as I sit looking out my windows at my own autumnal view of Mont Royal Westmount while sipping a cup of tea (no, not Constant Comment but rather a strong, black Indian Assam), I felt an urge to pen my own brief poetic tribute to the man whose songs and poems always seemed to have a special line for every moment of my life.
Mr Cohen, I Loved You
November 11, 2016
"His songs carried me through dark years like mantras or stones you hold in your hand while the sun rises or the fire burns…They were songs for the spirit when our spirits were strained to the breaking point."
Judy Collins, 'Trust Your Heart', 1987
Mr Cohen…I loved you…
Or what I mean to say is…I loved your lyrics
The spirit emanating from your songs made me long for release,
For peace from the similar demons stalking our souls
The cold ice of knowledge that life could hurt,
As a child of the sixties, you and I…
Why, we've grown old together
Shedding our innocence along with our desires,
We've tired out our souls in the business of life
The knife of experience cuts deep
While everlasting sleep does not come easily;
So, may your words keep on thrumming,
The melodies humming, the inspiration coming…
You had a line for every moment of my life and yours
Along with the sores that festered while you picked at the scabs,
Conflagrations were lit at the sound of your voice
You were the choice of a generation, or perhaps two or three
What's next for us? Hallelujah… let's see, shall we?
Images: Adrian Thomson via StockPholio.net
---
Wanda Potrykus is a writer, editor, translator and poet. A graduate of McGill, she has spent most of her career in marketing communications, PR, event and media relations specializing in international aviation, telecommunications, education and the marketing of the arts.
info@westmountmag.ca
---