James St Laurent's Miami / 5
Little Havana
A photo journal of Miami's most intriguing neighbourhoods and sites
Text and images by James St Laurent
Just west of downtown Miami lies a little slice of Cuban culture known as Little Havana. Along Calle Ocho (SW 8th Street), lined with art galleries, and busy restaurants, on finds little cafes with walk-up windows selling Cuban coffee to cigar-smoking patrons. The Calle Ocho Walk of Fame features stars in the sidewalk that pay tribute to Cuban and Latin cultural figures, like Maria Conchita Alonso. Locals discuss politics over dominoes at Maximo Gomez Park, dubbed Domino Park. The historic Tower Theater screens independent and revival films, while the area's clubs host live Latin musi
Depending on the day and time, there are a number of 'regulars' you might find on the Little Havana strip. Don't be alarmed if you run into any "free range" chickens aimlessly walking around the area – which contrast the 6-foot statues of brightly painted chicken sculptures scattered around the area. Keep an eye out for Willy the hat vendor, who has sold Panama hats for over 25 years. You can't miss Jay-CC Ryder who preaches "the old school traditions of peace, love and happiness" from his three-wheeled bicycle pulpit and always eager to have his photo taken by passing tourists.
The only thing warmer than the weather was the hospitality of the people in Little Havana.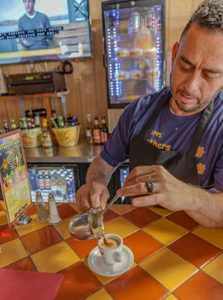 In Domino Park one of the resident 'champions', Dr Joker, gave me a crash course on playing dominoes. Interspersed with his life story, amid the rhythmic clacking sound of dominoes being played, Dr Joker played the game with a huge smile in a sure and calculated manner. At Los Pinarenos Fruteria the owner was not only proud to point to his "Invisible Fish" from the South Pole, but also his chickens and sow roaming around in the back yard of the store! A patron I spoke with happily shared a shot of Cuban coffee with me as a welcoming gesture. The only thing warmer than the weather was the hospitality of the people in Little Havana.
Coffee and cigars
The smell of lingering Cigars and Cuban coffee abound on Calle Ocho. A quick coffee break with Jose Zelaya at El Cristo Restaurant where he explains the distinct brewing technique for a Cuban coffee as he prepares me a great shot of the brew – flavourful and exhilarating!
A few doors away at Havana Classic, Lazaro Quintana explains the process and art of making hand-rolled Cuban cigars. Here he has ex-Cuban patriots making cigars. Each of the crafts-people is working on cigars at different stages of the process. Lazaro easily convinced me to sample another Cuban coffee.
Read also: James St Laurent's Miami / 4  Vizcaya museum and gardens
---
James St Laurent – My work is all about the idea – to communicate through images that convey an emotive context and engage the viewer by presenting a visual paradox. Different types of subjects and genres require different approaches, but the end result is still a compelling image that captures your attention. Despite having had a camera early on, I found myself in a career as a stage set and lighting designer, then accidentally stumbled and fell back into photography. Since then I have shot a variety of genres, ranging from fashion to travel to portraits to concerts, and exhibited in galleries in both group and solo shows. There are photographs everywhere – the problem is to find the interesting images or those that no one else sees. The obvious is easy – the unique takes a little more time. jamesstlaurent.com
---
---