Love and Spices:
Autumn Spice Bundt Cake
Fall is that time of the year when you have an excuse to bake
Recipe by Monique Singer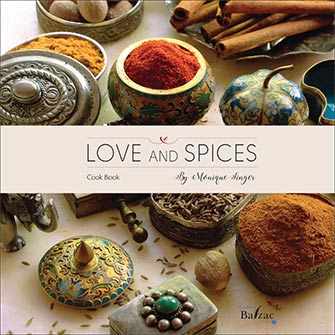 Westmount Magazine is proud to offer its readers sample recipes from Love and Spices, a beautifully illustrated cookbook by Monique Singer. With this series, you will discover some unique recipes dedicated to cooking with spices, from hors d'œuvres to desserts.
Monique Singer knows how to make people talk, sing and dance spices! From her earliest childhood, alongside her grandmother and sisters, she learned how to create a delicious and original cuisine with her senses, her hands and all her love.
From her family's table to the jet-set parties she has catered in New York, Los Angeles, Venezuela, Spain, Haiti, and Asia, regardless of the set-up, function, atmosphere or style, Monique's food has left its imprint on people's taste buds.
Enjoy!
Autumn Spice Bundt Cake
This cake definitely brings us one step closer to a winter wonderland.
It is time to bake with some sweet and delicious spices!
My grandchildren call it "Mémé's cake" – I call it "Autumn cake."
Preparation: 35 min | Baking time:1 hour | Preheat oven 350°F/175°C | Yields: 12 servings
2 1/2 cup / 320 g flour
6 eggs
3/4 cup / 150 g sugar
1 cup / 227 g unsalted butter or margarine, melted
1/2 cup / 120 ml vegetable oil
1/2 cup / 120 ml rum, optional
1/2 cup / 80 g walnuts, roughly chopped
1/4 cup / 30 g currants, optional
1 1/2 tbsp baking powder
1 tsp baking soda
1 1/2 tsp vanilla extract
1 tsp cinnamon
1 tsp allspice
1 tsp cardamom
1/4 tsp nutmeg
1/4 tsp ginger
1/4 tsp ground clove
1 tbsp icing sugar for garnish
Put 1/4 cup currants in a bowl with rum or orange juice, allow to infuse, set aside.
In a separate bowl, combine all of the dry ingredients, flour, baking powder and spices, set aside.
In a separate bowl, beat the eggs and sugar with a hand mixer until pale yellow.
Add vanilla, melted butter or margarine and oil and keep beating.
Slowly add the dry ingredients.
Add the infused currants, combine.
Pour into a 10-inch Bundt cake mould with a removable bottom and bake for about 60 minutes.
Dust with icing sugar and sprinkle with currants.
Images: Anne Fillion
Read also: other recipes
---
Monique Singer is a cultural creator now based in Montreal, usually found travelling the world, experiencing other cultures and sharing what she finds most interesting. At the top of her food passion is her attraction for spices, their benefits and the distinctive flavour they bring to all dishes. LinkedIn
---