Love and Spices: Brisket
with cranberries and ginger ale
Cranberries lend a festive touch to this traditional dish
Recipe by Monique Singer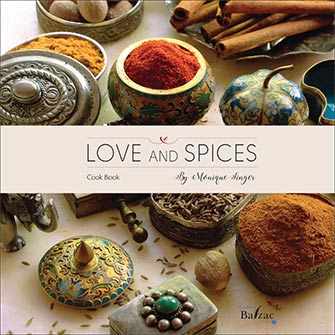 Westmount Magazine is proud to offer its readers sample recipes from Love and Spices, a beautifully illustrated cookbook by Monique Singer. With this series, you will discover some unique recipes dedicated to cooking with spices, from hors d'œuvres to desserts.
Monique Singer knows how to make people talk, sing and dance spices! From her earliest childhood, alongside her grandmother and sisters, she learned how to create a delicious and original cuisine with her senses, her hands and all her love.
From her family's table to the jet-set parties she has catered in New York, Los Angeles, Venezuela, Spain, Haiti, and Asia, regardless of the set-up, function, atmosphere or style, Monique's food has left its imprint on people's taste buds.
Enjoy!
Brisket with cranberries and ginger ale
Just slow-cook and let it work its magic to create the most tender brisket!
Preparation time: 20 min | Cooking time: 2 to 3 hrs | Preheat oven to 325°F/160°C | Yields: 8 to 10 servings
4 lbs to 6 lbs / 1.8 to 2.7 kg beef brisket
1 can 8 oz / 235 ml ginger ale
2 cups / 200 ml frozen cranberries
2 envelopes of dried onion soup mix
1 can / 348 ml cranberry jelly
3 tbsp Dijon mustard
1 tbsp olive oil
Rinse the brisket and pat dry using a paper towel.
Place the brisket in a glass baking dish large enough to fit snugly. Set aside.
In a bowl, mix the can of cranberry jelly, mustard and soup mix.
Spread the mixture evenly over the brisket.
Pour the ginger ale around the brisket with 1 cup of frozen cranberries.
Cover tightly with parchment paper then with aluminum foil.
Roast for 3 hours until tender or 30 minutes per pound / 450 g.
Baste occasionally.
Transfer the brisket to a cutting board and let it rest.
Skim any fat from the surface of the pan and discard.
Add the remaining cup of frozen cranberries.
Return the pan to the oven and reduce the sauce.
Cook for an additional 20 minutes until hot and bubbling and reduced.
Meanwhile, cut the brisket against the grain into thin slices.
Transfer the slices onto a platter and pour reduction sauce over the slices.
If not served immediately, reheat with sauce before serving.
Images: Anne Fillion
Read also: other recipes
---
Monique Singer is a cultural creator now based in Montreal, usually found travelling the world, experiencing other cultures and sharing what she finds most interesting. At the top of her food passion is her attraction for spices, their benefits and the distinctive flavour they bring to all dishes. LinkedIn
---
---