Love and Spices:
Carrot coconut soup
Allspice and cinnamon pair wonderfully with carrots and coconut milk
Recipe by Monique Singer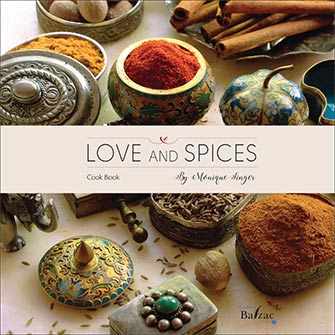 Westmount Magazine is proud to offer its readers sample recipes from Love and Spices, a beautifully illustrated cookbook by Monique Singer. With this new series, you will discover some unique recipes dedicated to cooking with spices, from hors d'œuvres to desserts.
Monique Singer knows how to make people talk, sing and dance spices! From her earliest childhood, alongside her grandmother and sisters, she learned how to create a delicious and original cuisine with her senses, her hands and all her love.
From her family's table to the jet-set parties she has catered in New York, Los Angeles, Venezuela, Spain, Haiti, and Asia, regardless of the set-up, function, atmosphere or style, Monique's food has left its imprint on people's taste buds.
Enjoy!
Carrot coconut soup
This delicious, cream-like soup is very easy to make!
Preparation time: 30 min | Cooking time: 45 min | Yields: 6 servings
1 lb / 450 g baby carrots
2 large leeks, washed well and cut into small pieces
3 cups / 750 ml vegetable broth
1 cup / 227 ml can coconut milk
1 tbsp coconut oil
1/2 tsp allspice
1/2 tsp cinnamon
1/4 tsp nutmeg
1 tsp sea salt
In a medium-sized pot, bring the vegetable broth to a boil, with the carrots, leeks, oil and spices.
Lower the heat and simmer until the vegetables are tender, about 45 minutes.
Use a hand blender to purée then add the coconut milk.
Simmer for another 10 minutes until the soup thickens slightly.
Garnish with whipping coconut cream, optional.
WHIPPED COCONUT CREAM
1 can 14 oz / 2 cup / 500 ml unsweetened, preferably organic, coconut milk for better consistency
Refrigerate can of coconut milk, 8 hours or overnight.
Place metal mixing bowl and beaters in the refrigerator.
Remove the coconut milk from the refrigerator, without tipping or shaking.
Remove the lid.
Scrape out the top of the thickened cream and discard the liquid.
Beat coconut cream using an electric mixer with chilled metal bowl and beaters, on medium speed; switch to high speed to thicken then garnish.
Whisk gently to fluff the cream again before serving.
Can be refrigerated up to 3 days.
Images: Anne Fillion
Read also: other recipes
---
Monique Singer is a cultural creator now based in Montreal, usually found travelling the world, experiencing other cultures and sharing what she finds most interesting. At the top of her food passion is her attraction for spices, their benefits and the distinctive flavour they bring to all dishes. LinkedIn
---
---