Love and Spices: Chicken Meatballs with Saffron Lemon Sauce
One of my children's and grandchildren's favourite dishes!
Recipe by Monique Singer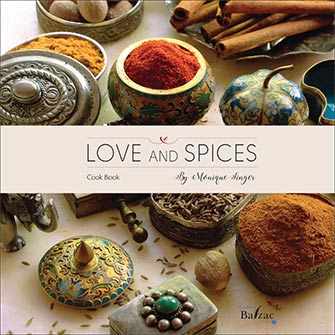 Westmount Magazine is proud to offer its readers sample recipes from Love and Spices, a beautifully illustrated cookbook by Monique Singer. With this new series, you will discover some unique recipes dedicated to cooking with spices, from hors d'œuvres to desserts.
Monique Singer knows how to make people talk, sing and dance spices! From her earliest childhood, alongside her grandmother and sisters, she learned how to create a delicious and original cuisine with her senses, her hands and all her love.
From her family's table to the jet-set parties she has catered in New York, Los Angeles, Venezuela, Spain, Haiti, and Asia, regardless of the set-up, function, atmosphere or style, Monique's food has left its imprint on people's taste buds.
Enjoy!
Chicken Meatballs with Saffron Lemon Sauce
You could not go wrong with meatballs for a fast meal when you have hungry children.
These are great in a baguette.
Gloves are recommended when you prepare the meatballs. Oil the tips of the gloves before rolling the chicken – it makes it smooth and easy to roll.
Preparation time: 30 min | Cooking time: 40 min | Yields: 4 servings
CHICKEN MEATBALLS
1 lb / 450 g to 500 g, ground chicken
1 medium onion, grated
1 medium yellow potato, grated
1/2 red bell pepper
1/2 cup / 100 g Panko crumbs
1 1/2 tsp cardamom
1 tsp ras el hanout
1 tsp ginger powder
1/2 tsp turmeric
1/2 tsp sea salt
1/2 tsp freshly ground white pepper
In a food processor, pulse potato, onion and bell pepper until smooth.
In a bowl, stir in the vegetable mixture with the ground chicken.
Add the cardamom, ginger, ras el hanout and Panko crumbs.
Combine, form meatballs the size of a large walnut and set aside.
In a pot, bring 2 cups / 500 ml of water to a boil.
Place the chicken balls in the pot and boil for 1 minute.
They will become rounder and plumper.
Remove and place in the lemon sauce.
LEMON SAUCE
1 1/2 cup / 350 ml chicken broth
4 tsp. freshly ground white pepper
2 tbsp olive oil
1/2 tsp turmeric
5 saffron threads
1/2 tsp sea salt
1/2 cup / 120 ml / juice of 1 lemon
Bring the chicken broth to a boil with oil, saffron, turmeric, lemon juice, salt and pepper.
Reduce the heat to medium-low.
Place the boiled chicken balls in the sauce.
Cover and simmer for about 30 minutes until the broth is reduced to half.
Don't worry – it is normal for the chicken mixture to have a loose texture. It will firm up while cooking.
Images: Anne Fillion
Read also: other recipes
---
Monique Singer is a cultural creator now based in Montreal, usually found travelling the world, experiencing other cultures and sharing what she finds most interesting. At the top of her food passion is her attraction for spices, their benefits and the distinctive flavour they bring to all dishes. LinkedIn
---
---