Love and Spices:
Chocolate Ganache Raspberry Tart
This is a great romantic dessert to serve on Valentine's Day!
Recipe by Monique Singer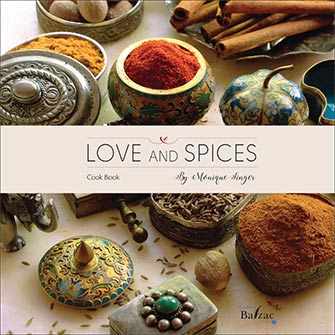 Westmount Magazine is proud to offer its readers sample recipes from Love and Spices, a beautifully illustrated cookbook by Monique Singer. With this new series, you will discover some unique recipes dedicated to cooking with spices, from hors d'œuvres to desserts.
Monique Singer knows how to make people talk, sing and dance spices! From her earliest childhood, alongside her grandmother and sisters, she learned how to create a delicious and original cuisine with her senses, her hands and all her love.
From her family's table to the jet-set parties she has catered in New York, Los Angeles, Venezuela, Spain, Haiti, and Asia, regardless of the set-up, function, atmosphere or style, Monique's food has left its imprint on people's taste buds. Enjoy!
Chocolate Ganache Raspberry Tart
Vegan, gluten and dairy-free
For all chocolate lovers, especially those sensitive to gluten or dairy
Chocolate and raspberries are a classic combination!
Preparation time: 1 hr | Baking time: 25 min | Preheat oven to 350°F/175°C | Yields: 8 servings
CRUST
2 cups / 250 g skinless green pistachios, for a beautiful contrast with raspberries
1/2 cup / 60 g ground almonds
1/4 cup / 45 g / 60 ml non-hydrogenated margarine, coconut oil or unsalted butter, melted
1 tbsp sugar
A pinch of salt
A 9-inch / 23-cm rectangular spring form pan
In a food processor, pulse the pistachios, until roughly chopped.
Place in a bowl, combine with the almonds, salt, sugar and melted margarine.
Pour into the mould and smooth using a spoon.
Refrigerate for 30 minutes, before baking.
Bake for 7 to 10 minutes and let cool before adding the filling.
FILLING
3 cups / 370 g large raspberries
1 cup / 240 ml non-dairy whipping or heavy cream if preferred
1 cup / 225 g dairy-free dark chocolate, chunks
Heat the cream almost to a boil, then immediately remove from heat.
Add the chocolate chunks, stirring constantly until melted and smooth.
Pour evenly over the pie crust and top with the raspberries.
GLAZE
In a saucepan, melt the apricot jam over low heat to liquefy, about 10 minutes.
Remove from heat and glaze the raspberries with a pastry brush, refrigerate.
Leave at room temperature for 1 hour before serving.
Images: Anne Fillion
Read also: other recipes
---
Monique Singer is a cultural creator now based in Montreal, usually found travelling the world, experiencing other cultures and sharing what she finds most interesting. At the top of her food passion is her attraction for spices, their benefits and the distinctive flavour they bring to all dishes. LinkedIn
---
---