Love and Spices:
Cocktail Meatballs
Mini veal meatballs with eggplant sauce make an ideal appetizer
Recipe by Monique Singer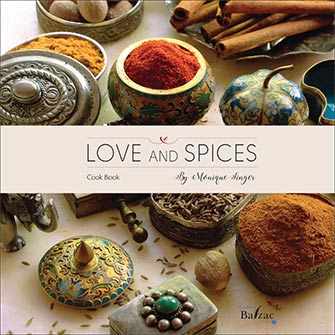 Westmount Magazine is proud to offer its readers sample recipes from Love and Spices, a beautifully illustrated cookbook by Monique Singer. With this series, you will discover some unique recipes dedicated to cooking with spices, from hors d'œuvres to desserts.
Monique Singer knows how to make people talk, sing and dance spices! From her earliest childhood, alongside her grandmother and sisters, she learned how to create a delicious and original cuisine with her senses, her hands and all her love.
From her family's table to the jet-set parties she has catered in New York, Los Angeles, Venezuela, Spain, Haiti, and Asia, regardless of the set-up, function, atmosphere or style, Monique's food has left its imprint on people's taste buds.
Enjoy!
Cocktail Meatballs
This recipe can be served as a main course.
My grandmother would often make this tagine for dinner.
When I make this dish, it takes me back to my childhood.
Preparation time: 35 min | Cooking time: 1 hr | Yields: 4 to 6 servings
MEATBALLS
1 lb / 450g ground veal
1 cup / 130g pistachios
1/4 cup bread crumbs or panko
1 onion, finely grated
1 egg, beaten
1 tbsp grapeseed oil
1/4 cup / 60 ml water
1 tsp ground cardamom
1 tsp ras el hanout
1 tsp ginger
1 tsp turmeric
1/4 tsp cayenne
1/2 tsp sea salt
Freshly ground white pepper to taste
In a bowl, place the ground meat with a beaten egg, then the grated onion.
Add the bread crumbs, ginger, ras el hanout, cardamom, 1 teaspoon turmeric, 1/2 teaspoon salt and pepper.
Pour in 1/4 cup / 60 ml of water and mix to combine.
Form the meat into small balls, the size of a walnut.
Insert a roasted pistachio into the middle, roll and reshape.
Place the meatballs in a bowl and set aside.
SAUCE
1 Japanese eggplant, diced
1 onion, finely chopped
1 tomato, diced
2 tbsp olive oil
3/4 cup / 200 ml water
3 cloves garlic, chopped
1/2 tsp cardamom
1/2 tsp ras el hanout
1 tsp turmeric
1 tsp sea salt
4 bay leaves
In a pot, sauté the garlic with 2 tablespoons olive oil, add the diced tomato and cook for about 10 minutes.
Add the diced eggplant, bay leaves, cardamom, turmeric, ras el hanout and salt.
Pour in 3/4 cup water and stir.
Simmer for 25 to 30 minutes, stirring constantly until the eggplant thickens into a sauce.
Gently add the meatballs, cover and simmer on low heat for another 30 minutes.
The meatballs should not be stirred before they are firm.
Lift the pot and shake it gently to prevent sticking.
Garnish with roasted pistachios and a pinch of ras el hanout.
ROASTED PISTACHIO
Place 1 cup / 130 gr of pistachios on a cookie sheet lined with parchment paper.
Roast for 5 to 7 minutes.
Let cool while preparing the meatballs.
Images: Anne Fillion
Read also: other recipes
---
Monique Singer is a cultural creator now based in Montreal, usually found travelling the world, experiencing other cultures and sharing what she finds most interesting. At the top of her food passion is her attraction for spices, their benefits and the distinctive flavour they bring to all dishes. LinkedIn

---
---