Love and Spices: Cornish game
hen with preserved lemons
You can also make this delicious recipe using chicken
Recipe by Monique Singer
Previously published on January 25, 2020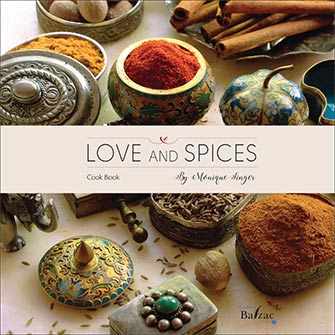 Westmount Magazine is proud to offer its readers sample recipes from Love and Spices, a beautifully illustrated cookbook by Monique Singer. With this new series, you will discover some unique recipes dedicated to cooking with spices, from hors d'œuvres to desserts.
Monique Singer knows how to make people talk, sing and dance spices! From her earliest childhood, alongside her grandmother and sisters, she learned how to create a delicious and original cuisine with her senses, her hands and all her love.
From her family's table to the jet-set parties she has catered in New York, Los Angeles, Venezuela, Spain, Haiti, and Asia, regardless of the set-up, function, atmosphere or style, Monique's food has left its imprint on people's taste buds. Enjoy!
Cornish game hen or chicken with preserved lemons
When cooking, I always like to think outside the box for a dinner menu.
I grew up with Jewish North African cuisine.
This dish is often served on Shabbat, roasted to delicious perfection, with lots of garlic and herbs, Boomer Gold potatoes and homemade preserved lemons.
My granddaughter's favourite. Love you Zo!
Preparation time: 20 min | Cooking time: 1h15 min | Preheat oven: 375°F/190°C | Yields: 4 to 6 servings
2 Cornish game hens, well washed and pat dry
Or 1 chicken
1.5 lb / 680 g small potatoes, Boomer Gold, whole
1/2 cup preserved lemon, chopped
3 lemons, juiced about 1/2 cup
2 organic whole garlic heads, peeled, about 20 cloves
4 tbsp Dijon mustard
4 tbsp grape seed oil
2 tbsp fresh tarragon, chopped
2 tbsp fresh rosemary, chopped
2 tbsp sage, chopped
2 tbsp chicken soup mix seasoning
1/2 tsp cayenne
1/2 tsp smoked paprika
In a mixing bowl, stir in 2 tablespoons mustard, 2 tablespoons oil, 1/4 tablespoon paprika, 1 tablespoon chicken soup seasoning mix, 1/4 teaspoon cayenne, 1 teaspoon tarragon, 1 teaspoon rosemary, 1 teaspoon sage, 1/4 cup lemon juice and combine.
Spread the mixture evenly on the hens and place in the oven dish.
POTATOES
Season the potatoes in a bowl, mixing in 2 tablespoons mustard, 2 tablespoons oil, preserved lemon, remaining 1/4 teaspoon lemon juice.
Sprinkle the chopped herbs, add 1 tablespoon chicken soup mix seasoning.
Add the remaining 1/4 teaspoon paprika and 1/4 teaspoon cayenne over the potatoes and garlic cloves and combine.
Place the potatoes around the hens.
Cover and roast for 1 hour, baste occasionally, uncover, mix, and brown for another 10 minutes.
Images: Anne Fillion
Read also: other recipes
---
Monique Singer is a cultural creator now based in Montreal, usually found travelling the world, experiencing other cultures and sharing what she finds most interesting. At the top of her food passion is her attraction for spices, their benefits and the distinctive flavour they bring to all dishes. LinkedIn
---
---