Love and Spices:
Crunchy Asian Slaw
East meets West in this creative eastern adaptation of the classic salad
Recipe by Monique Singer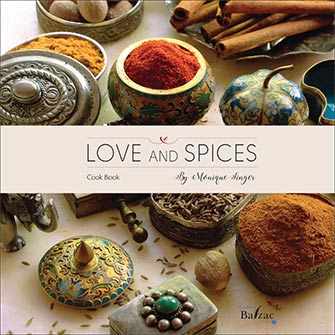 Westmount Magazine is proud to offer its readers sample recipes from Love and Spices, a beautifully illustrated cookbook by Monique Singer. With this series, you will discover some unique recipes dedicated to cooking with spices, from hors d'œuvres to desserts.
Monique Singer knows how to make people talk, sing and dance spices! From her earliest childhood, alongside her grandmother and sisters, she learned how to create a delicious and original cuisine with her senses, her hands and all her love.
From her family's table to the jet-set parties she has catered in New York, Los Angeles, Venezuela, Spain, Haiti, and Asia, regardless of the set-up, function, atmosphere or style, Monique's food has left its imprint on people's taste buds.
Enjoy!
Crunchy Asian Slaw
I was once invited to a Japanese restaurant where they served this dressing over a simple green salad.
I have combined it with Mache lettuce, Chinese cabbage, jicama and green apple for a taste explosion!
Preparation time: 35 min | Yields: 6 servings
1/2 of a medium Chinese cabbage, washed, dried and julienned
1 package Mache lettuce, well-washed and dried
1/2 jicama, peeled, thinly sliced
1 green apple, peeled and cored, thinly sliced
VEGAN MISO DRESSING
3 tbsp sunflower seeds, toasted for garnish
2 tbsp white sesame seeds, toasted
2 tsp sesame oil
2 tbsp rice vinegar
1 1/2 tbsp lime juice
1 1/2 tbsp organic miso paste
1 tbsp mayonnaise or veganaise
1 tbsp agave syrup
1 tbsp fresh ginger root, minced
1 tsp Dijon mustard
1 tbsp olive oil
In a frying pan, with no oil, roast the sesame seeds, then the sunflower seeds separately, for about 2 or 3 minutes.
Let cool before adding to the salad.
Place the greens and sliced fruits in a serving bowl and set aside.
DRESSING
In a bowl, whisk the miso paste into the rice vinegar until smooth.
Stir to combine mustard, mayonnaise, ginger, sesame oil, agave syrup, lime juice and sesame seeds.
Toss 3 tablespoons of the dressing over the salad and add more if needed.
Garnish with sunflower seeds.
Well washed and dried watercress can also be used, with stem removed.
Images: Anne Fillion
Read also: other recipes
---
Monique Singer is a cultural creator now based in Montreal, usually found travelling the world, experiencing other cultures and sharing what she finds most interesting. At the top of her food passion is her attraction for spices, their benefits and the distinctive flavour they bring to all dishes. LinkedIn
---