Love and Spices:
Fish soup with rouille
This comforting soup is a meal on its own
Recipe by Monique Singer
Previously published January 11, 2020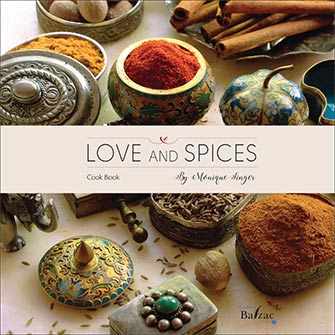 Westmount Magazine is proud to offer its readers sample recipes from Love and Spices, a beautifully illustrated cookbook by Monique Singer. With this new series, you will discover some unique recipes dedicated to cooking with spices, from hors d'œuvres to desserts.
Monique Singer knows how to make people talk, sing and dance spices! From her earliest childhood, alongside her grandmother and sisters, she learned how to create a delicious and original cuisine with her senses, her hands and all her love.
From her family's table to the jet-set parties she has catered in New York, Los Angeles, Venezuela, Spain, Haiti, and Asia, regardless of the set-up, function, atmosphere or style, Monique's food has left its imprint on people's taste buds.
Enjoy!
Fish soup with rouille
No need for fish stock: Water, herbs and spices are all you need.
Use anchovies even if you don't like them, as they add great depth of flavour. The soup will not taste like anchovies.
Preparation time: 35 min | Cooking time: 1 hr 35 min | Preheat oven to 400°F/200°C | Yields: 8 servings
SOUP
3 lbs / 1.5 kg of a mix of red snapper and cod filets, cut into extra large cubes
6 tomatoes, peeled and seeded
8 small potatoes, peeled
2 leeks
2 small carrots
2 tbsp tomato paste
1/4 cup parsley, chopped
4 bay leaves
2 tbsp thyme, chopped
1/2 tsp cayenne pepper
1 tsp smoked paprika
1/2 tsp clove, ground
1/4 tsp saffron
3 large orange strips
5 tbsp olive oil
1/4 cup white dry wine
6 cups water
2 tbsp arak
5 anchovy fillets, cut into small pieces
Fennel fronds for garnish
In a food processor, coarsely grind leeks, celery, carrots and garlic.
Heat the oil in a large heavy pot.
Sauté the ground mixture until all the liquid has evaporated.
Stir in tomato paste, mix well.
Add the tomatoes and the chopped anchovies and mash with a fork, until well combined. Add the potatoes, all herbs, spices and orange strips.
Pour wine, arak and water, bring to a boil while stirring.
Lower heat to medium low, cover and cook for 45 minutes.
Add the fish, salt and pepper and cook for another 5 to 10 minutes, until the fish is fully cooked, adjust seasonings to taste.
Garnish with fresh fennel fronds if desired.
Serve with the rouille and crostini.
ROUILLE
1 red bell pepper
1 red chili pepper, seeded
2 garlic cloves
1 1/2 tsp smoked paprika
5 tbsp olive oil
1 tsp freshly squeezed lemon juice
1/4 tsp breadcrumbs
1/2 tsp sea salt
Freshly ground pepper to taste
1/4 tsp cayenne (optional)
Remove the seeds from the red bell pepper and roast for 15 minutes.
Remove from oven and let cool.
Or use red peppers from a jar, well rinsed.
In a food processor, combine the garlic, peppers, lemon juice and paprika.
Pulse until smooth, then slowly drizzle in the oil, blend continuously.
Season with salt and pepper to taste.
Add the breadcrumbs and blend until the mixture thickens.
Pour into a serving dish.
Refrigerate until ready to use.
CROSTINI
Preheat the oven to broil.
Cut the bread into long slices, 1 1/2 inch /4 cm wide.
Arrange on a baking sheet.
Broil for about 5 minutes, turning once.
Remove from oven and let cool.
If the soup is too liquid, reduce.
Adjust the seasoning and water before adding the fish, as it cooks rather quickly.
Images: Anne Fillion
Read also: other recipes
---
Monique Singer is a cultural creator now based in Montreal, usually found travelling the world, experiencing other cultures and sharing what she finds most interesting. At the top of her food passion is her attraction for spices, their benefits and the distinctive flavour they bring to all dishes. LinkedIn
---
---