Love and Spices: Gigi's Cake
with Lemony Blueberry Sauce
An incredibly moist flourless cake, rich in flavour and deeply satisfying
Recipe by Monique Singer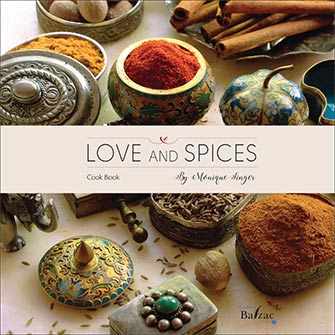 Westmount Magazine is proud to offer its readers sample recipes from Love and Spices, a beautifully illustrated cookbook by Monique Singer. With this series, you will discover some unique recipes dedicated to cooking with spices, from hors d'œuvres to desserts.
Monique Singer knows how to make people talk, sing and dance spices! From her earliest childhood, alongside her grandmother and sisters, she learned how to create a delicious and original cuisine with her senses, her hands and all her love.
From her family's table to the jet-set parties she has catered in New York, Los Angeles, Venezuela, Spain, Haiti, and Asia, regardless of the set-up, function, atmosphere or style, Monique's food has left its imprint on people's taste buds.
Enjoy!
Gigi's Cake with Lemony Blueberry Sauce
Yes, there are a lot of nuts in this cake!
I call it Gigi's cake, in honour of a friend's gourmandize.
Preparation time: 35 min | Baking time: 45 to 50 min | Preheat oven: 350°F/175°C | Yields: 6 to 8 servings
1 cup / 150 g hazelnuts skinless, ground
1 cup / 125 g dried apricots, chopped
3/4 cup / 150 g sugar
1/2 cup / 65 g walnuts, ground
1/2 cup / 65 g almonds with skin, ground
6 eggs
1 tbsp cornstarch
1 tsp vanilla
1/2 tsp salt
Line the bottom of a 9-inch springform cake pan with parchment paper.
In a food processor, ground separately the hazelnuts, walnuts, almonds, and apricots, set aside.
Separate the egg yolks from the whites.
Using an electric mixer, beat yolks with sugar, salt, and cornstarch until light in colour and fluffy.
Slowly add the vanilla extract, continue to beat at low speed.
Add in all of the ground nuts and set aside.
Using an electric mixer, beat the egg whites to a soft peak.
Add the apricots, continue mixing until well combined
Delicately fold the egg whites into the yolk mixture, do not stir.
Pour the cake mixture into the pan.
Bake for 40 to 50 minutes, until it starts to shrink from the sides.
A toothpick should come out just slightly humid, with no crumbs or cake mixture. Do not over bake. It should be moist inside.
Remove from oven and let cool.
With a knife, cut around the pan before turning it over.
Delicately remove the parchment paper.
Serve with the lemon blueberry sauce.
LEMON BLUEBERRY SAUCE
1 cup / 75 g blueberries
1/2 cup / 120 ml lemon juice
1/2 cup sugar
1 tbsp cornstarch
1 tsp lemon zest
In a saucepan, over medium heat, bring lemon juice, lemon zest, sugar to a boil.
Slowly add cornstarch, stirring constantly.
Reduce heat and simmer until sauce has thickened.
Remove from heat and stir in 1 cup of blueberries.
Serve warm.
Refrigerate up to 1 week.
Images: Anne Fillion
Read also: other recipes
---
Monique Singer is a cultural creator now based in Montreal, usually found travelling the world, experiencing other cultures and sharing what she finds most interesting. At the top of her food passion is her attraction for spices, their benefits and the distinctive flavour they bring to all dishes. LinkedIn
---
---