Love and Spices:
Mediterranean red snapper
A lovely fish dish sure to impress your guests
Recipe by Monique Singer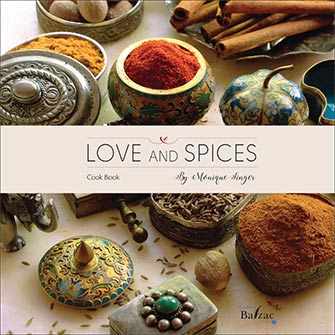 Westmount Magazine is proud to offer its readers sample recipes from Love and Spices, a beautifully illustrated cookbook by Monique Singer. With this series, you will discover some unique recipes dedicated to cooking with spices, from hors d'œuvres to desserts.
Monique Singer knows how to make people talk, sing and dance spices! From her earliest childhood, alongside her grandmother and sisters, she learned how to create a delicious and original cuisine with her senses, her hands and all her love.
From her family's table to the jet-set parties she has catered in New York, Los Angeles, Venezuela, Spain, Haiti, and Asia, regardless of the set-up, function, atmosphere or style, Monique's food has left its imprint on people's taste buds.
Enjoy!
Mediterranean red snapper with roasted vegetables
Preparation time: 40 min | Cooking time: 55 min | Preheat oven to 375°F/190°C | Yields: 4 to 6 servings
1 whole red snapper, about 2 lb /1 kg
3 medium potatoes, sliced
2 tomatoes, sliced
2 onions, sliced
2 lemons, well-washed and sliced
1/2 cup / 120 ml white wine
1/4 cup / 60 ml / 4 tbsp olive oil
2 tbsp dried herbs salad seasoning
3 tbsp Dijon mustard
1 tbsp smoked paprika
1 tsp sea salt
1 tsp freshly ground pepper
10 sprigs fresh thyme
1/4 tsp cayenne
Rinse the red snapper, thoroughly scaled, pat dry.
Spread 1 tablespoon olive oil, salad seasoning, pepper and set aside.
Coat a deep oven dish with 1 tablespoon oil.
Place the onions on the bottom of the dish, then the potatoes on top.
Add the thyme, season with salt, place the fish on top and set aside.
SAUCE
In a small saucepan, mix together wine, paprika, mustard and the remaining oil.
Reduce over low heat, and pour over the fish.
Place the sliced tomatoes on top of the fish, then the sliced lemons, salt, pepper and cayenne.
Cover with parchment paper, then foil.
Bake for 45 minutes and baste occasionally.
Uncover, broil for 10 minutes on the bottom rack, baste.
Cilantro lime cauliflower rice
Preparation time: 15 min | Cooking time: 7 – 10 min | Yields: 4 servings
1 large cauliflower
1/2 onion, finely chopped
2 small shallots, chopped
2 garlic cloves, crushed
1 tbsp coconut oil
Cut cauliflower and discard the stem, rinse and pat dry.
Use a hand grater to finely grate the cauliflower.
Squeeze out the liquid with your hands.
Sauté the onion and shallots in a large skillet with 1 tablespoon of oil on medium heat for 4 to 5 minutes until translucent, add the garlic, and sauté for another 5 minutes.
Add the grated cauliflower and continue to cook until dry.
SAUCE
1/4 cup / 60 ml lime juice
1/4 cup / 15 g cilantro or parsley, stems removed
3 tbsp olive oil
1/2 tsp salt
Freshly ground quatre poivre pepper
While the cauliflower rice is cooking, in a food processor, pulse the cilantro, lime juice, salt and pepper.
While the food processor is running, add 2 tablespoons of olive oil and blend until smooth.
Pour the sauce over the cauliflower rice.
Continue to cook, mix until dry.
Serve hot.
Dried herbs salad seasoning can be found on the salad dressing shelves at any supermarket.
Images: Anne Fillion
Read also: other recipes
---
Monique Singer is a cultural creator now based in Montreal, usually found travelling the world, experiencing other cultures and sharing what she finds most interesting. At the top of her food passion is her attraction for spices, their benefits and the distinctive flavour they bring to all dishes. LinkedIn
---
---