Love and Spices:
Mini Apricot Turnovers
Delectable little vegan turnovers filled with fresh ripe apricots
Recipe by Monique Singer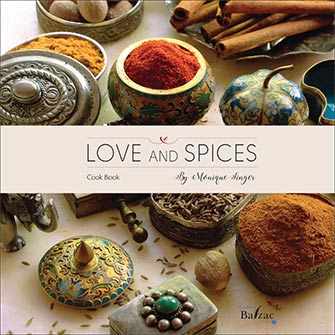 Westmount Magazine is proud to offer its readers sample recipes from Love and Spices, a beautifully illustrated cookbook by Monique Singer. With this new series, you will discover some unique recipes dedicated to cooking with spices, from hors d'œuvres to desserts.
Monique Singer knows how to make people talk, sing and dance spices! From her earliest childhood, alongside her grandmother and sisters, she learned how to create a delicious and original cuisine with her senses, her hands and all her love.
From her family's table to the jet-set parties she has catered in New York, Los Angeles, Venezuela, Spain, Haiti, and Asia, regardless of the set-up, function, atmosphere or style, Monique's food has left its imprint on people's taste buds.
Enjoy!
Mini Apricot Turnovers
A fun baking activity with your children or grandchildren – they are perfect little desserts!
Preparation time: 10 min | Baking time: 12 min to 15 min | Preheat oven: 350°F/175°C | Yields: 10 turnovers
1 package of puff pastry dough sheets
5 small ripe apricots in season or canned apricots, drained
1/2 cup / 165 g apricot jam
1/2 tsp nutmeg
1/4 cup icing sugar
In a small saucepan, heat 1/2 cup jam and stir until liquefied and bubbly. Set aside.
Roll out the dough on a lightly floured surface.
Cut and divide into ten squares.
Spoon 1 teaspoon of apricot marmalade into the hollow of each apricot half.
Place each filled apricot on top of pastry squares.
Lightly brush the edge of the dough with cold water and fold.
Pinch the edges together with the tips of your fingers to seal.
Crimp the edge with a tiny fork.
Refrigerate for 1/2 hour before baking.
Sprinkle a little nutmeg on top of each square.
Bake on a cookie sheet covered with parchment paper.
Remove from oven and cool.
Sprinkle with icing sugar.
Images: Anne Fillion
Read also: other recipes
---
Monique Singer is a cultural creator now based in Montreal, usually found travelling the world, experiencing other cultures and sharing what she finds most interesting. At the top of her food passion is her attraction for spices, their benefits and the distinctive flavour they bring to all dishes. LinkedIn
---
---