Love and Spices: Parmesan crisps with cucumber and ricotta mousse
A delightful, simple and light appetizer perfect for summer cocktails
Recipe by Monique Singer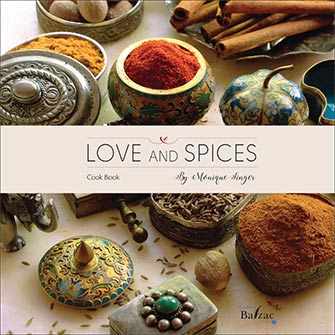 Westmount Magazine is proud to offer its readers sample recipes from Love and Spices, a beautifully illustrated cookbook by Monique Singer. With this new series, you will discover some unique recipes dedicated to cooking with spices, from hors d'œuvres to desserts.
Monique Singer knows how to make people talk, sing and dance spices! From her earliest childhood, alongside her grandmother and sisters, she learned how to create a delicious and original cuisine with her senses, her hands and all her love.
From her family's table to the jet-set parties she has catered in New York, Los Angeles, Venezuela, Spain, Haiti, and Asia, regardless of the set-up, function, atmosphere or style, Monique's food has left its imprint on people's taste buds.
Enjoy!
Parmesan crisps with cucumber and ricotta mousse
Adds a touch of style to your party. Your guests will be impressed!
Preparation time: 35 min | Cooking time: 6 min | Preheat oven between 300°F to 400°F/200°C | Yields: 16 pieces
PARMESAN CRISPS
1 1/2 cup / 350 g fresh grated Parmigiano cheese, not packaged
On a baking cookie sheet, lined with parchment paper:
Arrange the cheese in tightly packed 1 tablespoon mounds, spaced 2 inches / 5 cm apart.
Using your fingers, spread the cheese evenly into circular mounds 2 inches or 5 cm in diameter.
Bake for 5 to 6 minutes until the edges are golden, making sure the edges do not burn.
Transfer the crisps using a spatula with a diameter greater than 1 1/2 inches for shaping.
They will still be soft to shape and will firm up as they cool.
RICOTTA MOUSSE
1 cup / 25g / 8 oz ricotta cheese
1/4 cup / 59 g / 1 ounce finely grated fresh Parmigiano cheese
1/2 cup / 10g loosely packed fresh basil leaves, finely chopped
1 tsp fresh lemon juice
1/4 tsp nutmeg
1/4 tsp sea salt
1/4 tsp freshly ground white pepper
In a food processor, blend the ricotta, Parmigiano, basil, pulsing a few times, until smooth.
Add the lemon, nutmeg, salt, pepper and blend again to mix.
CUCUMBER
Peel the cucumber, then slice, pat dry before adding the mixture.
Place a teaspoon of ricotta mousse on each slice of cucumber.
Then place on the shell, repeat process.
Serve immediately.
You may also use a slice of cucumber, garnish with ricotta mousse and a touch of salmon caviar.
The ricotta mousse can be used without the cucumber.
The crisps can also be baked at 300°F/150°C for about 8 minutes.
Images: Anne Fillion
Read also: other recipes
---
Monique Singer is a cultural creator now based in Montreal, usually found travelling the world, experiencing other cultures and sharing what she finds most interesting. At the top of her food passion is her attraction for spices, their benefits and the distinctive flavour they bring to all dishes. LinkedIn=
---