Love and Spices:
Peanut Butter Dog Treats
These biscuits will make your canine friend very happy!
Recipe by Monique Singer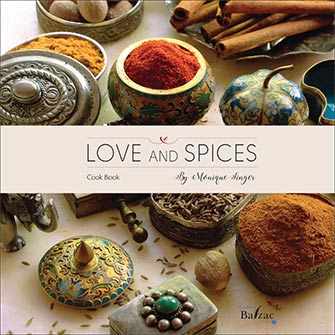 Westmount Magazine is proud to offer its readers sample recipes from Love and Spices, a beautifully illustrated cookbook by Monique Singer. With this series, you will discover some unique recipes dedicated to cooking with spices, from hors-d'œuvres to desserts.
Monique Singer knows how to make people talk, sing and dance spices! From her earliest childhood, alongside her grandmother and sisters, she learned how to create a delicious and original cuisine with her senses, her hands and all her love.
From her family's table to the jet-set parties she has catered in New York, Los Angeles, Venezuela, Spain, Haiti, and Asia, regardless of the set-up, function, atmosphere or style, Monique's food has left its imprint on people's taste buds.
Enjoy!
Peanut Butter Dog Treats
Be sure your peanut butter does not contain artificial sweeteners such as Xylitol, as it is dangerous for pets. Artificial sweeteners may be potentially toxic, and we all know dogs do not thrive on artificial additives and colourants.
Preheat oven: 375 F | Baking time: 25 min | Baking time: 18 to 20 min
1 1/2 cup / 135 g old fashioned oats, ground
1/2 cup / 125 g peanut butter, at room temperature
1/2 cup / 120 g sweet potato, baked
2 tbsp coconut oil, melted
2 tbsp cold water
In a large bowl, combine the ground oats, water, melted oil, peanut butter and sweet potato until well mixed.
The batter will be thick and sticky. (You can use a stand mixer.)
Press the dough together with your hands to form a ball.
Sprinkle a handful of flour on a flat working surface and place the ball.
Knead the dough for a few minutes until smooth.
Sprinkle more flour if necessary.
Flatten with a rolling pin – the dough should be 1/2 inch thick.
Press in with a bone-shaped cookie cutter or any other shape.
Cut out the 'bones' and place them on a baking sheet.
Scraps of dough can be formed into a ball and re-rolled.
Bake until golden.
Transfer to a wire rack until completely cool.
Store in an airtight container for up to 2 weeks.
Images: Anne Fillion
Read also: other recipes
---
Monique Singer is a cultural creator now based in Montreal, usually found travelling the world, experiencing other cultures and sharing what she finds most interesting. At the top of her food passion is her attraction for spices, their benefits and the distinctive flavour they bring to all dishes. LinkedIn
---