Love and Spices: Spiced oranges
with orange blossom water
Wonderful in summer when oranges are in season
Recipe by Monique Singer
Previously published on July 25, 2020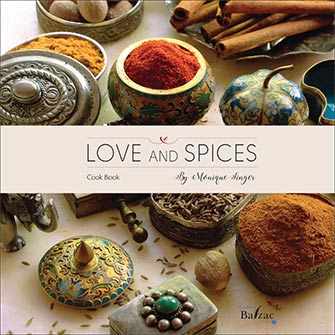 Westmount Magazine is proud to offer its readers sample recipes from Love and Spices, a beautifully illustrated cookbook by Monique Singer. With this series, you will discover some unique recipes dedicated to cooking with spices, from hors d'œuvres to desserts.
Monique Singer knows how to make people talk, sing and dance spices! From her earliest childhood, alongside her grandmother and sisters, she learned how to create a delicious and original cuisine with her senses, her hands and all her love.
From her family's table to the jet-set parties she has catered in New York, Los Angeles, Venezuela, Spain, Haiti, and Asia, regardless of the set-up, function, atmosphere or style, Monique's food has left its imprint on people's taste buds.
Enjoy!
Spiced oranges with orange blossom water
Light and refreshing, this recipe is a keeper!
Preparation time: 15 min | Yields: 4 to 6 servings
4 navel oranges
4 to 6 scoops passion fruit sorbet, optional
4 tsp honey
4 tbsp orange blossom water
2 tbsp mineral water
1 tsp red peppercorns
A few mint leaves
In a small bowl, whisk together honey, mineral water and orange blossom water.
Add the red peppercorns and combine. Let stand for 30 minutes to infuse.
Worth mastering this technique for removing both the peel and bitter pith:
Cut and remove a thin slice of the peel and pith on both ends to expose the fruit.
With a sharp serrated knife, work around the orange using a sawing motion.
Remove the coloured peel and the white pith as you go, leaving each fruit round and nicely shaped.
Work over a bowl to catch the juices then slice.
Place them on a serving plate in a fan shape.
Slowly pour over the infused orange blossom mixture.
Refrigerate until ready to serve.
Garnish with mint leaves and a few red peppercorns.
You can serve with a scoop of sorbet.
You may also substitute watermelon slices drizzled with 2 to 3 tablespoons of orange blossom mixture.
Images: Anne Fillion
Read also: other recipes
---
Monique Singer is a cultural creator now based in Montreal, usually found travelling the world, experiencing other cultures and sharing what she finds most interesting. At the top of her food passion is her attraction for spices, their benefits and the distinctive flavour they bring to all dishes. LinkedIn
---
---